CD Review: Rooney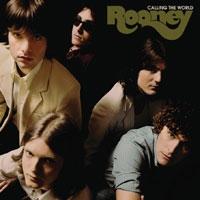 Calling the World Geffen/Cherrytree
---
Music ••½ Sound ••½
If rock & roll is - or should be - primarily about cars and girls, then SoCal quintet Rooney just might be the greatest band in the world. Their brand of power pop recycles riffs from just about every practitioner of the genre in the 1970s and '80s. Which is to say you'll hear the influences of countless glam rockers (Sweet, Mott the Hoople), various one-hit wonders (Kajagoogoo, anyone?), and a lot - an awful lot - of ELO. Meanwhile, the lyrics are mostly generic 21st-century post-teen hedonism and romantic angst. Think a less innocent, modern-day version of the Beach Boys without Brian Wilson's genius.
On Calling the World, the belated follow-up to the band's 2003 self-titled debut, the songs themselves are put together efficiently enough, and some of them are not without their pleasures. "What For," for example, is a pro forma watery ballad (with the obligatory All Things Must Pass mix of massed acoustic guitars and plaintive, Harrisonesque slide solos), but it's attractive nonetheless. And "Paralyzed," the album's best straight-ahead rocker, manages to mix the metallic oomph of the Ramones with the quasi-operatic vocal harmonies of Queen, to fun effect.
Mostly, though, despite the super-slick production by John Fields, it all kind of goes in one ear, etc., possibly because lead singer Robert Schwartzman is a rather charmless vocalist. The low point (for me, at least) is "When Did Your Heart Go Missing?," the album's single (and a recent music video annoyance), which sounds far too close to vintage Wham! for comfort. Frankly, if I want George Michael pastiches, they damn well better be written by Adam Schlesinger for the soundtrack of a romantic comedy starring Hugh Grant and Drew Barrymore.
more Entertainment reviews Back to Homepage What's New on S&V