CD Review: Robbie Fulks Page 2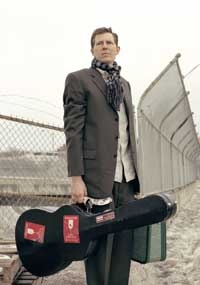 Revenge! opens with a self-effacing musical skit entitled "We're On the Road." Over a cheesy mall organ and programmed percussion, Fulks and bandmates chant a list of American cities while recreating the inimitable ambience of a tour van (bickering, fart noises, requests for bathroom breaks, a ringing cellphone). The singing stops when the head of his record label calls to inform Fulks that a "routine document review" reveals that he owes them another album. It's due sooner-than-Monday, there's no recording budget, and even though Fulks's last "artistic triumph" didn't sell, they want something from him anyway, "fast and cheap."
The next thing you hear is applause at a club, and Revenge! takes off from there. It will leave your head spinning with admiration for Fulks and his band's musicianship and uncompromising artistic resolve. In particular, guitarist Grant Tye is a virtuoso whose fretwork blazes throughout.
So, bottom line: What's up with Revenge!, huh? By my reckoning, it's as if Robbie Fulks is banking on the defiant hope that the logjam holding country music in its conservative, formulaic backwater will eventually break, allowing new fans to dive into the free-flowing alt-currents of Fulks and his like. Show your support and buy the album. In its own way, your purchase will serve as an act of revenge against musical complacency.
more Entertainment reviews Back to Homepage What's New on S&V