Baby Driver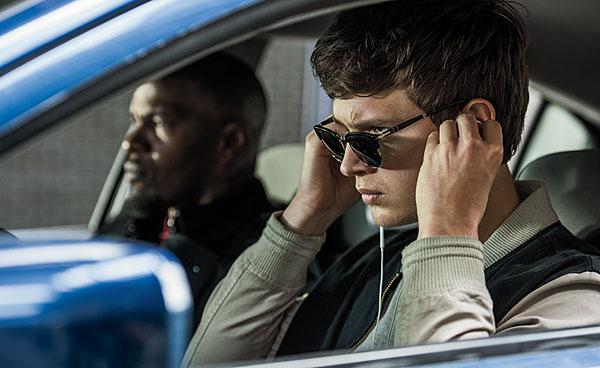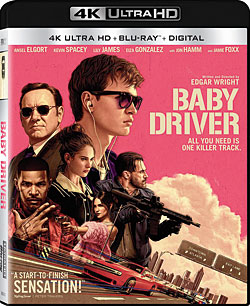 Just as artful is writer/director Edgar Wright's realization of Baby's story. The entire movie has a distinct rhythm, keenly choreographed so that the various action beats, even specific gunshots, subtly hit on the beat of the music in ways never before attempted. You need to pay attention because there's a lot going on in any given scene and within the 2.39:1 frame, with details I only noticed upon second viewing. It's hard to know who the baddest bad guy will ultimately be in this den of thieves, as some characters and situations feel a bit stock, yet ultimately they might just be considered fodder for Wright's fresh, unique take on the car chase movie.
The 2160p picture is virtually flawless, shot on both film and digital media and marred by only faint inconsistencies in grain and rare instances of strobing. Blacks are deep, elements in the back- ground retain their sharpness, and the lines and crags in actors' faces both major and minor are plain to see. Appreciating the quality of this 4K master, however, is probably best done by switching to the bundled Blu-ray, which, while excellent by its own standard, lacks the refined facets of this image. HDR10 is most evi- dent in the nighttime scenes where headlights and streetlights pierce the darkness, while the candy colors add a dream-like quality to the proceedings.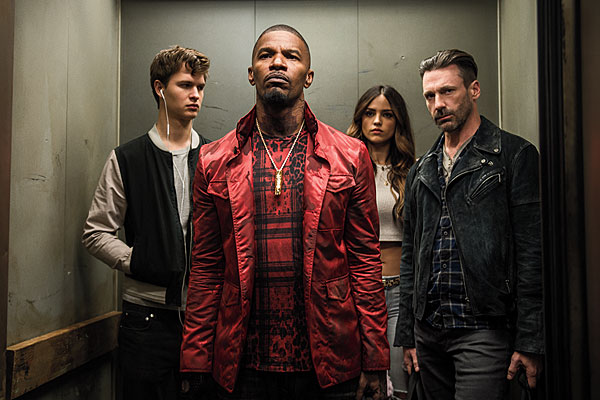 I'm hard-pressed to think of another movie that uses sound with such erudite revelry. The music is indispensable to this tale, weaving in and out of scenes and floating all around the home theater in the different channels, beyond stereo. (The track is Dolby Atmos, but I demo'd the disc in TrueHD 7.1.) Ample offscreen activity keeps us engaged: cars driving by, of course, but also voices phasing superbly between speakers, while occasional bass kicks are employed just to remind us who's boss. Even a character's tinnitus is astutely expressed, effectively but never unpleasantly.
No extras are provided on the 4K disc, but the Blu-ray is well stocked, starting with a pair of director commentaries, one solo and one joined by director of photography Bill Pope. Both are worth a listen to hear more about the influences and techniques. Multiple featurettes take us behind the scenes of this unusual production, which required an exceptional amount of preparation to complete: casting, rehearsals, training, and more. The eleven deleted and extended scenes include alternate versions of several important sequences. Extensive animatics are revealed, as well as the storyboards for the entire movie. An UltraViolet 4K Digital Copy—in Dolby Vision and with Dolby Atmos audio—is supplied via a redeemable code.
Blu-ray
Studio: Sony, 2017
Aspect Ratio: 2.39:1
Audio Format: Dolby Atmos / True HD 7.1 core
Length: 113 mins.
MPAA Rating: R
Director: Edgar Wright
Starring: Ansel Elgort, Kevin Spacey, Lily James
Can the dangerous business of getaway driving be elevated to an art form? Propelled by the constant soundtrack of his life, Baby (Ansel Elgort) combines speed, daring, and creativity in a thrilling and highly profitable display of skill. He doesn't want to be a part of this prolonged crime spree, but he needs to repay a debt to a local kingpin (Kevin Spacey). In fact, he believes he has an exit strategy all figured out, once they're square, and that he and his new lady friend (Lily James) can drive off into the sunset. But his boss has other plans, involving a violent new cohort (Jamie Foxx), and his freewheeling days of cops and robbers are definitely over.