Automating a New Home
This home was a 4500sq.ft. rancher and Custom Video Audio Components (CVAC) was responsible for supplying and installing a completely automated 7.1 surround sound home theater, an elegant touch-screen audio distribution system throughout the house, a Hide-A-Hose retractable central vacuum system and, in conjunction with Hilco Systems, installed Honeywell security and Bosch CCTV surveillance systems.
Throughout the house there are nine, sleek and easy-to-use 4.7" Colorado vNet Vibe Audio Touch-Screens with 50-watt built-in amplifiers to control the whole home audio distribution system. Each screen controls two individual speakers in that room. We placed screens in the garage, kitchen, family room, back door, dining room, living room, den and two for the master bedroom and bath. We matched the faceplate of each to integrate with that rooms decor. In the kitchen, an iPhone/iPod dock was placed next to the touch screen providing source music in addition to a Sirius dual am/fm tuner. Additional sources can be added at any time.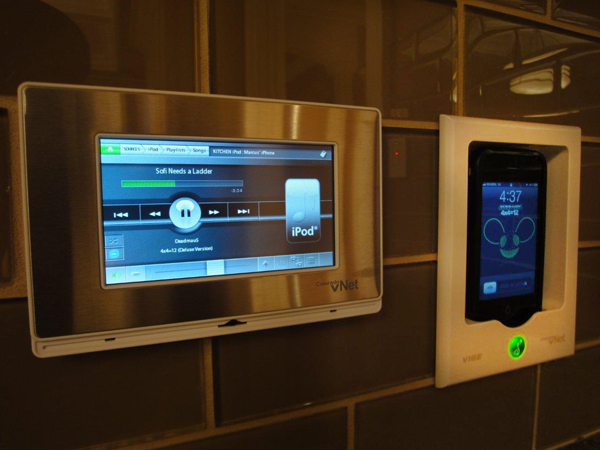 We at CVAC believe that the Colorado vNet system is a great option for complete home automation and entertainment solutions. While this home is only using the system for controlling distributed audio, it is capable of managing lighting, CCTV, climate, security and weather with the same controls through simple upgrades and programming. The Home Theater consists of a motorized Draper 16:9 widescreen that is paired with their Orbiter lift, which hides the projector in the ceiling when not in use. When the homeowner wants to use the system, a single key on a Harmony 1000 remote controller has been programmed to lower the screen and rotate the Orbiter into place with a Panasonic PT-AE3000 1080P HD Cinema projector attached to it. For an elegant and clean look, speakers from KEF, OEM and Monitor Audio are hidden from view, either in the wall or ceiling. There are three windows in the home theater room, so Hunter Douglas blinds are controlled via remote, darkening the room when the AV system is running. Among the individual custom seats, there is a custom massage chair, which helps our client relax even more when watching a movie. Now that's luxury.
The component cabinet was custom built and houses the Pioneer Elite SC-07 THX A/V receiver, the Pioneer Elite BDP-05FD Blu-ray player, a Shaw HDPVR Cable Box with an external hard drive and a Monster Home Theater Reference HTS5100 MKII Power Center. Although the other A/V room installations are subtle in comparison, they are still unique on their own. The master bedroom consists of a 32" LG 32LH30 1080P LCD HDTV hung above the fireplace with a Monster FlatScreen PowerCenter HTS 350 neatly secured behind a fully articulating mount. A Shaw HD Cable Box is located on the custom built-in shelves.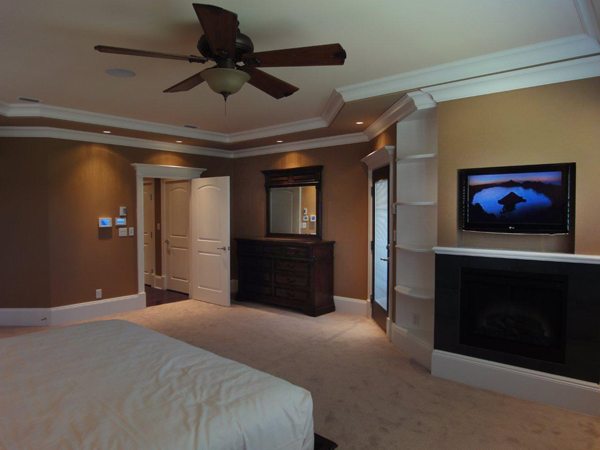 Over the fireplace in the living there is a 46" SHARP Aquos Special Edition LC46SE94U 1080P LCD HDTV with another Monster HTS 350, also on an articulating mount. A BDI Revo 9980 swivel A/V Cabinet in espresso stained oak finish with tinted IR-friendly curved glass doors holds a Shaw HD Cable Box and a SHARP Aquos Blu-ray player.
Additionally, all the TV's can display the Bosch CCTV surveillance system installed on the perimeter of the home and office/warehouse consisting of five Bosch color Day/Night Dome Cameras. This beautiful home on 5 acres is currently for sale in the Vancouver, BC Canada area.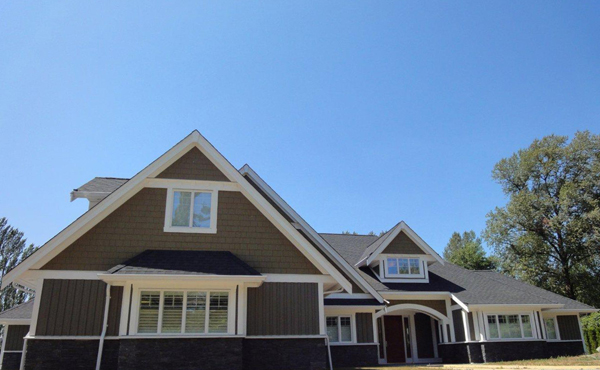 Working on this home during the construction phase provided a lot of opportunities we don't always have with retrofits. It was truly enjoyable and a pleasure to put all the pieces together.
Contact Info
Custom Video Audio Components
Chris Bishop
778 988 2822
info@cvacbc.com