Audio Time Machine: Vintage Pioneer Spec-1 Preamp
Hearkening back to the late '70s , this gleaming Pioneer SPEC 1 preamp is one of the more striking stereo specimens from New Jersey-based
vintage audio specialist
SkyFi Audio.
Produced from 1975-76 to 1980-81, the preamp sold for around $650 and belonged to Pioneer's SPEC series of rack-mountable gear featuring brushed-aluminum faceplates and silver knobs and selector switches.
SkyFi calls it a "features rich preamp that packs functions not commonly found on other units." Of particular note are its dual sets of bass and treble controls — 50 Hz and 100 Hz for bass, 10 kHz and 20 kHz for treble — tone bypass switch, and dual phono inputs with a gain control for the second turntable. There are five inputs in all plus a handy attenuator switch for adjusting overall gain and two multi-position low- and high-pass filters. The preamp also provides the unique option of "feeding the amplifier speaker outputs though the preamp and controlling them via the front panel selector."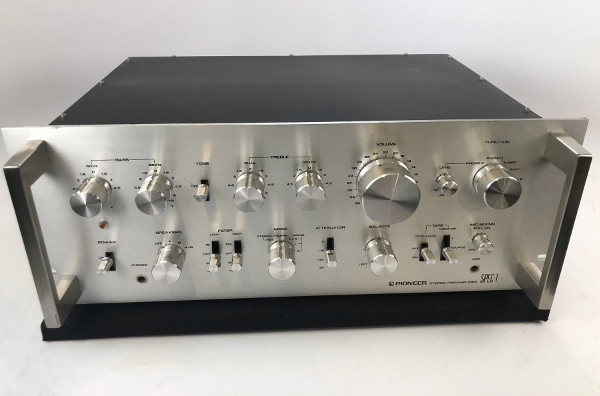 At $999, it's an enticing find for collectors. The preamp has been fully tested by SkyFi's expert technician to verify "every function, switch, and connector works as it should," and all knobs and controls have been thoroughly cleaned and lubricated.
"On the bench the preamp passed with flying colors and is super quiet," SkyFi says, noting that the SPEC-1 is very clean cosmetically with only a few minor scratches.
For more information, visit skyfiaudio.com.
Click here for more on the Pioneer SPEC series from collector John A. Weeks III.