Anatomy of a Home Theater Retrofit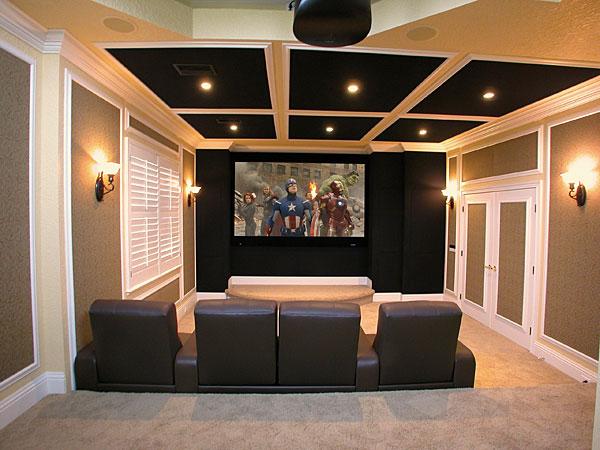 Challenges are nothing new to systems integrators. However, retrofits generally require more out-of-the-box thinking than new construction. "The creation of a home theater during construction is relatively easy," says Ryk Schoonheim, owner of the Sarasota, Florida–based Sights, Sound and Such. "Transforming an existing space is another story." Each retrofit offers a unique set of problems, and so it was with this Port Charlotte, Florida, home theater installation.
While the room was more than wide and deep enough for a suitable theater (18 x 22 feet), the rear of the room was irregularly shaped. Had the crew installed the traditional reclining chairs in the front with a second tier and more chairs, there would have been a huge octagon-shaped gap in the rear of the room. It would not only have been a waste of valuable space, it would have looked extremely awkward.
The solution was a custom-fitted lounger from Fortress Seating that filled the area perfectly. The full-length lounger, made with soft, comfortable leather, was designed to match the look and feel of the front-row seats. Between the reclining seats and the lounger, there's plenty of space for friends and family to relax and enjoy movies and TV.
The theater is equipped with high-end audio and video components, including a Runco LightStyle LS-5 DLP projector paired with a 117-inch Stewart FireHawk fixed screen incorporating a masking system for multiple aspect ratios. A Denon AVR-4311CI A/V receiver powers the Sonance speakers hidden in the walls and ceiling, plus a pair of Energy speakers for the surrounds. A Velodyne 12-inch, 1,500-watt sub rounds out the 7.1-channel system, ensuring plenty of bass and hard-hitting impact.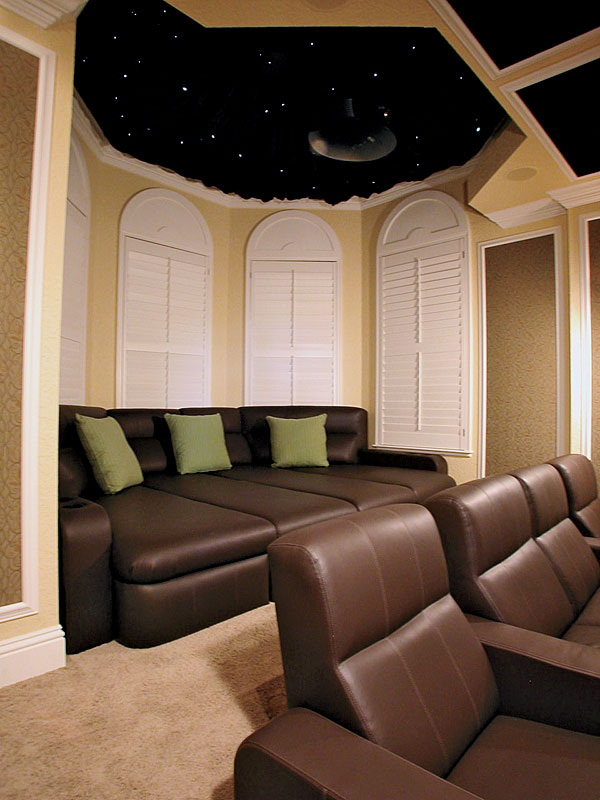 A Denon Blu-ray player with streaming content, an Apple TV, and a PlayStation 3 console provide plenty of source material. All the components are on the home network for easy downloading or performing firmware updates.
The homeowners did report one small, unexpected problem. Sometimes they fall asleep on that super-comfy lounger in the rear of the room. "That's life, Sarasota style," says Schoonheim.
Contact
Sights, Sound and Such
Sarasota, Florida
(941) 809-2503
sightssoundsandsuch.com