American Psycho 4K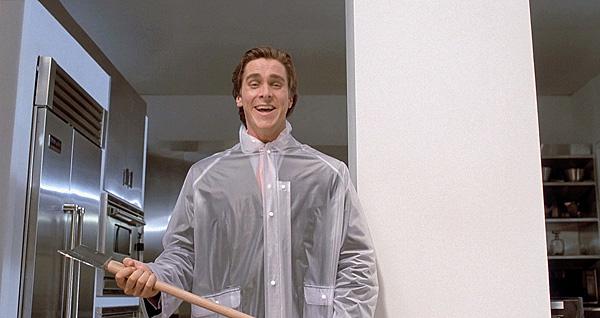 American Psycho was originally shot on Super 35 film with Panavision cameras and arrives on 4K Ultra HD Blu-ray in a 2.35:1 framed format with Dolby Vision HDR. The image looks good, with natural film grain, inky blacks, and only some slight shadow crush in a few scenes. Wide color gamut and high dynamic range does wonders for the various Manhattan night scenes: shadows look nuanced, street lights pop, and the lamps in apartments and restaurants display a natural glow.
The film's Dolby Atmos (compatible with TrueHD 7.1) mix is the sole soundtrack option. Overhead speakers carry an abundance of atmospherics that really assist in building tension. The '80s pop tunes fill the Atmos channels and spread across the front and surrounds, but the most effective use of the immersive mix is when Christian Bale's voiceover takes on a "voice of God" effect to make it sound like he is in your head—or you're in his head. While there isn't too much low-end extension, the soundtrack is punchy enough.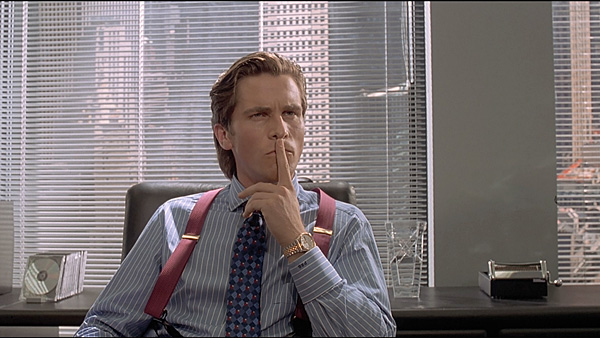 Lionsgate brings the "Uncut Version" of American Psycho to 4K Ultra HD Blu-ray with three audio commentaries, including a newly recorded commentary with director and co-writer Mary Harron. Other special features include twelve minutes of deleted scenes in HD, a featurette on 1980s fashion and culture called The 80s: Downtown, and a 50-minute documentary, American Psycho: From Book to Screen. A Digital HD copy and regular Blu-ray disc version of the movie are also included.
Ultra HD Blu-ray
Studio: Lionsgate, 2000
Aspect Ratio: 2.35:1
HDR Format: Dolby Vision, HDR10
Audio Format: Dolby Atmos (compatible with TrueHD 7.1)
Length: 102 Mins.
Director: Mary Harron
Starring: Christian Bale, Justin Theroux, Josh Lucas, Bill Sage, Chloë Sevigny, Reese Witherspoon
The controversial 2000 film American Psycho from co-screenwriter/director Mary Harron (Alias Grace) was based on the novel by Bret Easton Ellis. Set in the fast-paced 1980s, it follows the privileged, handsome, and narcissistic Wall Street executive Patrick Bateman (Oscar winner Christian Bale) who is all about greed and self-aggrandizement. By day he builds on the fortune and material things he has already accumulated, but at night the eviler demons inside him slip out to experiment with a dizzying array of sex and violence. The restraint in direction shown by Harron, and the brilliant performances by the cast, evoke the sickening psyche of a serial killer along with the culture of yuppie excess that defined the '80s. The combination makes American Psycho a significantly more complex thriller and slasher film than much of what passes for that today.