Amazon TVs on the Way, Sony and LG Win TV Shootout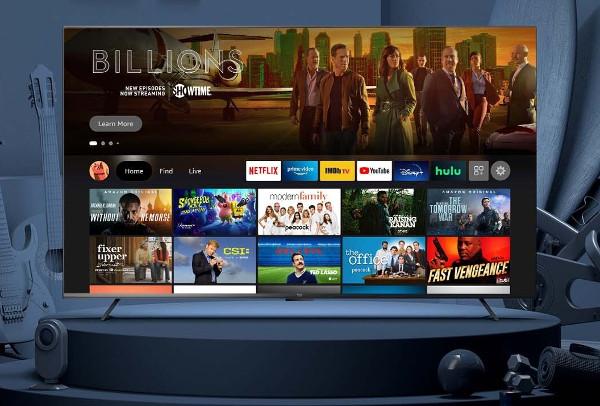 The world's largest online retailer just keeps getting bigger and is now seeking to expand its stake in one of America's favorite pastimes: watching TV.
Starting in October, Amazon will complement its immensely popular Amazon Prime Video streaming service with eight Amazon-branded 4K TVs built around its Fire TV streaming platform and featuring a new, smarter version of its signature Alexa voice platform. The LED-backlit LCD TVs will be offered through two lines: the entry-level Fire TV 4-Series — comprising 43-, 50-, and 55-inch models that list for $370, $470, and $520 — and the more upscale Fire TV Omni Series, offering 43-, 50-, 55-, 65-, and 75-inch models, ranging in price from $410 to $1,100.
All models feature a fully integrated Fire TV interface, voice control, smart home control capabilities, and support HDR10 and HLG high dynamic range (HDR) as well as Dolby Digital Plus surround sound with Dolby-encoded audio passthrough. All are also equipped with four HDMI connections: three HDMI 2.0 and one that supports enhanced Audio Return Control (eARC) 2.1.
Omni Series TVs offer greater overall functionality, including the ability to connect wirelessly to Amazon smart speakers (including the Dolby Atmos-enabled Echo Studio) for enhanced sound, summon Alexa to make calls from the TV (with Zoom video calling to follow later this year), and use Live View Picture-in-Picture feature to monitor smart cameras (or a Ring video doorbell) while watching TV. A new smart-home dashboard is also in the works, which will allow viewers to monitor and control connected devices throughout the home.
The top 65- and 75-inch Omni models further distinguish themselves with a slim-bezel design and Dolby Vision HDR at retail prices of $830 and $1,100, respectively.
Though Amazon has had a limited presence in the TV market through brands such as Toshiba and Best Buy's Insignia that incorporate the Fire TV platform, the introduction of Amazon-branded televisions enables the company to compete directly with marquee brands like Samsung, Sony, and LG. China's TCL is reportedly building the TVs for Amazon.
Alexa is key across both TV lines but voice control is implemented via the TV's remote control or the Fire TV app on 4-Series models, while Omni models also boast far-field voice recognition so commands and Alexa queries can be "heard" from across the room, akin to the way voice operations work with Echo smart speakers.
Viewers can use voice commands to control volume and playback, adjust picture brightness, switch inputs, and turn closed captions on or off, among other tasks. You can also ask Alexa to tune into favorite shows without having to select an input or recite a channel name or streaming service. The software also makes it possible to set up voice routines that handle multiple tasks such as turning both the TV and (smart) lighting on simultaneously.
The TVs include new Alexa capabilities to "make it even easier and more natural" to find content, including asking for recommendations and refining searches by movie genre, actors, and other information. A new "Alexa, what should I watch?" recommendation feature is slated to launch in beta later this year along with an "Alexa, Play Something from Netflix" feature and support for TikTok videos.
Alexa is available even when the TV is turned off to make it easy to request a weather report, ask a question, or access calendar events, though owners have the option of turning off the TV's built-in microphones to preserve privacy.
Amazon also previewed the Fire TV Stick 4K Max, a new 4K streaming media player that supports Dolby Vision, Dolby Atmos, and the new Wi-Fi 6 protocol for "smoother streaming in 4K." Due out in early October, the $55 player is described as 40% more powerful than the existing Fire TV Stick 4K and will include the Live View Picture-in-Picture feature.
For more information on the Fire TV 4-Series, visit amazon.com. Click here for more information on the Fire TV Omni Series.
Sony Crowned King of 4K TV, LG Takes 8K Prize
The Sony XR-A90J Master Series OLED TV was crowned the "King of 4K TV" during the 18th Annual TV Shootout hosted by Scarsdale, NY-based Value Electronics and co-sponsored this year by the industry trade magazine Dealerscope. The event was held in New York City this past Sunday and Monday.
One model up from the XR-65A80J that nabbed a Sound & Vision Top Pick last month, the A90J (shown above) — flagship of Sony's Master Series — prevailed in a four-way comparison that pitted it against LG's G1 Gallery Series OLED TV, Hisense's 75U9DG Dual Cell LED-based LCD model, and Samsung's QN90A QLED TV, also a Sound & Vision 2021 Top Pick. The Sony received the most votes from a panel of experts who judged picture quality in several areas, including contrast, color fidelity, color saturation, and motion resolution.
For the first time, the event also included a shootout of 8K TVs and a shootout of ultra-short-throw (UST) projectors designed to put up 100-plus-inch images when placed only a few inches from the wall. LG's ZX Signature Series OLED TV (shown above) took top honors in the 8K category where it went up against Samsung's QN900A and Sony's XR-Z9J, while Hisense's L9G TriChroma Laser TV (shown below) prevailed in a three-way UST projector faceoff that pitted it against LG's HU85LA and Samsung's SP-LSP9TFAXZA.
Stacey Spears, co-creator of the Spears & Munsil High Definition Benchmark video-calibration series, was the master of ceremonies for the 4K and 8K TV shootouts while Rob Sabin, editor-in-chief of the website Projector Central and former S&V editor, presided over the UST shootout. Hisense's L9G received the most votes from a panel of experts who evaluated a variety of parameters, including color accuracy and skin tone, black level and shadow detail, geometry, UHD detail and sharpness, focus, tone-mapping, color gamut, and 24p motion control in both SDR and HDR reference modes.
All three of the shootouts used the same panel of judges: David Medina, production technical operations manager for HBO; Giles Sherwood, head of post-production for The Criterion Collection; professional ISF calibrator John Reformato; Mark Henninger, co-owner of Imagic Digital; and Jason Dustal who handles training and support at Murideo and the YouTube channel Stop the FOMO.
Onkyo and Integra Get a New Owner
Onkyo, the classic brand that became known for building high-quality mass-market audio gear — particularly receivers — in the 1970s, has a new corporate parent.
Premium Audio Company (PAC), the wholly owned subsidiary of VOXX International that owns Klipsch and a number of other consumer electronics brands, has acquired Onkyo's home audio/video business through a joint venture it formed with Sharp. The deal includes the Onkyo and Integra brands.
PAC owns approximately 75% of the venture and will manage product development, engineering, sales, marketing, and distribution of Onkyo's home entertainment business. Sharp will continue to manufacture Onkyo products in Malaysia, as it has in the past.
The press release announcing the acquisition said Sharp will "focus on scaling its manufacturing lines and managing the supply chain to handle more anticipated production volume," which suggests the new owners may be planning to broaden the base of the brand. What this means for Onkyo and Integra products in the future remains to be seen.
It's been known for a while that Onkyo was up for sale. Sound United entered into an agreement to purchase Onkyo in May 2019 but the deal was scuttled several months later. Had it gone through, Onkyo would have become a sister brand to Denon and Marantz, two of the many audio brands owned by Sound United, which most recently acquired British speaker titan Bowers & Wilkins.
VOXX also announced that it has signed a licensing agreement with Pioneer Corporation under which PAC will now market and sell Pioneer and Pioneer Elite audio/video products worldwide, except in China. Sharp is handling the manufacturing.