All Dolled up and someplace to go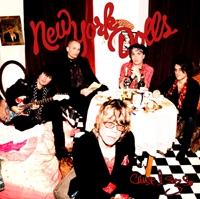 Atco/Rhino
---
Music •••½ Sound •••½
Rarely has a reunion been as successful as the 2004 reconstitution of the New York Dolls. Broken up since 1977 - and despite the fact that only three original members were still alive at the time (Arthur Kane died shortly after) - the glammed-up protopunks hit concert stages again with a conviction and an authority that showed they weren't just lipstick-smeared pastiche revisionists. These new/old Dolls still had the chops and the will to resurrect their original vision of erratic fashion, arrogant revolution, and messed-up sexuality with the ragged, ratty, elemental guitar work and brash attitude that inspired artists like Guns N' Roses, Morrissey, and almost every hair metal band of the '80s.
To further prove the point, they released One Day It Will Please Us to Remember Even This in 2006, and while it wasn't quite the long-hoped-for follow-up to the prophetic and reckless grandeur of 1974's Too Much Too Soon, it still swaggered haughtily through some of the same seedy terrain. No matter that they were no longer twentysomethings on the make: The Dolls recalled the post-Stonesian debauchery and mockery unfurled when they first tottered out in spindly platform heels back in 1971.
Now, on 'Cause I Sez So, they've wiped off the makeup, shed the spandex, and come up with an album of substance and scope, showcasing songwriting acumen and finely honed musicianship. David Johansen and Sylvain Sylvain are joined by guitarist Steve Conte, former Hanoi Rocks bassist Sami Yaffa, and drummer Brian Delaney - and though it's heresy to admit, this configuration is more talented and nuanced than the Johnny Thunders-era Dolls. Still, it's missing the saucy insouciance, the preening dysfunctionality, and the polarizing in-your-face aggression that made them one of the most dangerous post-Woodstock bands this side of Iggy and the Stooges.
That said, these Dolls are no longer interested in an idealized past, or in glam rock as a lifestyle. With its assertive name, the title track may promise more than it delivers, but that's not a bad thing. The song is more social commentary than braggadocio, skewering reality culture with a serrated wit and an intelligence that the Dolls aren't afraid to show anymore.
And they still take chances. Their messy anthem "Trash" has been denuded of all bile and ire and fitted out in a grass skirt, transformed into a reggae tune. This may have more than a little to do with the fact that they recorded it at Todd Rundgren's think tank on the island of Kauai. The producing auteur midwifed the Dolls' 1973 self-titled debut, and here he guides them through the shoals of middle age with a Zen calm, the self-avowed Buddhist no doubt encouraging the search for meaning that seems to underpin most of the songs here. There's reflection and regret and sometimes acceptance in the best songs, like the Young Rascals-inspired "Lonely So Long" and the lazy cowboy rock of "Better Than You," with the telling lines: "My baby, she says my music's better / It's much better than it sounds." Which pretty well sums up this disc.