Integra DTC-9.8 A/V Processor
Next-generation audio/video controller.
Integra raised a lot of eyebrows when it announced the new DTC-9.8 A/V processor at CEDIA last year. Not only was this the first pre/pro on the market to offer decoding of the next-gen audio codecs from Dolby and DTS, it also boasts Silicon Optix video processing and highly sophisticated Audyssey room correction. And its $1,600 price point was almost unheard of in the separates market.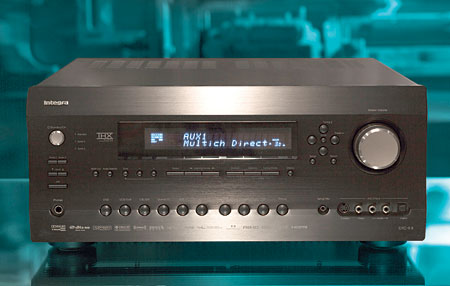 Today's AVRs and pre/pros must combine up-to-the-minute audio decoding and processing with all of the features of the multi-thousand-dollar video scalers of yesteryear. This may just be the most fully featured value-priced surround processor out there.
The Design
The DTC-9.8's front-panel display shows all the pertinent information, including the source selected, surround mode, channels used, and volume. The display can be dimmed but can't be completely turned off.
The back panel looks almost identical to those of the higher-end Integra receivers, less the speaker-output terminals. Instead, you'll find enough XLR audio connections for a 7.1 audio setup, or you can biamp the front channels in a 5.1 configuration. Integra has also included a balanced two-channel input. Despite the fact that the Integra uses balanced audio outputs, this is not a true dual-differential design.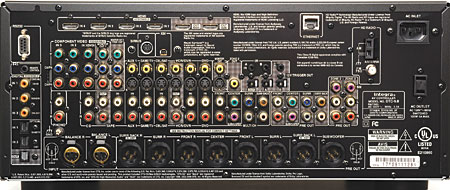 There are four HDMI 1.3a inputs and dual HDMI outputs. These support every audio and video format currently on the market. Other key additions are XM and Sirius radio support, an Ethernet port for future expansion, and an optional iPod dock.
Features, Features, Features
The DTC-9.8 is equipped with three state-of-the-art DSP engines, allowing it to offer a wide range of features you won't find in other surround processors in this price range.
The Integra internally decodes and processes every high-resolution audio source available today. This includes PCM sources up to 7.1 channels, pure DSD streams from SACD playback, and the newest flavors from Dolby and DTS, including lossless Dolby TrueHD and DTS-HD Master Audio.
The Integra DTC-9.8 also includes a broad range of post processing. This includes THX Neural Surround post processing (designed for gaming and broadcast applications and derives up to 7.1 channels of audio from 5.1 sources and 5.1 audio from stereo sources), Dolby's Pro Logic suite, and THX's full complement of post-processing features. All of the post-processing modes can be layered on any incoming audio signal, including the next-gen codecs from Dolby and DTS.
Another big plus on the audio side is Audyssey's MultEQ XT, a full-featured room-correction system. Audyssey calibrates your system and performs correction for in-room response, optimized for multiple seating positions. The DTC-9.8 also supports MultEQ Pro, which allows an Audyssey installer to take the calibration a level further, using more sophisticated analyzing equipment. The additional capabilities of MultEQ Pro not only allow for the inclusion of more seating positions, but also allow the calibrator to select from multiple curves that are better suited to certain room dimensions. This level of calibration can only be achieved through an installer fee of about $400; but depending on the circumstances, it may be worth the added price.
The Integra's video-processing capabilities are courtesy of Silicon Optix's Reon video processor. This is one of the better high-definition video-processing solutions on the market. The DTC-9.8 can also convert all analog video inputs to HDMI, providing the end user with a single-cable solution to their display.
Because many consumer HD displays are either 720p or 1080p, using a high-quality HD video processor is essential to getting the most out of HD broadcast signals from cable or satellite, many of which are 1080i. The Reon chip is one of the only chips on the market that converts 1080i to 1080p (or 720p) properly. This means performing proper 3:2 pulldown with film sources and correct processing of video-based material. If you have a 720p display, the video processor still needs to properly deinterlace 1080i to 1080p and then scale down. The few pre/pros that do offer video processing at this level cost much more than the DTC-9.8.