Wrap-Up: Audio Expo North America 2023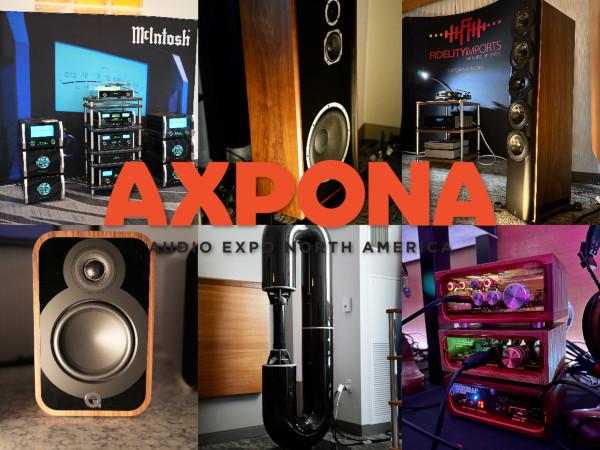 The halls were alive with the sound of music at the Renaissance Schaumburg Convention Center Hotel this weekend for
AXPONA 2023
.
The turnout was impressive. Crowds were in abundance and the energy was high as enthusiasts from around the world canvassed the show to see and hear the latest and greatest in everything from entry-level audio to high end dream systems. All forms of music playback sources were solidly represented — from network streamers to CD players to record players, including some of the most sophisticated (and expensive) turntables you'll find anywhere.
I always love a good audio show. Apart from being able to finally see and hear so many great products in person, it's a chance to revel in the sense of community while meeting and interacting with many wonderful people who share a passion for this hobby of ours.
The variety of brands and products was truly staggering — from gorgeous headphone amps and DAC's from budget-friendly Mom and Pop companies like Geshelli Labs (shown above) to Perlisten Audio's $18,000/pair flagship S7t tower speakers. The Perlisten room was consistently packed with attendees clamoring to audition the S7ts or an R Series system featuring R5m monitors, electronics from Italy's Gold Note, and a pair of 10-inch R210s subwoofers.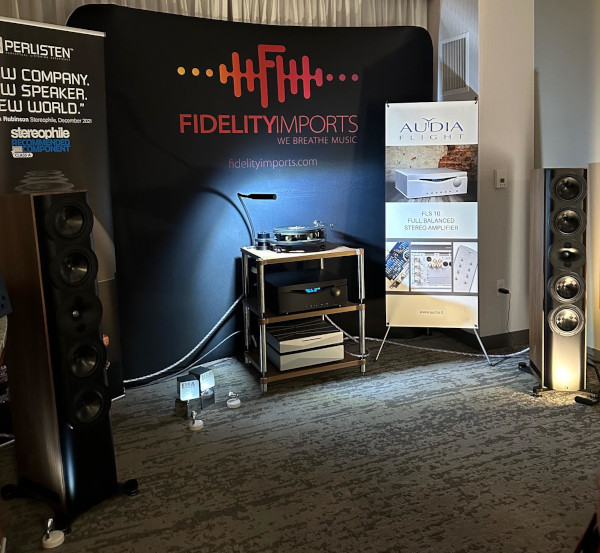 Of course, a show like this would not be complete without demonstrations of drool-worthy systems from the likes of legendary U.S. brand McIntosh and Denmark's DALI, which delivered a feast for the eyes and ears with its reference Kore tower speakers, priced at $110,000/pair.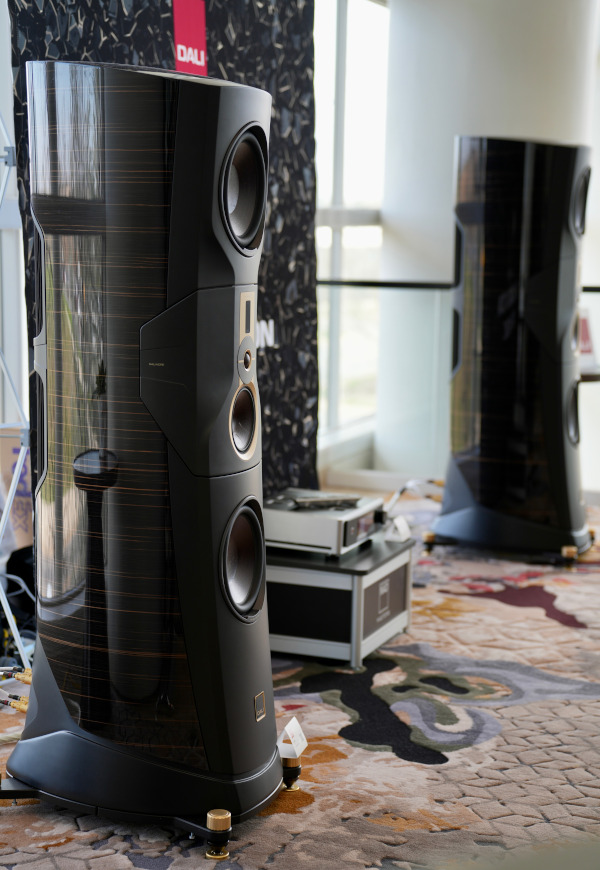 Not to be outdone, Hungary's BAYZ Audio demonstrated its wildly unique Counterpoint 2.0 speaker ($159,000), which as you can see from the photo below looks more like a giant carabiner than a speaker, while France's Diptyque Audio treated showgoers to its minimalist "Magnetostatic" panel speakers, priced at a cool 50 grand a pair.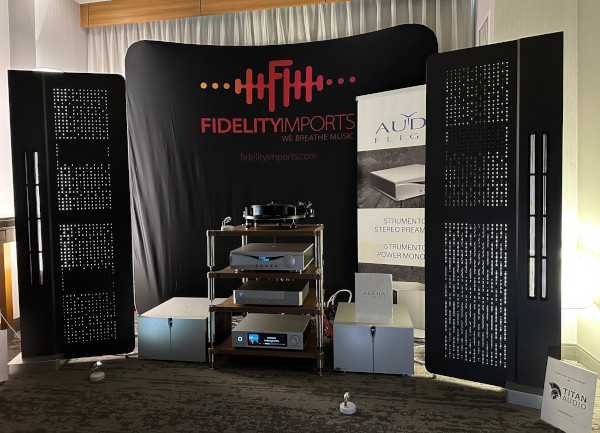 Several top brands used the AXPONA 2023 to debut new speakers and gear and it is always a blast to see and hear products before they are available to buy. One notable standout was KLH's Model Seven, the next step up in the brand's popular Model series. [Editor's note: See our recent interview with KLH CEO David P. Kelley for more on KLH and the Model Seven, which is due out later this year.] Take everything you love about the Model Three and Model Five and dial it up a notch. Larger cabinet and drivers, sturdier internal bracing, and upgrades to the crossover network. Add in the iconic styling with included metal stands plus KLH's 10-year warranty and you have an incredible pair of speakers at $4,000! I saw a lot of happy faces in that room.
Q Acoustics made a statement with its new, strikingly beautiful and affordable 5000 series speakers, which sound as good as they look. One gentleman, who sat in the room listening for over 45 minutes, told me the 5010 bookshelf speaker was his favorite of the show. High praise, indeed, for speakers that cost $1,498 a pair. The series sports an all-new style that is both refreshing and unmistakably Q Acoustics.
I saw and heard many incredible setups and enjoyed many engaging conversations yet still managed to miss a ton of the show after two full days of roaming the aisleways. I'm thrilled to see shows back to full strength after a couple years of Covid-induced uncertainty and look forward to attending more in the future.
Related