Wonder Woman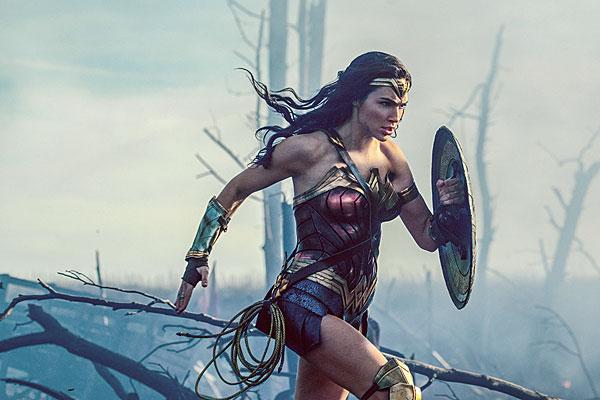 A race of Amazon warrior poetesses, living peacefully on the magical island of Themiscyra since the time of the Greek gods, is suddenly dragged into an ugly conflict not of their making. Agent Steve Trevor arrives on their shore, pursued by enemy Germans, with tales of a mad scientist, secret weapons, and millions dead. Suspecting this to be the work of Ares, god of war, the Amazons worry that this might be the prophecy foretelling the end of civilization. Diana, a fierce warrior and the purest of spirit, defiantly takes Steve back to his world so that she might confront Ares and defeat him once and for all. Although naïve in the ways of man, she remains steadfast in her noble quest, but will her skill and courage be enough?
Wonder Woman lands in the home theater in a pleasing 4K Ultra HD presentation. Since it was shot on both film and digital media, some modest incongruities emerge. Occasional background skies and close-ups display a mildly distracting grain/video noise, whereas most of the movie is rock-solid, even in potentially difficult instances of smoke and clouds. The 2160p clarity is striking, particularly in long shots, although some of the computer-generated imagery is exposed as such. Director of photography Matthew Jensen favors extensive use of shadow. Much of the action is set at night or in smoggy London and other locations across a largely pre-electricity Europe, and the high dynamic range adds welcome contrast that preserves the desired look. The wide color gamut is less obvious, but an early flashback is noticeably stylized, the greens of Themiscyra are quite lush, and the dialed-down primary colors of Diana's costume remain striking. A few instances of strobing/motion artifacting mar the 2.4:1 image. A Blu-ray 3D version, available separately, adds some further impact to the more dramatic action sequences.
The Dolby Atmos soundtrack is built upon a Dolby TrueHD 7.1channel core, the latter reviewed here. Bass use is generous if a tad boomy at times. Explosions have kick without shaking the rafters. Arrows zip magnificently across the soundstage, while shelling on a distant battlefield flaunts convincing oomph and surround involvement. Dialogue is especially clear. The story is aided greatly by a truly lovely and romantic score by Rupert Gregson-Williams.
All of the extras are on the included HD Blu-ray. There's no director commentary; however, the plentiful featurettes go deeper than most, revealing the extraordinary inspiration and perspiration. The "secret scene" conspicuously absent in theaters is here, neither particularly entertaining nor original as it sets up Justice League with a Marvel-style McGuffin. Ten more minutes of extended/alternate scenes, a bloopers reel, and a 4K UltraViolet Digital Copy round out this wonderful edition.
Blu-ray
Studio: Warner Bros., 2017
Aspect Ratio: 2.40:1
Audio Format: Dolby Atmos / True HD 7.1 core
Length: 141 mins.
MPAA Rating: PG-13
Director: Patty Jenkins
Starring: Gal Gadot, Chris Pine, Connie Nielsen
Many filmmakers would surely crack under the challenges of finally bringing Wonder Woman to the big screen. But the remarkably gifted Patty Jenkins (writer/director of 2004's Monster, her last feature) tackles the ambitious production—an action-heavy World War I– era period piece—with educated gusto, thoughtfully honoring and expanding upon the beloved heroine's legacy. Of course, none of that matters without the right star, and Gal Gadot's Princess Diana combines strength, brains, and innocence to give this movie an irresistible heart.