The Woman King
The Woman King is inspired by true events and centers around General Nanisca (Viola Davis), the seasoned leader of the Agojie, an all-female group of warriors that protects the African kingdom of Dahomey. After Gen. Nansica suggests to the king that the slave trade, an essential part of their economy, has put their future at risk, she urges him to seek other means of commerce through their foreign partners.
The outlying African tribes, one of which is at odds with Dahomey, decide to seize the opportunity to overthrow their rival kingdom. This is the impetus for the film's central conflict as well as the relationships that rotate around it.
I am generally drawn to films with strong female characters. The Woman King has epic aspirations, but the script lacks the substantial character base and narrative scope that would place it in that category. Its formula is something we have seen before, falling more into the realm of a drama, with elements of action.
The story is solid and resonates due to some strong performances, cultural context and inspirational themes. What I enjoyed most was the juxtaposition of the action and the drama, as it pertains to the strengths and weaknesses of the characters and their interpersonal relationships. At 135 minutes, it runs a little too long and would have benefitted from tighter editing, yet overall I found the movie to be compelling and entertaining.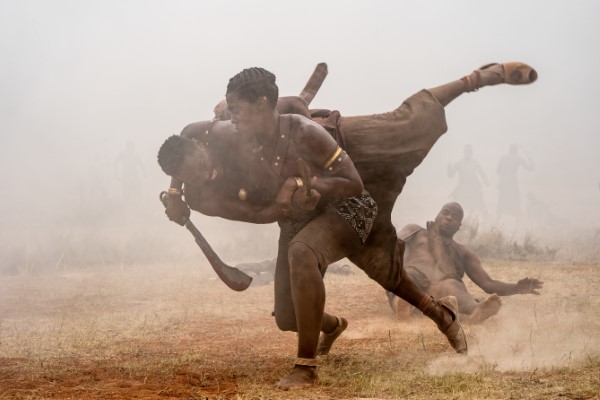 The video was rendered from 4.5K/6.5K sources and finished on a 4K digital intermediate. It delivers resolute detail that enhances depth and dimension. High dynamic range and wide color gamut are on-point, as earth tones and secondary hues had pleasing vitality and depth. Contrast and deep blacks embolden both bright and darkened areas of the 2.4:1 picture. The Dolby Atmos mix utilizes the entire platform to render the film's soundtrack.
In general, its use of audio objects in the height plane consists of atmospherics and occasional panning fills. Dialogue and effects are consistent over the course of the presentation, generating a correlated, broad and enveloping soundstage. Dynamic range and bass response is appropriate, adding thematic emphasis and resonating punch when called upon.
Bonus features include four brief production featurettes, an audition reel and filmmaker's commentary. The highlight is a conversation with Viola Davis where she details the extensive prep work required for such a physically demanding role. An HD Blu-ray disc and Movies Anywhere digital code round out the package. The Woman King is a well-executed addition to the action-drama category.
Ultra HD 4K Blu-ray
STUDIO: Sony, 2022
ASPECT RATIO: 2.40:1
HDR FORMATS: Dolby Vision, HDR10
AUDIO FORMATS: Dolby Atmos with TrueHD 7.1 core
LENGTH: 135 mins.
MPAA RATING: PG-13
DIRECTOR: Gina Prince-Bythewood
STARRING: Viola Davis, Thuso Mbedu, Lashana Lynch, Sheila Atim, John Boyega