Wharfedale DX-1 HCP Speaker System Page 2
Contraband sends Mark Wahlberg tumbling through a story about smuggling and betrayal. The Wharfedale satellites and center played this action-packed movie at high levels without discomfort, producing a soundfield that was big and not speaker-bound. These properties would emerge again and again with other content. The speakers proved to be as well suited to Big Head Todd & the Monsters featuring John Lee Hooker ("Boom Boom") as they were to action movies, making Hooker's vocal vibrant.
Red Tails with Cuba Gooding Jr. retells the story of the Tuskegee Airmen, the World War II air combat unit that broke the color barrier even as it pounded the Luftwaffe. While the sub downplayed crashes and explosions, the satellites and center did a great job with the buzzing, roaring trajectories of warplanes as they zoomed around the soundfield. Having identical speakers in all four corners of the soundfield gave extra zest to one of the mixer's favorite effects, a plane zooming from rear to front as it suddenly appears onscreen. When the path was diagonal—say, left surround to front right—the effect was even more stimulating. Solid timbre matching between the center and satellites made sideto-side pans equally effective.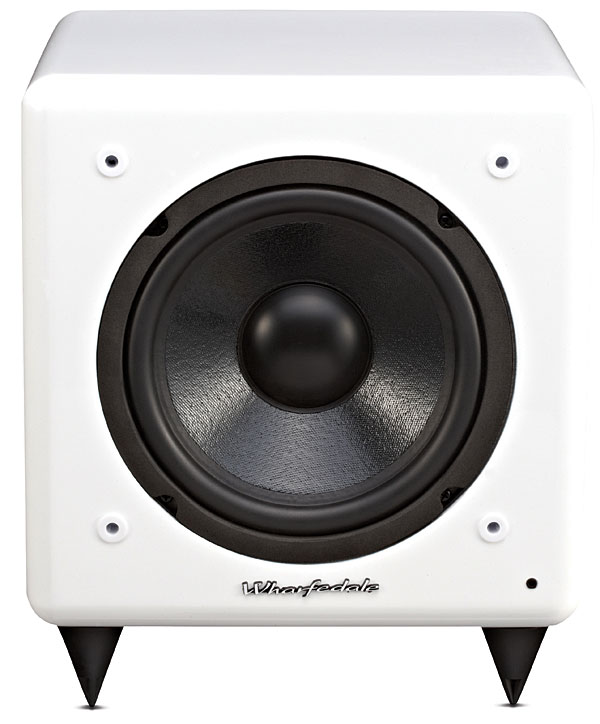 The Grey puts Liam Neeson in charge of a ragged band of air-crash survivors squaring off with a wolf pack in the Arctic wilderness. Front-loaded with the most aggressive effects—extreme plane turbulence followed by a prolonged crash landing—the movie taxed the sub's control of its driver. (That was just inevitable with a modestly powered, fairly compact sub. A brawnier one would likely have raised the package price considerably.) As all-channel howling took over, from both wind and wolves, the system continued to generate a large and room-filling soundfield. The orchestral track was often interwoven with the wind, a nice storytelling strategy that the satellites abetted with blending, as opposed to a more clinical layering. I'm not saying blending is better than layering, or vice versa—that's just the choice this system made.
Warm Blooded
The Blu-ray release of Peter Gabriel's New Blood: Live in London comes with a superb high-resolution multichannel soundtrack. While this orchestral approach to the Gabriel songbook has not attracted unanimous support among fans, the ones who like it probably agree with me that Gabriel's versatile voice is well suited to an orchestral backdrop, and the replacement of rhythm section and electric instruments with strings and other orchestral forces enables the songwriter to rediscover his European roots. With their midrange resolution, the Wharfedales made the chameleon voice utterly gripping as it roved through its multiple timbres. While the gentle presentation of the silk-domed tweeters didn't allow him to enunciate to the fullest extent, the speakers delivered 95 percent of what Gabriel needs to achieve deep emotional involvement with the listener. The strings were smooth but not entirely dumbed down, as the fade-out of "Intruder" indicated, with its squeaky upper-register scrapings. The sub held up its end by controlling the pitch of cellos and basses.
The Open Goldberg Variations is a performance of Bach's piano masterwork by Kimiko Ishizaka—available free, online, in FLAC, WAV, and MP3. There is also an iPad app. I played the 96/24 FLAC files through the AudioQuest DragonFly USB DAC, slightly stretching its mission of providing jitter-reduced digital-to-analog conversion for headphones and multimedia speakers. The Wharfedale satellites did nothing to destroy the vinyl-like sound quality I've come to associate with this DAC. However, they lacked some of the fine-boned upper harmonic structure that the FLAC-and-DAC combo have mustered through the Era speakers that sit on my desktop. This most likely stemmed from an intentional difference in design intent: The Eras are designed for high-quality amplification, while the Wharfedale package aims to be more forgiving and versatile. On a purely subjective level, the piano recording retained its limpid, golden beauty, and I loved hearing it as presented by the DX-1 system. To hear Ishizaka's performance for yourself, go to opengoldbergvariations.org.
The silk-domed-tweeter-equipped satellites mellowed out on Nothing's Gonna Change the Way You Feel About Me Now, a CD by Justin Townes Earle (son of Steve Earle). Their warm, laid-back presentation suited Earle's warm, laid-back voice, reminiscent of Van Morrison. The more I listened, the better I liked it, especially when I got a little laid back myself and my head began to weave out of the sweet spot. Imaging held up well when I moved off axis. The voice remained solidly imaged between two satellites, and my tired body was relieved that I could spend the rest of this demo in a horizontal position.
It is possible that Gilbert Briggs, the Yorkshireman who founded Wharfedale in 1932, did not foresee a future in which the brand's badge would land on a great $799 sat/sub set, shipped from the factories of China to value-minded surround-sound buffs the world over. Even so, these little speakers support their dual identity—part hi-fi, part home theater—with panache and sensitivity to the emotion of a performance. They would mate acceptably well with inexpensive receivers, but given their lowish sensitivity and that often-miraculous midrange, they'd do even better with mid-priced receivers. Pretty much anyone looking for a solidly performing sat/sub set should give these a close look.