Vizio M70Q7-J03 LCD Ultra HDTV Review Page 2
The Game mode looked surprisingly dim at its default settings, but could be punched up via the user controls. Vizio's Gaming Engine includes VRR (Variable Refresh Rate) and AMD's FreeSYNC, but gaming support is limited to 4K/60fps signals.
Both 2-point and 20-point white balance adjustments are available, plus a full color management system (CMS). Motion compensation is restricted to one selection that adds black frame insertion and produces a darker image (though this can be partially overcome on SDR sources by increasing the Backlight control). This offers an improvement with some types of motion, but not all (and none with 24fps material). I'm not overly sensitive to, or critical of, occasional motion blur, but some viewers are and it's more evident on an LCD set like this than on an OLED.

The M70Q7's Backlight control is available only for SDR viewing. When viewing sources with HDR it instead becomes a "tone mapping" control, though the effects here are subtle. I had issues with the Power Mode (turn-on) circuitry. There are two options for this under the System menu: Eco and Quick Start. The latter proved problematic; sometimes it worked quickly, but more often it took more than one push of the remote's On-Off button to get the set to turn on. Eco is said by Vizio to save power with a slower turn-on, but the set actually turned on almost immediately with no fanfare when in Eco mode.
I used the Vizio's Calibrated Dark picture mode for SDR viewing and the Calibrated mode for Ultra HD/HDR. Oddly, the set doesn't automatically switch picture modes when the source changes from SDR to HDR, so I had to manually switch modes to access my different picture adjustments for each. (To our knowledge, only Sony offers TVs that automatically apply internal correction factors to HD/SDR calibration settings to optimize them for Ultra HD/HDR viewing.) The settings you select for a given picture mode on one input also don't automatically carry over to a different input. You'll instead need to dial them in manually since there's no menu option to "apply settings to all inputs."
HD/SDR Performance
I noted visible "blooming" on the Vizio in images with very bright highlights against very dark (and especially black) backgrounds, but the effect wasn't much worse than I've seen on other LCD TVs, even considerably pricier models offering far more local dimming zones. Bright objects next to black letterbox bars would sometimes also bloom into the bars, though not enough to be distracting even in a dark room (room lighting tends to mask blooming effects).
The Vizio had good uniformity at a normal viewing distance, with little or no screen clouding. (Sometimes called "dirty screen effect," this issue can vary from sample to sample even in the same product range.) Its picture looked best when viewed from a middle seat. Off-center fading of color and contrast (typically beginning at roughly 25 degrees off-axis) is common shortcoming with LCD TVs, though some new high-end models perform much better on this parameter.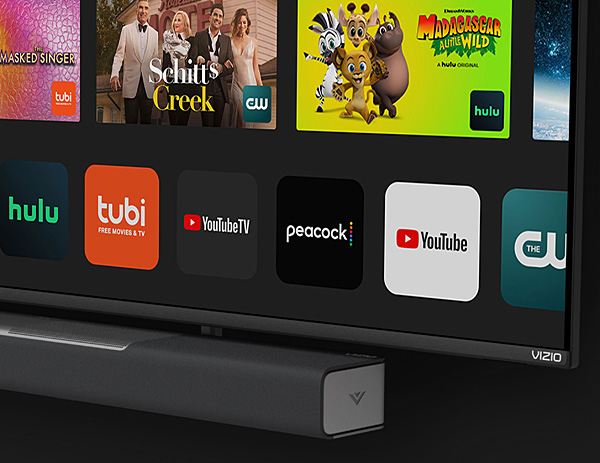 Before performing a video calibration, I spent many hours with the Vizio watching streamed sources and Blu-ray discs and was happy with its picture quality. For that reason, it came as a surprise later when my measurements indicated a significant blue shift in the set's white balance, even with the Warm color temperature setting selected in the Calibrated and Calibrated Dark picture modes. Set makers often add excess blue to a set's Vivid or Dynamic picture modes to increase visible brightness. But this is the first time I can recall seeing it in the Calibrated and Calibrated Dark picture modes, which typically are the most accurate ones on Vizio TVs.
While a blue error isn't likely to bother most buyers, a good SDR calibration nevertheless produced excellent results. The stunning banquet scene from Victoria & Abdul popped as impressively as it ever has for me, even with far pricier sets. Ditto for the rich colors and intricate details in Casanova.
The Vizio performed effectively in the darkest scenes from Prometheus despite the set's relatively limited number of dimming zones. Black letterbox bars in the image remained convincingly black with rare exceptions, while the early shots of starfields and the dark cave scenes were handled convincingly.
Watching War Horse, I felt at times that colors looked a bit too saturated, and shadow detail in the darkest scenes a little crushed, but I then wondered if that look simply reflected the choices of the cinematographer, Janusz Kaminski. To confirm, I next watched Blade Runner 2049 on Blu-ray. The very darkest sequence in this film (as K discovers the toy horse in the dim recesses of an old plant), didn't look perfect, but the set performed well enough for me to set aside these minor concerns.
Ultra HD/HDR Performance
When viewing 4K/HDR sources, the VM70Q7 didn't equal the combination of measured and subjective performance it did with SDR ones. It also wasn't competitive with many of the other sets we've reviewed recently, although most of these are far pricier. As discussed in the Test Bench, achieving a measured peak white of roughly 500 nits—a merely average level for an HDR-capable set—required compromises that exacted a penalty in color accuracy.
Even so, most viewers will be unlikely to notice those color compromises without a direct comparison with a more accurate TV, and they might still find the net result worth the tradeoff. The montage on the Spears & Munsil UHD HDR Benchmark test disc, including a difficult test for clipping (horses in the snow), looked consistently impressive. On Harry Potter and the Deathly Hallows: Part 2, my go-to Ultra HD disc for evaluating blacks and shadow detail, the almost continuous gloomy look of the film's final hour was impossible to criticize. Jumanji: The Next Level didn't disappoint either, with impressive highlights in both the brightest and darkest scenes. And Pixar's animated Coco looked even more stunning, offering up subtle detail and brilliant, eye-popping color.
While the Vizio is compatible with Dolby Vision HDR, I didn't calibrate the set separately for that format. But when viewing The Meg, one of a growing number of Ultra HD Blu-rays available in Dolby Vision, I never spotted anything odd or amiss, from the dark underwater scenes to the brightest, sunlit shots.
Conclusion
While I didn't find Vizio's M70Q7-J03 to necessarily be a Top Pick, that doesn't stop me from declaring it a Top Value. I spent far more time watching it than a review demanded, and never once felt compromised. Yes, there are sets that will outperform it when displaying HDR sources, particularly when it comes to peak brightness and adherence to HDR's EOTF curve (gamma). But the eye adapts, and unless your budget is double the Vizio's $1,000 price you won't feel at all shortchanged by this impressive 70-inch TV.