Vandersteen Model 2 Speaker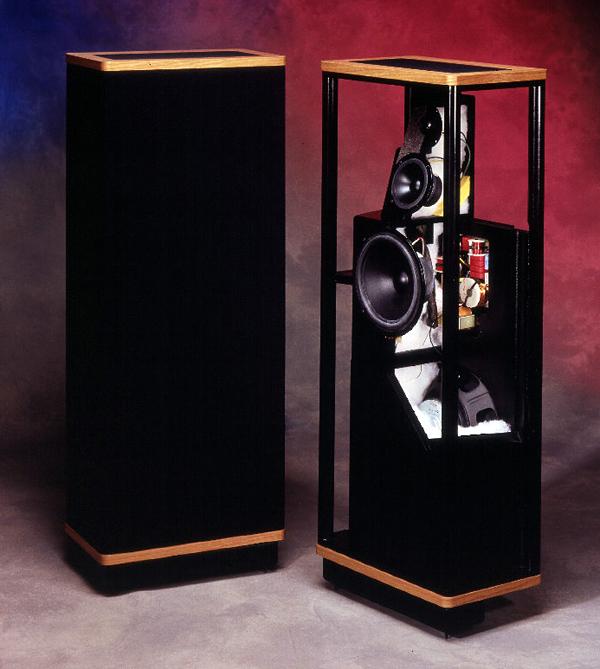 Richard Vandersteen got into the speaker business the same way as a lot of other high-end designers did and still do: He made speakers for himself, and started selling them through a local hi-fi store. That was in the mid 1970s, but Vandersteen's speakers bore little resemblance to what other home brew entrepreneurs cooked up. Most guys start with a box and fool around with drivers. Vandersteen made recordings of everyday sounds and musical instruments, and used the recordings to guide his progress for his prototype designs, and quickly discovered that as he reduced the size of the front baffle the sound was more realistic. He knew from the get-go he wasn't going to make a box speaker.
The Model 2 debuted in 1977, and it was quickly followed by the 2A and 2B, the first 2C arrived in 1982, and the current model is the 2Ce Signature II. The Model 2 remains a four driver/three-way design, but the driver complement, sourced from different manufacturers, continued to evolve over the years. The 2B's driver sizes -- a 10-inch active bass coupler, 8-inch woofer, 4.5-inch midrange, and 1-inch tweeter –- are still used in the current design. The large, open-frame speaker has a wrap around cloth grille.
Vandersteen claims all of his speakers are "time- and phase-accurate," and use first-order crossover networks, and each crossover is individually tweaked to match the drivers as they're measured in the factory's anechoic chamber. The goal is to more accurately maintain the signals' amplitude and timing relationships than more conventionally designed speakers.
The original Model 2 retailed for $760 a pair in 1977, and the current model goes for $2,395, so in real dollars it's about the same price after the M.S.R.P is adjusted for inflation! Vandersteen still builds every speaker in Hanford, California, and provides service for every speaker that rolled out of that little factory.
I spoke with Richard Vandersteen in August to gather information for this report.