U2: iNNOCENCE + eXPERIENCE - Live in Paris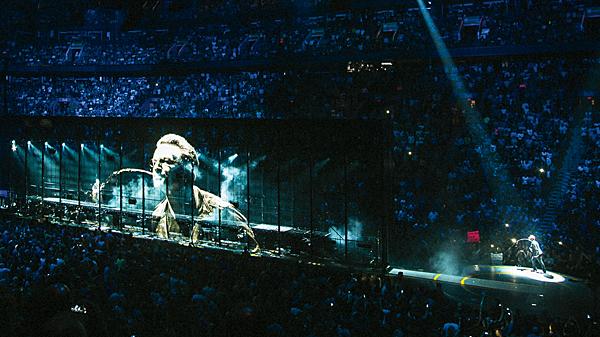 Many of that album's songs were featured in the first half of U2's set during the iNNOCENCE + eXPERIENCE Tour, which I caught at Madison Square Garden in New York on July 31, 2015. That night's potent performances of tracks like "Cedarwood Road" and "Raised by Wolves" made me connect with material I have to admit I'd essentially forgotten about after giving Innocence a cursory listen or two after I bought the two-disc deluxe edition on CD the previous year. But isn't that the inherent beauty and mystery of music—it's always there waiting for you to discover and/or rediscover whenever you're ready to immerse yourself in it.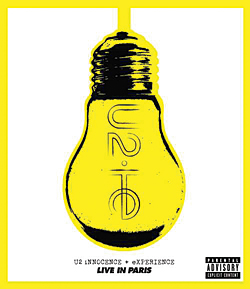 And now you too can see and listen for yourself with the Blu-ray of iNNOCENCE + eXPERIENCE – Live in Paris, a release that carries added poignancy since the show, originally broadcast live on HBO, took place just a few short weeks after the horrific terrorist attacks in Paris last November. U2's live-stage mastery is on generous full display here, directed with a keen, all-encompassing eye by longtime band video associate Hamish Hamilton. Innocence material strikes a heartfelt chord early on in the set with Bono's touching tale of losing his mother as a teenager in "Iris (Hold Me Close)" and his discovery of the promise of punk in the aforementioned "Cedarwood Road."
Naturally, U2's deep catalog of classic material packs quite a powerful punch with the surround mixes done by Carl Glanville, which balance all-channel audience enthusiasm with strategically placed yet never overdone instrumentation. For example, the guttural "yeah yeah yeah yeah" chant in the back half of the early-set crowd-pleaser "Vertigo" pinballs back and forth in the rear channels, while the car-bomb explosions at the conclusion of "Sunday Bloody Sunday" chillingly fill every channel. (They'll also challenge and/or please your subwoofer.)
Bono belts into a megaphone at various points throughout the always barn-burning "Bullet the Blue Sky" as The Edge's expert slide-guitar runs continue ratcheting upwards in volume, culminating in a full-channel assault toward the end of the track when his right hand bangs repeatedly on his black Stratocaster's pickups. The instantly recognizable delay-driven signature riff of "Where the Streets Have No Name" also ultimately permeates all channels, buttressed by drummer Larry Mullen Jr.'s tasteful toms and percussion work. And it's hard not to be moved when Eagles of Death Metal—the band playing at the Bataclan on November 13 when terrorists opened fire and killed 90 people in the audience—take the stage with U2 at the end of the show to share catharsis with a touching cover of Patti Smith's "People Have the Power." Then EODM close out the night all on their own with "I Love You All the Time."
The bonus material is also quite affecting, especially the "Every Breaking Wave" short film that chronicles events leading up to a 1974 car bombing in Belfast and the storyline version of "Song for Someone," which features Woody Harrelson as a newly released prisoner getting a ride home from his real-life daughter, Zoe Harrelson. The video clips for Innocence studio tracks are treated with promising 5.1 mixes. I've always felt "The Miracle (of Joey Ramone)" could have been more punkish and done at a much faster tempo, but at least The Edge's occasional, ramrod-steady multichannel guitar-blast punctuation marks compensate somewhat for the song's still-too-clinical production values. "Invisible" offsets minimal snare-and-bass lines in the fronts with all-out vocals and guitar, while on "Song for Someone," The Edge's counter vocal is placed a millisecond or two behind Bono's lead, a particularly effective move when Bono extends the vowel into four syllables on the word "song."
Naturally, one can only hope U2 entertains the idea of revisiting their vaunted studio catalog in 5.1 at some point. Just think of what could be done with the title track to 1984's The Unforgettable Fire, the entirety of 1987's The Joshua Tree, and 1991's game- changing Achtung Baby—for starters. In the meantime, the elegiac envelopment of the sounds and visuals of iNNOCENCE + eXPERIENCE is something to behold on Blu-ray on any given beautiful day, so don't let it slip away.
Blu-ray
Label: Island/Interscope/UMe
Audio Formats: 96-kHz/24-bit DTS-HD Master Audio 5.1, 96-kHz/24-bit PCM Stereo
Number of Tracks: 45
Length: 4:01:19
Producers: Jim Parsons, Carl Glanville
Engineers: John Harris, Carl Glanville, Joe O'Herlihy (FOH mix engineer), Joel Singer, 10 others
These days, even the most seasoned recording artists find it difficult to gain traction with their new material. Case in point: U2, whose deeply personal 2014 release Songs of Innocence fell by the wayside with the listening public, likely due in large part to the instant backlash the band faced when the album suddenly appeared as an automatic download in everyone's personal iTunes library without warning that September. Much collective online hand-wringing occurred until Apple acquiesced and shared instructions for how people could permanently remove the "offending" files. (Why getting any type of new music legitimately for free was such a problem for consumers used to downloading songs without paying for them continues to mystify me, but that's another story for another time.)