Tuning in to the Rdio iPad App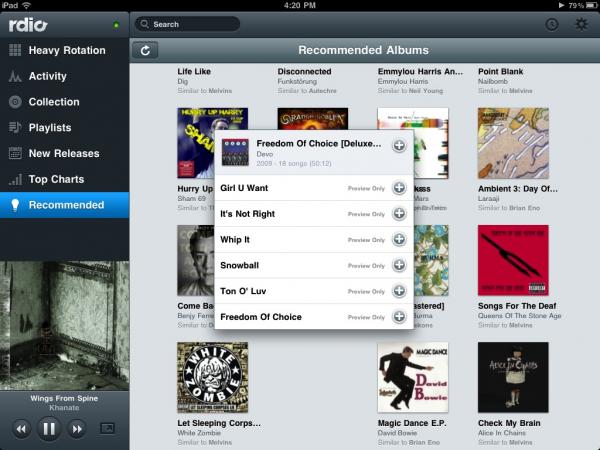 While Spotify and MOG have been getting the lion's share of the press, Rdio has been running a perfectly useful little subscription streaming music service for almost a year now. Overlooked by many (admittedly, even by S+V) in the glare surrounding the arrival of Spotify in the U.S., Rdio is now poised to be the first streaming service to release an iPad app.
Founded by the online veterans behind peer-to-peer file sharing app Kazaa and ubiquitous communications tool Skype, Rdio launched last August - an eon ago in streaming terms, back when giants such as Rhapsody still ruled the Earth - and since then has quietly built up an impressive music library (a tad smaller than the others; 10 million tunes to Spotify's 15 million and MOG's 12 million, though numbers are foggy by any estimation) and a roster of services that make it a serious challenger in the subscription streaming arena.
One of Rdio's strengths is its mature set of social features. A full-featured network is baked into the service (as is also the case with MOG), rather than farmed out to Facebook or Twitter as with Spotify, though you can link your Rdio account to your Facebook, Twitter, and Last.fm accounts, of course. The Rdio desktop and browser-based applications center on an Activity feed that lets you befriend fellow subscribers and follow their listening activities and library additions, or subscribe to their playlists. The app recommends people to follow along with songs, albums, and playlists, so you can quickly build out a network to keep up with, based entirely on shared musical taste - the benefit being that this need not correspond with your other social networks in any way, if you don't want it to. You can even follow the entire universe of Rdio users, should you so desire.
Prefer your interaction automated? Rdio has (again, much like MOG - and overall Rdio's design takes a similar information-rich approach, rather than the comparatively austere path of Spotify) incorporated an "Artist Radio" feature a la Pandora. Link-filled bios and album descriptions are used throughout the service (sourced here, as is true for pretty much every other online service, from Rovi's AllMusic guide). Rdio also includes a surprisingly on-target Recommended albums browser. All told, it's a useful service for both listening and music discovery.
But the big story right now is Rdio's about-to-launch iPad application. Like both MOG and Spotify, Rdio already has apps out for both the iPhone and Android devices, but shockingly enough until now none of the subscription services have managed to make their way onto the iPad. Rdio is looking to change that in the coming days. Mobile access comes at a premium, though the same required of the iPhone app, requiring the $9.99/month Unlimited account (desktop-only access is $4.99/month; there's no word yet on how Rdio's just-announced family pricing will incorporate mobile access).