Tracking Surround: Rickie Lee Jones SACD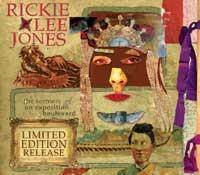 The Sermon on Exposition Boulevard New West
---
Music ••• SACD Mix ••• DVD Extras ••
Rickie's on tour - for dates, see
rickieleejones.com
- so I figured it's about time I got around to reviewing her current album in its Limited Edition, whose main disc is a hybrid SACD with a six-channel mix.
This Sermon has quite the circuitous history. In the beginning was the Bible, which inspired Lee Cantelon to write his 1991 book The Words - a modern-day "translation" of everything Jesus said in the New Testament. Ten years later, Cantelon thought of doing a spoken-word recording of his book. Four years after that, he finally hooked up with guitarist Peter Atanasoff to devise music settings for the texts. And then along came Jones, originally to do a few of the recitations - but her spontaneous, improvised singing to "Nobody Knows My Name" moved Cantelon and Atanasoff to the point where they allowed the project to become a Rickie Lee Jones album. Whereupon she not only filtered the texts into her own lyrics but also contributed a handful of songs that she wrote and composed entirely alone.
So at times, we're pretty far removed from Jesus's actual words. The Sermon on the Mount is the subject of "Falling Up," but the song is told not by the Messiah but by a crowd member, who's seemingly just as interested in a "honey-skinned girl": "She's light on her feet / Twirling on Apollo / But she's going down there for something to eat ... / Honey baby, we're living with the Romans now." And "Where I Like It Best" firmly plants the Lord's Prayer on earth, as it is in 2007: "When you pray, pray alone by yourself ... / See all those people praying on TV and in the churches? / They like to make a big parade out of what they're doing! / They think God hears them louder if they say it over and over and over and over and over again."
Still, there are times when Jones stays focused on the original idea, as in "Seventh Day": "Look now at my body / Broken there by sin / And all my friends who sip my wine / They're all drunk again." And especially in "Gethsemane": "You know, you wake up one morning and you're someone else / You're on your own / There is no miracle to take you home / And you cry - to the God who leaves you there / To the branch and the bird and the empty air / To the God of why can't we turn back around."
LATEST VIDEO