Tracking Surround: Nine Inch Nails on Blu-ray and HD DVD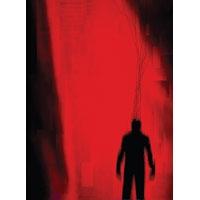 Beside You in Time Halo/Nothing/Interscope Blu-ray Disc and HD DVD
---
Show •••• Picture •••• Sound •••• Extras ••••½
Trent Reznor hasn't stopped his March Through the Formats. Following the SACD of The Downward Spiral and the DVD-Audio-equipped DualDiscs of Spiral and With Teeth, the new Nine Inch Nails concert video, Beside You in Time, is available not just in surround but on high-def disc. And not just on one high-def format but both.
Which sounds (and looks) better? Let's take care of the picture first. After comparisons of numerous key images - including the (sole naturally lit) close-up of Reznor on "Terrible Lie," the seeming crystals on the scrim during "Eraser," and the grid of white lights for the bonus "Non-Entity" - the answer was unmistakable: The programs looked identical. (The only difference I could see was in the white titles on the menus, which were somewhat broken-up on Blu-ray.) Of course, both the BD and the HD DVD beat the often blotchy standard-DVD edition.
Well, then, if both high-def discs look the same, and if both have surround mixes in Dolby TrueHD, then they must sound the same, too, right? Wrong! Time and again, the Blu-ray Disc excelled in the highs while the HD DVD was better down low. For example, the subwoofer's nearly subsonic throb during "Burn" had more solidity and texture on HD DVD, but the massive guitar chords of "Wish" were brighter and edgier on Blu-ray. So neither format is "better" here; it just depends on whether you're a treble man or a bass man. But again, both formats, sharing power and bite, outdid the comparatively mealy DVD.
As for the mix itself: Who is sensible enough to boost Reznor's voice by adding it prominently to the center channel? Who is bold enough to blast in-your-ear, around-the-room immersion for a concert program instead of merely providing namby-pamby ambience? It's Elliot Scheiner. From the Eagles to Nails: Now that's what I call range.
And the extras are what I call extraordinary: five live performances, three rehearsals, two videoclips (one directed by David Fincher), and a stills gallery - with more than 100 shots. And all of this complements a program that's smartly directed/edited by Rob Sheridan, superbly designed/lit by Leroy Bennet, and eye-openingly performed/pounded by Trent and band. Beside You on Blu-ray or HD DVD? Take your pick, but you can't go wrong with either high-Reznor.
more Entertainment reviews Back to Homepage What's New on S&V