Total Isolation
How one couple pulled off a home theater that is completely independent from the house in which it resides.
When Bob and Nancy Malone broke ground on their dream home in Lake Arrowhead, California, in 2002, they had no idea just how challenging it would be. Nancy's lifelong desire to have a home theater called for the help of Aaron Andrew of Audio Video Design (AVD), based in Mission Viejo, California, to design a home theater within, but structurally independent from, the 14,000-square-foot house. Aside from the three-hour round trip between Mission Viejo and Lake Arrowhead, Mother Nature threw her best at them, as well. After "the old fire" of 2003, which destroyed 350 houses in nearby Cedar Glen (and approached within feet of the back of the Malone house before a wind shift sent the flames east), the Malones faced a tremendous flood in December 2004, and then snow. As if that wasn't enough, the house's location on a mountainside presented a whole new set of logistical problems. After all was said and done, the project took three-and-a-half years to complete.
The theater, which is structurally independent of the rest of the house for acoustic purposes, seats eight in DreamLounger Sport recliners by Theater Design Associates out of Chicago. "In doing research for the theater," Malone said, "it came to our attention that there were some very comfortable theater seats made in Chicago, and we happened to be going there that year."
Interior designer Sam Cavitt of Media Environment Design said, "Making the eight seats fit comfortably in the space with good sight lines and traffic patterns" was one of the biggest challenges of the project.
The size of the room also presented problems for Aaron Andrew and his team from Audio Video Design. "It is a smaller room, and we went into very detailed construction," he said. "We used materials to isolate acoustics, to create a completely isolated shell. The whole house is not connected to the theater by any support structure."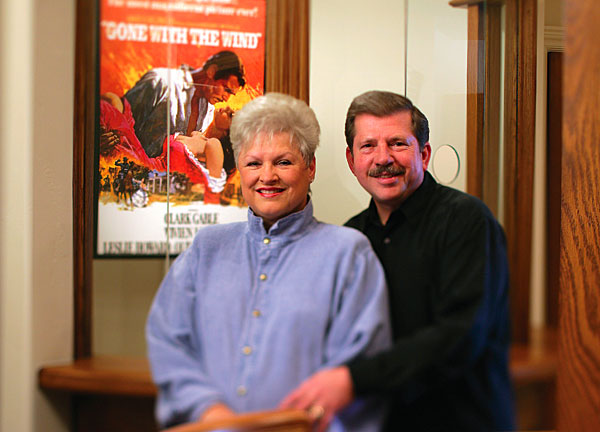 "Acoustic-isolation construction maintains a very good, low-noise environment," Cavitt said. "A combination of absorptive and reflective acoustic substrate was used to create a balanced sound." Cavitt's Paradise Theater, (a division of Media Environment Design), also used a stretch-fabric track system for a clean fit to the installation, a dark-red, motorized Austrian shade in front of the screen for drama, and custom millwork details for an elegant finish.
But, to Cavitt, the coolest feature is what's above. "I like the coffered ceiling and how we used the soffit as a chase to house lighting in an acoustically isolated environment," he said. "The room is a real fine line between function and aesthetics," Andrew said.
One of the more challenging elements of Andrew's job is interfacing with everyone involved in building the house, including architects, builders, tradesmen, craftsmen, and designers. In this instance, however, AVD only worked in one room. "Usually, we're basically the electric contractors, wiring the whole house," he said. "We do security, lighting, sprinkler systems, background sounds, plasmas, audio, the pool. . .."
For the Malone house, however, it was a collaboration between Andrew, Cavitt, the construction contractor, and the Malones. "The aesthetics match the homeowners' desires, but we didn't compromise any acoustics or sight lines," Andrew said.
"The Malones communicated well what they were after, and we were able to re-create that," Cavitt said. "The theater is in a traditional style, with just a hint of Greco-Roman detail, featuring custom wood moldings and oak to match what is going on in the rest of the house." Just outside the theater, a mock ticket window and a fully functional bar greet moviegoers, and, inside, all components are tastefully hidden behind the rear wall.
"Cavitt was just a delightful man to work with," Malone said. "He instructs, and he teaches, specifically in the sound component of the theater."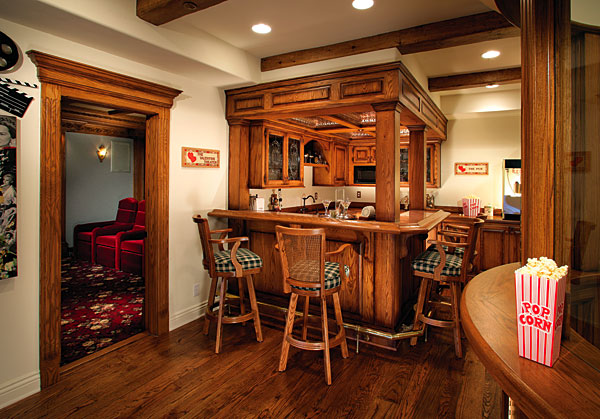 User-friendly components are essential when non-technophiles are responsible for operating complicated, integrated systems, and one wrong button push can mean hours of confusion. "In a system with several different sources—DVDs, satellite, etc.—we want to make sure the clients can hit one button on the touchpanel to have the system discretely go to that command," Andrew said. "We used a Crestron control, because it allows us to give the clients a very intuitive interface, and we can do updates remotely and make changes without having to go on site." In the theater, the Crestron ST-1700C 1-Way RF color touchpanel communicates with the Crestron CP2E control processor with Ethernet functionality behind the wall.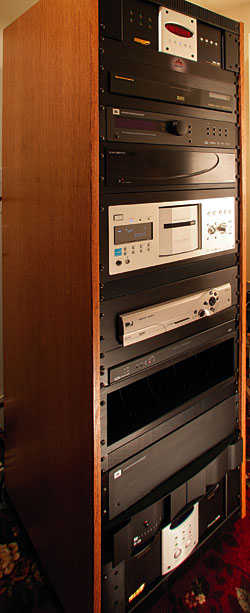 In front, behind the Austrian curtain, is a 100-inch-diagonal Stewart Filmscreen Custom ScreenWall 4-Way ElectriMask FireHawk screen. Behind the rear wall, a Marantz VP-12S4 HD DLP projector offers high quality at a reasonable price. "The Marantz projector only displays 720p but has a better picture than any other projector in its price range," said Ty Meyer, president of AVD. "The projector automatically calibrates to ISF standards, assuring the client they will receive the best possible image."
For their many VHS tapes, a Marantz MV8300 high-definition VHS player sits in the rack, so the Malones can "record videos onto tape in the highest quality available to date," AVD's Andrew said. The Sony DVP-CX777ES 400-disc changer coupled with an Escient DVDM-100 manager are more than capable of handling the Malones' 130 DVDs.
For audio, AVD stuck with their usual prearranged JBL Synthesis systems based on room specs. For the Malone house, Andrew and company chose a JBL AV1 THX digital sound processor, an AVA7 seven-channel THX amplifier, and a JBL SDEC-2500A THX digital equalizer. Two JBL HTPS400 THX powered subwoofers support seven configurable flush-mount loudspeakers: four S4As, one S4HC, and two S4VCs. "The JBL Synthesis system allows us to create the most realistic listening experience possible in any size room," Meyer said. "The system sounds great out of the box; it sounds incredible once the system is calibrated."
In the end, the Malones are thrilled at the possibility of high-quality, high-intensity viewings of Gone with the Wind, Singin' in the Rain, The Wizard of Oz, Calamity Jane, and Seven Brides for Seven Brothers.
And the architects are happy, as well. "I'm most proud of the fact that the Malones are delighted," Cavitt said.
"We not only offered a good-looking room but a good-performing room," Andrew said.
How It Works For You
Communicate with Your Team: If they don't know exactly what you are looking for, the outcome will likely be unsatisfactory. If you communicate effectively with the installer and the interior designer, they can manage your expectations to deliver an end result you will love.
Choose User-Friendly Components: For the non-techy folks out there, Aaron Andrew of Audio Video Design advises using gear that is user friendly. Here, Andrew chose a Crestron touchpanel that performs at the touch of a button.