Tivoli Audio NetWorks Internet Radio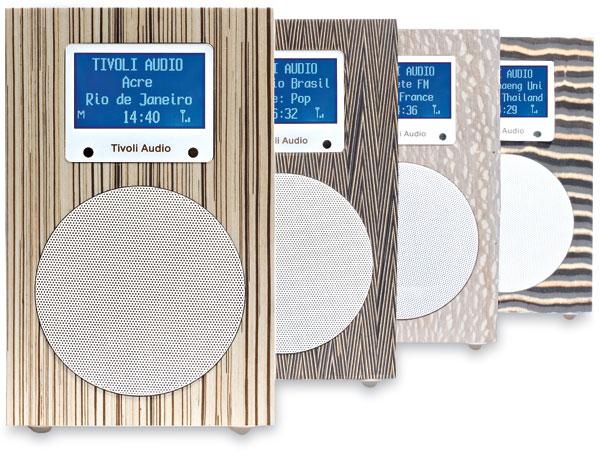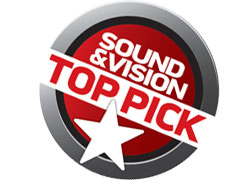 Price
: $300
At A Glance
: Internet radio in attractive wood-veneer box • Also accesses music from PC or USB device • Wi-Fi or wired connection
Net Radio in a Box
This review needn't be complicated. The product certainly isn't. Tivoli Audio's NetWorks Internet Radio is a little wooden box that plays Internet radio. Aside from the remote, it has only one visible control, a wheel on top. If you never deviate from a favorite station, you'll rarely even think about the other controls.
There are some, of course. On the back are five presets, which the Tivoli people have thoughtfully assigned to their favorite stations. You'll also find a source button, five station preset buttons, a five-way navigation ring, balance control (for use with an optional second speaker), mono/stereo button (ditto), a USB input, and a headphone output. The source, preset, navigation, and volume controls are duplicated on the credit-card-sized remote, joined by a few buttons that activate the clock/radio functions.
Flip the unit over to find further connectivity: two inputs (aux and mix), two outputs (sub and record), an RCA output to connect the optional external speaker, Ethernet, and two power jacks. One accepts a simple AC cord with no unsightly wall wart. The other powers the unit in your boat or camper. Now forget all that.
I plugged in the unit, grabbed the remote, cocked an eye at the 2.6-by-1.5-inch blue backlit liquid crystal display, selected Internet Radio, found my Wi-Fi router, and keyed in its password. I was soon listening to BBC World Service, Tivoli's number-one preset.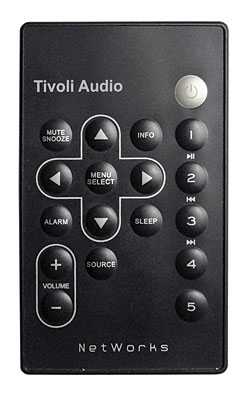 When I pressed Source on the remote or back panel, it brought up the main menu choices: Internet Radio, Music Player (PC), and AUX (input). Internet Radio can be sorted by Favorites, Stations (Location, Genre, Station Search, Local Stations), Podcasts (Location, Genre, Podcast Search), or My Added Stations. Tivoli maintains its own database to which users can add stations at tivoliportal.com. After I turned it on, the unit took a few seconds to connect to the network, but apart from that, basic operation was free of glitches.
In Music Player mode, it was easy to punch through to my PC's music folders. This came in handy when I was away from my desk and wanted to hear something stored on the PC's hard drive.
The NetWorks is designed to make Internet radio easy. It's a congenial companion for the serendipitous surfer. But the more you want to do, the more patient you need to be. For instance, while you can easily access podcasts by location or genre, it takes persistence to key in a specific name. I successfully did it once but gave up on a second attempt—you're better off using your computer for podcast searches.
Sound quality was miraculous for a monophonic device with one driver. It was completely satisfying for background listening and even acceptable for casual foreground listening. (Incidentally, the performance rating is relative to my experience with mono devices of similar size.)
A few features in brief: The display usually shows station name, time, and Wi-Fi signal bars. Press the remote's Info button to cycle through more: audio data rate, station description, genre, and location. In addition to the five button presets, you can save more stations or podcasts as Favorites. The SuperBuffer extends buffering time by a factor of four to stabilize marginal stations that drop in and out; albeit at the expense of potentially longer initial load times. You can change the digital clock, displayed when the radio is off, to an analog dial.
One unexpected strength: The unit remembered my network password even after it had been unplugged for several months. You can carry the unit around your home, disconnecting and reconnecting with no hassle as long as you're within Wi-Fi range.
Tivoli offers some step-up options over the basic $300 NetWorks. The NetWorks with FM costs $400 and comes with Tivoli's powerful analog FM tuner. The NetWorks Stereo, for $400, adds a second speaker; it looks much like a regular NetWorks without the display. The NetWorks Stereo with FM offers all of the above for $500. At the top of the line is the Cappellini NetWorks Stereo with FM, which commands $700 for its seven-layer high-gloss lacquered finish. These pricier models offer finish options beyond the basic three wood veneers, including additional veneers, solid colors, and my flamboyant favorite, a zebra stripe.
Tivoli Audio's NetWorks is not the only self-contained Internet radio on the market—and it's far from the cheapest. But its combination of looks, sound, ease of operation, and quality of construction will turn heads and open wallets. Its tiering of controls and features is especially wise. If you're a one-station listener, you'll touch the wheel briefly to turn the radio on or mute it, rotate the wheel to adjust volume, or hold down the wheel to turn the radio off. Sometimes life really can be that simple.