Test Report: Bryston SP-3 Preamplifier/Processor and 9BSST2 5-Channel Amplifier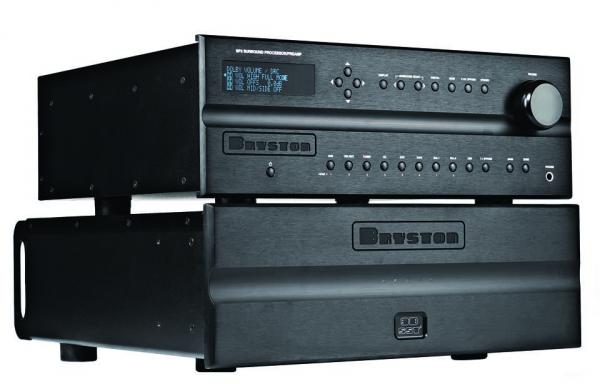 It's a fact of modern life. The higher you climb in the high end of anything, the less, at least in one sense, you will get. You will find, I believe, few gargoyles on buildings designed by I.M. Pei, and even fewer rear-seat DVD screens in Paganis. So it's not surprising that the latest surround-sound processor from Bryston Ltd., the Canadian high-end audio icon, is about as simple a preamp/processor as could be imagined. Bryston has been quietly making splendidly solid, uncompromisingly excellent audio components since the golden age of the LP record (it celebrates its 50th anniversary this year), and its reputation as a sort of cognoscenti's brand of exceptional technical rigor and brick-outhouse build has never varied. Both the new SP-3 pre-pro and the 9BSST2 five-channel power amplifier that the company also sent along are straight from this mold: obsessively engineered, massively built, and simply but meticulously finished.
Setup
And it's heavy. The 9BSST2 amp alone weighs some 72 pounds; by comparison, the 22-pound SP-3 pre-pro is a feather. So while hefting the pre-pro onto my rack was no great feat, I wisely left the 9BSST2 on the floor beside my center speaker and routed all five speaker cables to it. The amp's large, heavy-duty binding posts made connecting these easy.
Both Brystons are crafted in unadorned steel and aluminum, and both present simplified pushbutton or knob controls. Both also feature balanced-line outputs and inputs on all channels (as well as "normal" unbalanced RCA jacks). I'm not convinced that a balanced connection's noise-rejection abilities are really necessary except for long runs of low-level signals (microphones), but since they were there, I dug out three high-grade mike cables and used them on left, center, and right channels.
Both Canadians are also "modular" designs. In the amp's case, this means that individual channels can be removed and replaced (or sent for service); for the pre-pro, it means that updates of DSP or other hardware can be installed if and when new formats or standards arise.
The Bryston SP-3 has no auto-setup or EQ system onboard, so installation was a mere matter of cabling, powering, and manually stepping through the unit's setup menu.
But this was no mere "mere": Bryston's pre-pro provides no onscreen menus — indeed, no onscreen displays whatsoever. (Remember what I said about high-end features…) So tasks such as balancing channel levels mean standing close enough to the preamp to be able to read its front-panel, dot-matrix readout (which is nice and clear), running back to the SPL meter at the listening position, and then going back to the equipment rack to adjust or to select the next channel. Rinse and repeat for each of 6 or 8 channels (including sub) and again for each input you'll be using (they require and maintain individual channel and crossover settings), and you've gotten your aerobic workout for the day. To be fair, the Bryston remote's directional cursor keys can navigate the setup functions perfectly well, but the need for visual feedback remains.