Terminator 2: Judgment Day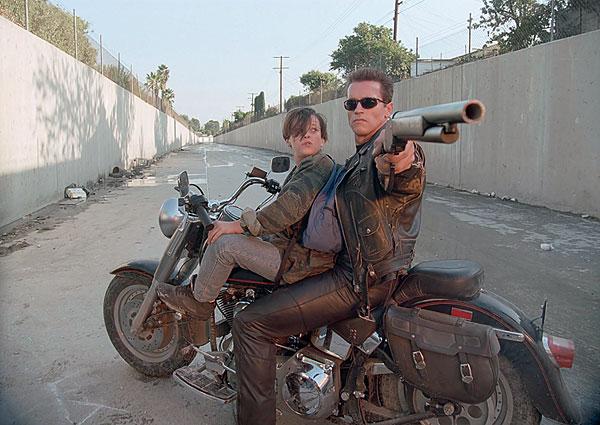 And it was.
Filmmaker James Cameron's budgets have grown exponentially, and this sequel was staggering in its scope and complexity. Building upon the computer-generated imagery pioneered for The Abyss, he was able to tell the story of a relentless liquid metal assassin sent from the future to end all of mankind by killing the boy who would grow up to be our last hope. With only his bad-ass mother Sarah Connor (Linda Hamilton) and last-year's-model über-robot (Arnold Schwarzenegger) standing between him and certain doom for us all, Judgment Day blended science-fiction and action in a uniquely thrilling way.
Text bookends the feature presentation to call attention to the much-touted 3D conversion bankrolled by StudioCanal and released in theaters last year. Vexingly, no home 3D version is available, but a new 4K master was created, and the results are good but could have been better. Adam Greenberg's crisply focused, Oscar-nominated cinematography is a fine fit for 2160p, highlighting individual hairs and threads and pores, even the increasing accumulation of dirt on Arnie's leather jacket. Many stark close-ups serve to ground this fantastic story in humanity. The movie was shot in the Super 35 film format and so should have a distinctive grain structure, but that appears to have been purged by overzealous digital video noise reduction. Backgrounds often display an unpleasant twitch, while smooth surfaces such as big, oily muscles can take on a mushy, artificial look. That a perfectionist like Cameron approved this new edition is surprising. The implementation of HDR enhances the 2.4:1 image somewhat, the bright elements in nighttime scenes showing noticeably more pop. Colors are strong throughout.
The 4K disc carries the theatrical cut only, while the Blu-ray offers that plus the Special Edition Version (Sarah's full dream sequence!) as well as the Extended Special Edition Version (the future coda!). These reinstated scenes have not been restored, and so the transitions are somewhat jarring.
Curiously, a German DTS-HD Master Audio 7.1 track is supplied, but English (and French) are 5.1 channels. The English track doesn't disappoint, however, with tremendous, controlled bass for the meaty explosions, Arnold's throaty Harley Fat Boy, and everything in between. Voices and the minutest cues have outstanding clarity and fine resonance when needed, celebrating the creativity of the sound effects. (This soundtrack won Oscars for both Sound and Sound Effects Editing.) Brad Fiedel's musical score feels more evident in this mix, while the canal chase remains a surround home run.
All of the extras reside on the Blu-ray. The T2 laserdisc was once a landmark for supplemental materials, and among the ported content here are a making-of and two commentary tracks: Cameron with co-writer William Wisher plus a cast/crew jam with 23 participants. Matthew Field's 54-minute documentary "T2: Reprogramming the Terminator" is an excellent new bonus, its exclusive interviews bringing a perspective that was simply not possible before now. The Digital Copy is the theatrical cut only, in HD, with no extras.
Judgment Day (8/29/97) may have come and gone, but Judgment Day's influence can still be felt across modernday blockbusters.
Blu-ray
Studio: Lionsgate, 1991
Aspect Ratio: 2.40:1
Audio Format: DTS-HD Master Audio 5.1
Length: 137/153/156 mins.
MPAA Rating: R/Unrated
Director: James Cameron
Starring: Arnold Schwarzenegger, Linda Hamilton, Edward Furlong
It's time to remind everyone what a big deal Terminator 2: Judgment Day still is. The action/adventure genre underwent a serious evolution in the '80s, and by 1991, to be taken seriously, T2 had to be bigger and better than anything that had come before.