TCL 6-Series 65R635 Roku LCD Ultra HDTV Review Test Bench
Test Bench
For the control settings used in the viewing, go to soundandvision.com. The measurements here were made using CalMAN software from Portrait Displays (portrait.com), together with Photo Research PR-650 and Klein K-10A color meter, and a Fresco Six-G test pattern generator from Murideo/AVPro.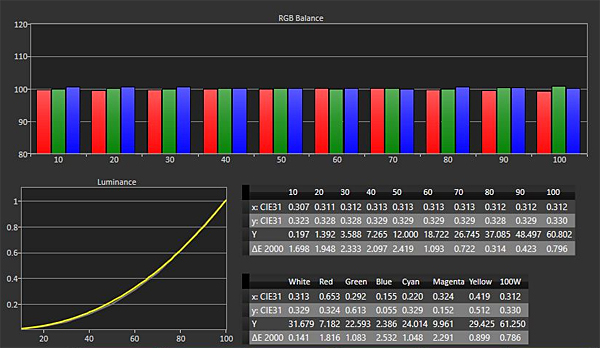 HD/SDR
Full-On/Full-Off Contrast Ratio: unmeasurable
In the Movie Picture mode's default settings, the peak output was 198.4 foot-lamberts (656 nits)—far too bright for comfortable viewing in most room lighting conditions. After calibration with the TV Brightness control on Bright, the Brightness control on 51, the Backlight on 30, Contrast set to 35, and the local dimming control (TCL calls this Local Contrast) on High, the measured peak white level on a 10% full white window was 60.8 foot-lamberts (208 nits). A full black screen was 0.000 foot-lamberts, making the full-on/full-off contrast ratio infinite (or, more accurately stated, unmeasurable).
In the Warm Color temperature setting, the pre-calibration white balance Delta Es were no higher than 1.86 and the maximum color Delta E was 2.03 (blue). After calibration the white balance Delta Es were at or below 2.42 at 50% and 1.1 or less at 60% and above. The post-calibration maximum color Delta E was 2.29 in magenta with the CMS in Auto (disengaged). I left the CMS controls disengaged for the SDR and HDR viewing and measurements.
(Delta E is a figure of merit indicating how close the color comes to the D65 HD standard at each point in the brightness range. Values below 3—some experts allow for 4—are generally considered visually indistinguishable from ideal.)
The HD/SDR's Rec.709 saturation sweep was excellent apart from slightly oversaturated reds and the color checker (a compilation of 24 typical colors) averaged a 2.3 Delta E with a peak of 5.3.
UHD/HDR10
Full-On/Full-Off Contrast Ratio: 286,842:1
Before calibration in the Bright HDR Picture mode's default settings (with Warm Color temperature selected, not the default Cool), the white balance Delta Es were 0.5 minimum (20%) and 14.3 maximum (50%). The Color Delta Es were 14.0 maximum (yellow) and 7.6 minimum (red). The peak brightness level was 1,017 nits.
After calibration, changes to the main menu settings reduced the peak HDR brightness to 545 nits with a black level of 0.0019 nits. That's a full-on/full-off contrast ratio of 286,842:1 (211 nits). The post-calibration luminance tracking was a reasonable fit to the HDR PQ curve.
Together with changes to the main menu settings but using the same white balance settings as in HD/SDR (as discussed in the review) and, as above, with the CMS off, the white balance Delta Es measured a maximum of 6.7 at 70% and a minimum of 1.2 at 20%, and the color Delta Es a maximum of 6.5 in green and a minimum of 3.7 in red. While these are not visibly imperceptible from ideal, they do fall into the range where they're considered visually inoffensive to most viewers (Delta E <10.)
Other oddities intruded as well. Red and green were sometimes unstable in multiple readings resulting, among other things, in difficulty determining the true HDR coverage of BT2020 color (which ranged from 39.5% to 75.9% over 14 readings, while P3 color ranged from 66.17% to 95.87% over 4 readings). I suspect the higher numbers are correct, and none of the measured shifts were actually visible in normal viewing.
There were also issues with the HDR saturation sweeps, particularly in green. Instead of five points at 20% saturation increments there were fewer visible. As it turned out, some of the points overlapped, with the green luminance increasing as the level changed by 20% (as it should) while the saturation in the same 20% increment remained unchanged (it should also change).
In less atypical HDR results, the peak luminance measured 510 nits on a 10% white window, 550 nits at 25%, 530 nits at 50%, 440 nits at 75%, and 340 nits at 100%.—TJN