Tailgate Technology
And you thought home theater was just for the home.
Thinking about spicing up your home theater experience? How about watching the chase scene from The French Connection—while going 60 miles per hour on the Brooklyn-Queens Expressway. Or how about checking out Keanu Reeves and Sandra Bullock's desperate bus ride in Speed—while you're doing 75 mph on the 405 headed to LAX? (Well, maybe at 5 a.m.) Now that home theater has taken to the road in a big way, it's moving really fast.
Home theater has become one of the new frontiers where the recreational vehicle (RV) can take you. With the top end of the luxury-RV market rising above $600,000 for a 45-foot-long, 515-horsepower, diesel-powered cruiser, the theaters that are going into some of them rival those in houses that cost as much. RVs that cost more than $250,000 are the fastest-growing sector of what is now a $14 billion market annually, according to the Recreational Vehicle Industry Association, based in Washington, D.C., and there are more than 8 million RVs on American roads now. Few of them, though, come close to the rolling palace that set one customer back $1.6 million. That particular road palace, from Country Coach in Oregon, has a bathroom with marble countertops and 24-karat-gold faucets. But the bathroom mirror goes one step further—it converts into a flat-panel LCD at the flip of a button. But, even at a somewhat more affordable price point, home theater is now as ubiquitous and nearly as cutting edge on the road as it is at home.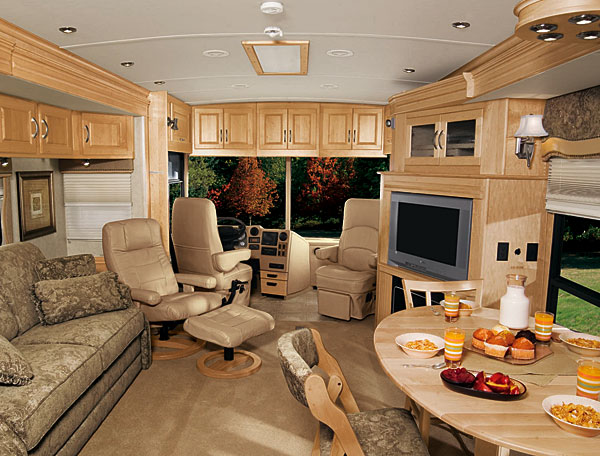 "Every one of our luxury coaches is now outfitted with a home theater, and usually two of them," says Luc van Herle, product marketing manager at Fleetwood, whose American Heritage coach rolls out at $600,000. The American Heritage sports a 40-inch Sony LCD screen with a Bose Lifestyle 38 surround sound entertainment system in the main cabin and a Sony 32-inch LCD with Bose 321 speakers in the rear bedroom; a Logitech Harmony remote controls all of it.
Familiar Components
The owner of a high-end home theater would recognize most of what goes into a theater of the portable kind. Matthew Howard, communications manager at Country Coach, says one characteristic of the upper end of the luxury-coach market is reliance on familiar technology. And, while living areas and bedrooms with their own theaters are increasingly common in the typical luxury coach, they very rarely share a media server. "That kind of technology tends to complicate rather than facilitate enjoying the movable home theater experience," says Howard. Plasma screens are also rarely specified, because their performance tends to diminish at higher elevations (like most of Colorado, for instance), and they have more complex heat dissipation requirements that can complicate a diesel coach's exhaust and HVAC systems. Plus, plasmas weigh more than LCDs, and, as with trucks, vehicle weight and length determine which roads you can drive your RV on.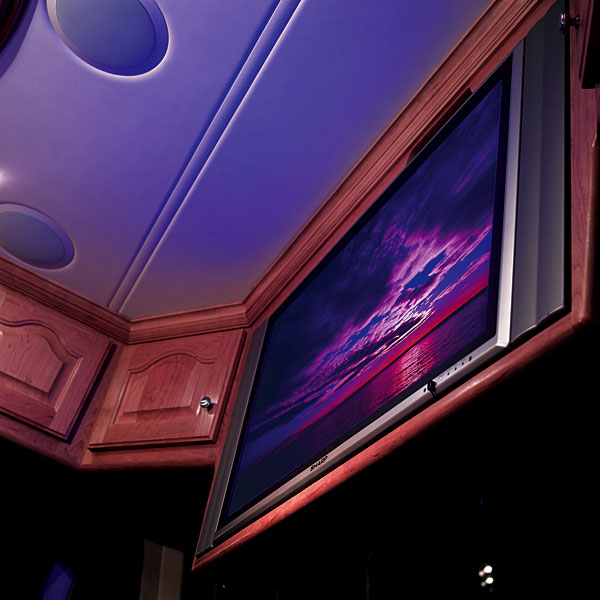 Besides being mobile, luxury RVs do other things that regular houses can't. Variable-geometry hydraulics allow as many as four side walls (two on each side) to slide outward, adding 24 to 30 inches to either side of the typical coach's 102-inch width and bringing the total interior space to around 360 square feet. This presents challenges in terms of sight lines, speaker placement, and wiring.
LCD technology has really propelled traveling home theaters; flat displays allow more positioning possibilities for better viewing. While the most common location is toward the front of the rig and set in cabinetry, Country Coach has placed screens on motorized lifts that rise from behind a couch on one side of the vehicle. Winnebago might place its screen above an electric fireplace in the main cabin. Fleetwood usually positions its main-cabin screen fully forward, where it can be seen from the driver and copilot's seats (which are usually the most technologically advanced furniture in the coach, with heat, massage, and more). However, for these, legal requirements compel the inclusion of an ignition kill switch that cuts off the engine when the screen is on.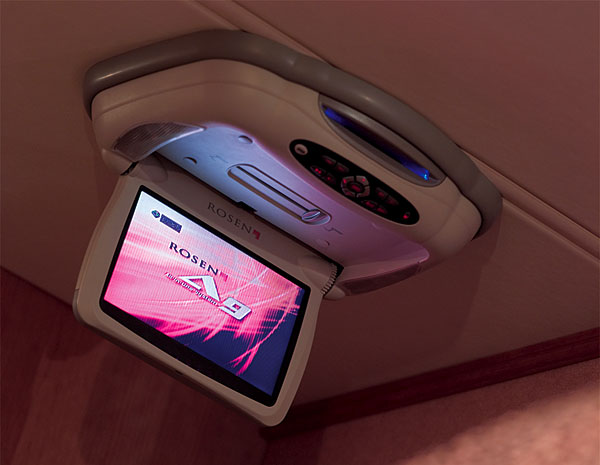 Speakers are usually recessed inside walls. "The important thing is not to place them at ear level, which users seem to find annoying," says Howard. The cabling schemes, which make heavy use of R6 coax (although this is quickly transitioning to HDMI), borrows from industrial robot technology, where cables need to follow the repetitive movement of a large, heavy object. In an RV, cables are located in their own covered trough that slides between the wall assembly and the vehicle frame.
The Ultimate Tailgate Party
Not all of the fun is inside the well-appointed land yacht. A recent trend sees home theaters being configured for outdoor use. On Country Coach's Affinity 730, which costs around $850,000, RV-ers can slide a 45-inch LCD screen on rollers out of an exterior compartment on the side of the vehicle. It's attached to a telescoping bracket that lets you tilt the screen toward wherever the barbecue grill is. (This coach can also be fitted with a grill that slides out of its own exterior compartment.) Speakers can be mounted on the monitor or behind grilles on the aluminum "skin" of the RV, above the screen level, and can be painted to match the vehicle's finish. Fleetwood's tailgate setup has a Sony 32-inch high-definition LCD set in a fixed position on an exterior bay behind a sliding door, which tailgaters can watch from beneath a remote-controlled canvas awning that will automatically retract if a wind sensor detects gusts above a certain velocity. Users can also reach into an adjacent exterior bay for a cold one from a refrigerator/freezer unit.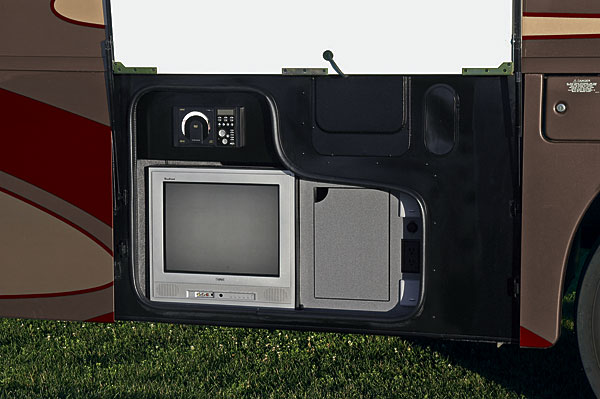 "This is really the ultimate tailgating party machine," says van Herle. "Some people may have a certain image of RV owners. Many of them are racing fans, and they will bring the coach to the races, pull out the grill, have the race and commentary on the screens inside and out, and also be able to see and hear the actual race."
Ladies and gentlemen, start your theaters.