SVS 'Reimagines' its Most Popular Subwoofers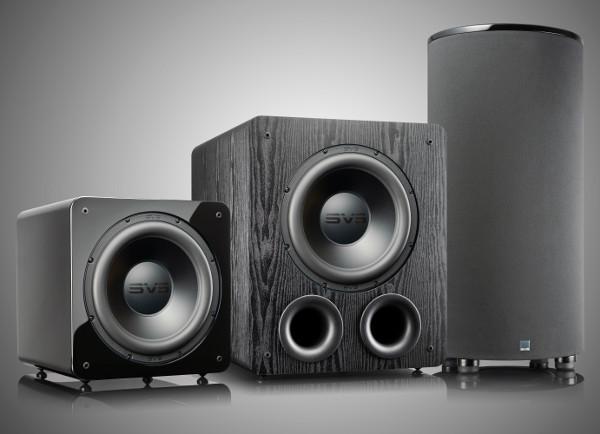 Subwoofer/speaker specialist SVS today introduced a new series of sub-$1,000 subwoofers to replace its popular 2000 Series models, including the
Top Pick-designated SB-2000 and PB-2000 models
.
Hailed as a "reimagining of the most popular SVS subwoofer series of all time," the new 2000 Pro Series comprises three models — a cylindrical tube-style model and two conventional cube-style models — "loaded with advanced technology" from the company's flagship 16-Ultra models and featuring a redesigned 12-inch driver, an amplifier rated to deliver 550 watts RMS or 1,500 watts of peak power, and an app that can be used to set up and control the subwoofer.
Standing 34 inches tall and measuring 16.5 inches across, the space-saving PC-2000 Pro ($950) has a gloss black top and a rated frequency response of 16-290 Hz ±3 dB (standard) and 17-290 Hz ±3 dB (sealed mode). SVS's SoundPath isolation feet are included.
Almost a perfect cube, the SB-2000 Pro is a sealed design measuring 14.6 x 14.2 x 15.6 inches and has a rated frequency response of 19-240 Hz ±3 dB. Pricing is $800 with a black ash finish or $900 in gloss black.
At 21 x 17.3 x 23.6 inches, the PB-2000 Pro ($900) is a considerably larger, ported design finished in black ash with a rated frequency response of 16-290 Hz ±3 dB (standard ported mode) and 17-290 Hz ±3 dB (sealed).
The high-excursion aluminum driver used in all models is a proprietary design featuring a composite-fiber dust cap, dual ferrite-magnet motor assembly, and parabolic surround for built for "extreme excursion with room-pressurizing SPLs."
All models are powered by SVS's Sledge STA-550D amplifier, described as combining the high-current output of discrete MOSFETs with Class D efficiency, and housed in cabinets made with an extra thick MDF front baffle and rigid bracing to "ensure an acoustically inert environment." The amp is conservatively rated and capable of playing "effortlessly at reference levels and still achieve accurate frequency response," according to SVS. A 50-MHz Analog Devices audio processor, which SVS calls the "most sophisticated DSP engine ever used in a home subwoofer," provides 56-bit filtering, a number of DSP controls, and in-room tuning with optimized frequency response curves.
Introduced with the flagship 16-Ultra subwoofers, the Bluetooth-enabled SVS app is compatible with iOS, Android, and Amazon devices and provides a convenient way to control volume and program presets optimized for music, movies, and gaming. Users can also switch polarity and adjust crossover frequencies as well as a three-band parametric equalizer without leaving the couch.
"Our engineers obsessed over making the 2000 Pro Series a truly breakout product line since we're replacing the most popular subwoofer models in our company's history," said Gary Yacoubian, SVS president and managing partner. "By deploying the most advanced technology from our flagship models with new innovations, we've achieved reference performance at a lower price range than ever before. They are a true reflection of the passion we have for creating world-class audio experiences."
SVS is co-hosting a 2000 Pro Series launch event at Home Video Library Electronics in Portland, OR on Thursday, December 12 from 6 to 8 p.m. Click here for details.
For more information, visit svsound.com.