SVS SoundPath Subwoofer Isolation System Review
PRICE
$50
AT A GLANCE
Plus
Easy to install
Tames unwanted vibrations
Minus
Why aren't these standard issue?
THE VERDICT
If you have touchy neighbors who complain about vibrations from your subwoofer, you need these in your system.
I love bass, always have, always will. The same can't be said for my wife, who constantly tells me, "Turn it down. You're going to wake the dead, or worse, go deaf!" Part of my problem is that my home rests on a raised foundation with a wood subfloor underneath my carpet, which means my dual-subwoofer setup transmits plenty of vibrations from the subwoofer to the floor, which then resonate through the rest of the house. In fact, on certain low-frequency scenes in movies, you can literally see my windows vibrating. But is this really a problem?
To us bass hounds, not really, but are we getting the best bass possible? It turns out, no, we aren't. When subwoofers are pounding away, they create a lot of mechanical energy that has to go somewhere. When they are in contact with your floor, that energy transmits directly into the substrate. If the sub is on concrete, this isn't an issue because the concrete is solid and dense. That's not the case with a wood subfloor. It absorbs that energy and creates floor resonance, which in turn can cause unwanted buzz or rattle in the room, which can lead to complaints from significant others or worse, neighbors in adjoining spaces.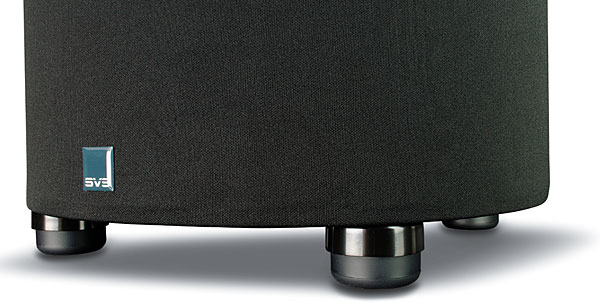 In my particular room, this was made apparent by the fact that my fireplace insert was noisy as all get out, so I was a prime candidate for the SVS SoundPath Subwoofer Isolation system. The kit is made up of screw-on replacement feet that swap in for your sub's existing supports. They're described as "elastomer isolation feet"—essentially rubber or a rubber-like compound—and come in sets of four ($50) or six ($70). Multiple sets of screws are included with the feet to accommodate numerous install situations and subwoofer brands, and the feet can be installed in less than 10 minutes. SVS was kind enough to send me two boxes to install on my SVS PC-Ultra cylinder sub as well as on an HSU VTF-15H MK2.
Once installed, I fired up my system and ran a quick calibration to see how they affected the subwoofer volume. It turns out that I needed to bump the volume 2 decibels in each sub versus the volume without the feet. Next, I popped in some bass-intensive Blu-rays to see what, if any, effect they had. First off was the opening sequence of Toy Story 2, where Buzz Lightyear is entering the atmosphere in search of the evil Zurg. In the past, when the Toy Story 2 logo rumbles into the scene, that fireplace insert would annoyingly rattle, but with the feet installed and listening at the same volume, the rattle was gone!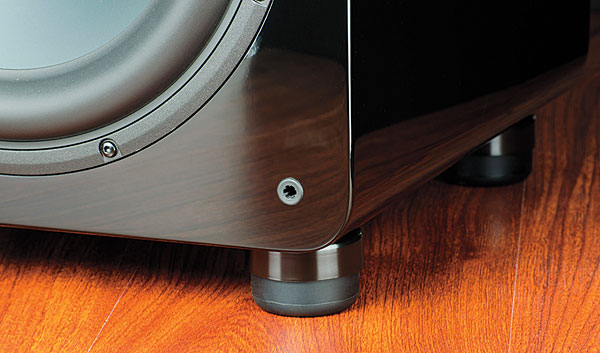 The Ultra HD Blu-ray of Deadpool is one hell of a ride, and the Dolby Atmos track is to die for. Whether it's the action-packed opening scene where we first meet our hero or the climactic battle, the bass response is a demo showpiece. While I rarely listen at reference level—it's bad for your ears—I couldn't resist doing so when I was alone in the house, and what an audio treat it was. Deep pounding bass is prevalent throughout the movie, and any vibrations I felt were from acoustical energy, not from mechanical energy shaking the room.
Through much experimentation, I discovered that I could actually increase the overall volume by 7 dB without having my wife complain that it was too loud. It turns out that she connected the room vibrations with loudness. So not only do I get to listen to movies the way I really want them, she thinks she's getting her way. Now that's a win-win!
At $50 (or $100 in my case), this subwoofer isolation system is a true bargain. If you live in an apartment or condo, your neighbors will definitely appreciate the investment as well since the vibrations from your sub may be causing some angst. If you've spent your hard-earned cash on a subwoofer you want to listen to at its full potential, and if the buzz and rattles in the room are frustrating you—or worse, your neighbors—this definitely is an answer to your problem. Highly recommended.