Logitech Harmony Ultimate Home Universal Remote Control/Automation System Review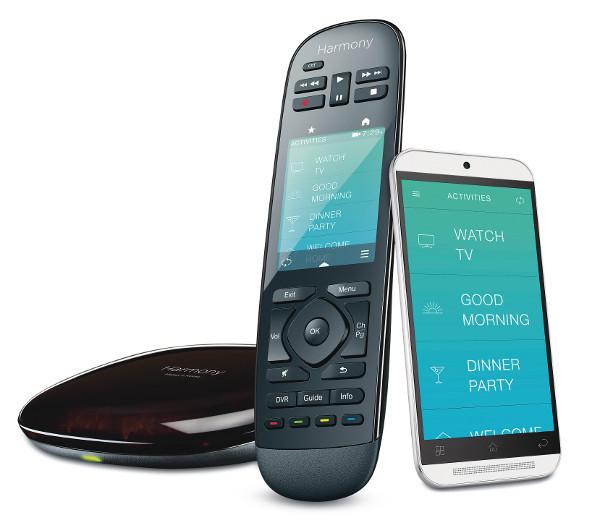 PRICE
$350
AT A GLANCE
Plus
Color touchscreen with vibration and gesture support
Emits IR from remote, hub, or blasters
Integrates with multiple home automation hubs
Minus
Inconsistent performance with SmartThings Hub
No remote control locator feature
Limited external IR emitter outputs
THE VERDICT
The apply named Harmony Ultimate Home Control is the ultimate home and AV controller you can buy, program, and use without the help of a professional integrator.
It was January of 2013, and Logitech, in an effort to "refocus its strategic direction," announced it would divest itself (by end of the year) of several non-core product categories—among them speaker docks, digital video security cameras, and, notably, its Harmony activity-based universal remote controls. Unfortunately, by that time, short of the fancy installer-only control systems from the likes of URC, Control4, and others, Harmony had pretty much eliminated the competition for remote controls selling for more than $50. So a dim, non-Harmonious future looked imminent for DIY home theater enthusiasts wanting more than the standard, three-in-one, el-cheapo universal hanging on a peg at Walgreens.
At the same time, smartphone app-based do-it-yourself home automation was working hard to become "the next big thing"—or at least the next big part of the Internet of Things. Yet, the extent of the automation these systems offered always stopped at the door to the home theater. A few of the new DIY hub-based home automation systems—notably, Revolv (now defunct after being sucked into Google last fall) and SmartThings—provided limited integration with Sonos multiroom audio components, but they offered zilch when it came to controlling AVRs, HDTVs, and source devices in a theater setup. As if the soundbar hadn't kicked home theater in the crotch hard enough already, now home automation was adding extra insult to the injury by ignoring AV systems altogether.
Rossum's Universal Remotes
Through some sort of deus ex machine of the home theater gods, though, Logitech not only held onto the Harmony division, it doubled down on development and recently released multiple new Harmony models. More importantly, many of these new remotes include some level of home automation, finally creating one controller that can be used to handle all the AV gear in the living room along with all the smart devices spread throughout the rest of the house.
Some might call it surprising that it's taken so long for Harmony to get this deeply involved in home automation. Almost a decade ago, Harmony included basic Z-Wave-based lighting control in the Harmony 890. I liked the Harmony 890 Advanced and used one in my system for many years—albeit, I'll admit, without utilizing the lighting control capabilities. That's because, as great as it was for home theater, with respect to DIY home automation, the Harmony 890 was simply too far ahead of its time with too few smart devices to control. Today, however, it's a different story, with many smart lights, locks, and other devices readily available and affordable.
Logitech's new $350 Harmony Ultimate Home Control is a bit like the old 890 in that it's Harmony's top-of-the-line universal remote control that's also on the cutting edge of current home automation technology. The question is whether Logitech has blended the two control technologies in a way that's intuitive and convenient to use, or wound up with a kludgey, Rube-Goldbergian nightmare of a user interface. And then there's that other question: Is the DIY world really ready to mix AV control and home automation in one wand or app, with all the setup and programming that entails, or is this still too soon?
Remote Possibilities
First and foremost, the Harmony Ultimate Home is a universal AV remote control that uses IR, Bluetooth, or IP (Internet Protocol) to control up to 15 "home entertainment devices." It consists of two separate parts: 1) a handheld remote with a stellar ergonomic design and 2.4-inch color touchscreen (and a recharging cradle); and 2) the Harmony Home Hub. The free Harmony Mobile App—with iOS and Android versions for phones and tablets—does everything the handheld remote can do plus a little more, including initial setup of the remote and truly "remote" control of your AV components (and smart devices) from anywhere in the world as long as you have access to the Internet.
Although the handheld remote gets all the attention, the small Harmony Home Hub is the system's command center where all the magic happens. It includes built-in Wi-Fi and Bluetooth connectivity but does not have an Ethernet port. As a result, if you want reliable, responsive performance, especially when it comes to a lot of the home automation integration, you need a robust Wi-Fi network in your home.
Home Is Where the Hub Is
The Harmony Home Hub has a built-in IR blaster but includes only two output jacks for external IR emitters—a disappointment considering that the system is designed to control as many as 15 AV components. The handheld remote has a built-in IR emitter, and there's a lot of programming flexibility as to which emitters/blasters send commands to what devices. Because I have a wall-mounted TV and drop-down screen in the front of my room, a projector hanging in the center, and two racks of gear in the back, it took me a while to find the right combination and positioning of blasters, emitters, remote, and hub to consistently reach every component. Once I did, though, I rarely ever had to use the built-in automated HELP troubleshooter or the manual's FIX IT MYSELF functions to rectify any power or incorrect input problems. [Editor's note: Installers experienced with prior Harmony RF receivers have always faced the same limitation of just two IR outputs, but the issue has usually been remedied on past systems with extra work during setup to splice in additional IR emitters in parallel on each of the two circuits.—R.S.]

The Ultimate Home remote doesn't require an active Internet connection to control AV components using IR or Bluetooth, but it does need to be connected to the Internet in order to sync changes in your installed mobile apps, download firmware updates, and control smart devices that may not allow direct access. To raise the temperature on a Nest thermostat, for example, the Ultimate Home Hub relays the command from the handheld remote over the Internet to Nest's main servers, from which the thermostat eventually receives the instruction to increase the temperature. In other words, you'll still be able to watch TV if your Internet service goes down, but you won't be able to use the Ultimate Home to control other home automation devices.
The Court Gestures
It's no exaggeration to say that the amount of configuration and customization that can be done to the Harmony Ultimate Home is astoundingly mind-boggling. Or maybe it's mind-bogglingly astounding. Either way, you could start customizing this remote while your daughter is in daycare and still be finding new ways to configure it long after she's graduated from high school and moved away to go to college.
To wit: You can program the Ultimate Home with an almost unlimited number of "Activities," which is the name Harmony uses for macros—programmed strings of commands for turning power on/off, changing sources, changing channels, setting volume, turning on/off lights, and etc. Harmony's Activities are unique in that the remote remembers the status of each device used in a currently running Activity. So, if everything is properly running, it won't inadvertently turn the TV off when you switch from, say, watching TV to watching a Blu-ray. (Likewise with much of the home automation, such as lighting control.) This isn't as good as a system that's able to actively monitor the power status of a device directly or control a component using IP or RS-232, but $350 is significantly less than you'd pay for that kind of control.
There's also the option of using the touchscreen as a touchpad with gesture control capabilities, such as swiping up or down with one or two fingers. There are a total of 22 gesture actions available—11 using one finger plus another 11 using two fingers—and any or all can be customized. Gesture actions are unique to each activity, so two fingers sliding sideways might change channels when watching TV but might fast-forward when watching a BD movie. If you're starting to be overwhelmed by all of the Harmony Ultimate Home's potential customization, sit down—you can also program unique gesture actions for each mobile app, so your smartphone might work one way while your significant other's phone works in a totally different way. You don't need to do the math to know that's an astounding number of possible configurations.