Harmony Elite and Pro 2400 Remote Control Systems Review
PRICE
$350 (Harmony Elite), $550 (Harmony Pro 2400)
AT A GLANCE
Plus
Easy setup and system integration
Cloud-based control and backup
Controls via IR, TCP/IP, and Bluetooth
Minus
Lacks Apple Siri support
Pro 2400 limited to custom installation channel
THE VERDICT
Harmony remotes offer the convenience and customization options of high-priced control systems, but without the intensive support requirements that come with them.
The biggest complaint I hear from clients when I'm out in the field doing video display calibration work involves problems with remote control systems. You'd think this would be because they have a stack of them to shuffle through, or they had bought some cheap off-the-rack universal remote at Walmart. On the contrary, the complaints are always about some high-end home automation system. As a happy Logitech Harmony remote control user, I've managed to avoid that direction. For the last few years, my remote of choice has been the Harmony Elite, which this review will focus on alongside its new cohort in the custom installation market, the Harmony Pro 2400.
Choose Your Remote
Logitech's Harmony line covers a large swath of remote control options with various capabilities and price points. Some are just simple universal IR remotes, while others interact with "hubs" that distribute commands to components via IR, Wi-Fi, or Bluetooth. Harmony has a massive database of components that it supports and is constantly adding new products. And its database encompasses not only home theater, but a large array of products in the ever-expanding Smart Home ecosystem.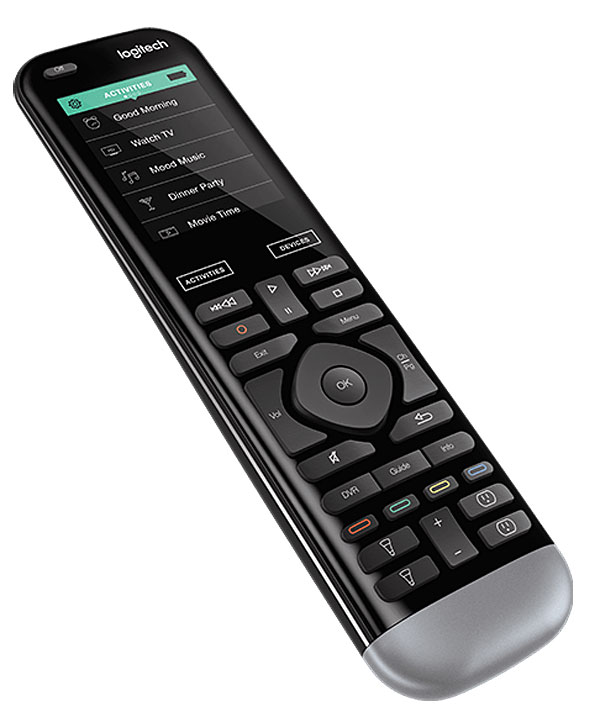 Both the Elite ($350) and Pro 2400 ($550) use a wand that looks nearly identical aside from the color of the bottom cap. The remote is a lightweight RF design that fits great in the hand and features a fully backlit (adjustable) keypad and small full-color touchscreen with feedback. It also features a tilt sensor so it will activate when you pick it up. The touchscreen can be used to select buttons assigned to it, or as a control trackpad. Any device or activity can feature pages of commands at your discretion, or you can limit it to only a few essential buttons. The Elite and Pro 2400 versions both include a base station to hold the remote that also keeps it charged and ready for use.
The included hubs are what really sets the two remotes apart. The Elite version features the rather common Harmony Hub you'll find with many of the company's remote control offerings. It is small, with a pair of IR ports that require adapters to accommodate cables with common 3.5mm connectors, and links to your home network only via Wi-Fi. The Pro 2400's hub is considerably wider, can be wall-mounted, and has six full-size IR ports plus an RF antenna for increased range that can be detached for flexible placement.
Any of the company's hubs can also be controlled by the Harmony iOS/Android app. The app is very intuitive, has engaging graphics, and can be fully customized. It's also cloud-based, so you can operate your system even when you're away from home.
Elite Setup
Harmony makes it extremely simple to add or remove components, create macros, and manage the operation of just about any home theater system you put together. Adding, deleting, editing, and fine-tuning can be done from the control app, or you can download software for your desktop or laptop computer. I found that the computer app isn't nearly as intuitive as the mobile one, so I generally stuck with the apps on my phone and tablet. The interface walks you through the addition of components and lets you add activities incorporating them. For example, you can program a "Watch a Movie" activity that turns on your Blu-ray player, A/V Receiver, and TV, and switches everything to the correct inputs. The app also lets you customize functions of buttons on the physical remote, including long presses to enable multiple commands from the same button. All updates are wirelessly sent to the remote, so no physical connections are needed between devices while programming. Firmware updates happen wirelessly as well, and all configurations are stored in the cloud.
Pro 2400 Setup
When I started reviewing the Pro 2400 remote, which is sold only through custom installation channels, I found it offered the same ease of setup and customization options as the Elite model but included some extra features. I see this model as Harmony's way of nudging into the same world as Crestron and Control4 by allowing an installer to program everything in a system and do it remotely without any need for an in-person consult. Compared with the Elite, the Pro offers control over more devices (30 vs. 15), a longer warranty (2-year vs. 1-year), twice the RF range, 6 full-size wired IR outputs, and both Wi-Fi and wired connectivity. The Pro 2400 also features power over ethernet (PoE) if your system supports it. While the Harmony Elite is a great piece of kit, I found that I liked using direct IR connections from the hub compared with having to use adapters on the Elite's hub. I also liked being able to dedicate IR output ports to components, which eliminated the potential for interference that happens when remote commands are blasted out to multiple components from the dual-port Elite hub.