Get Your Groove On: Woojer Wearable Woofer Review
PRICE
$99; two for $179
AT A GLANCE
Plus
Extra boom for bass hounds, especially fans of hip-hop and dance music
Minus
Clunky
Can create a buzzing sensation when worn on a belt
One more wire to deal with
THE VERDICT
Woojer is not for everyone, but it can add a visceral element to mobile listening that may appeal to gamers and fans of dance, hip-hop, and other bass-driven music.
Can a small device that clips to your belt produce the visceral sensation of a live musical performance or the deep, pulsating bass felt in a dance club? Can it wow mobile gamers with spine-tingling bass?
Kickstarter-funded Woojer aims to do just that with a "wearable subwoofer" that connects between your music player (or any audio source) and headphones. Technically speaking, Woojer is a polyphonic tactile transducer that converts audio frequencies below 500 hertz into low-frequency vibrations to "make your body feel like it is exposed to high acoustic energy."
I was intrigued by the premise (and somewhat skeptical), so I got my hands on a Woojer and tried it out with JBL Synchros E40BT headphones and a handful of audio sources, including an iPod nano loaded with a variety of music.
Small n' Simple
A little bigger than a matchbox, it's a simple device with an integral belt clip/chest magnet, a micro USB charging port, and two minijacks: one for your headphones and one for your audio source. Apart from an on/off switch, the only control is a three-position switch for adjusting the intensity of the vibration. Turn the Woojer on and two LEDs appear on its face: a blue LED that flashes in sync with the bass and a green "on" indicator that turns orange when the battery is low and red when the unit is overdriven. A rechargeable lithium-ion battery keeps the Woojer going for 3 to 4 hours, depending on the intensity of the music, vibration level, and volume.
The company offers an optional app with a bass-boosting equalizer and presets for different types of headphones and music genres; the iOS version is available for free in the App Store, and an Android version is on the way.
Woojer is careful to point out that you have to experiment with placement for the optimal effect and that the best position will vary from person to person. Recommended hotspots are the sternum, collarbone, hip, and spine. The belt clip has a removable magnet for attaching the device to clothing: You put the magnet under your shirt and place the clip side of the Woojer over it to lock it into place. Warning: If you have a pacemaker, the Woojer is most definitely not an option for you!
Boom Town
Ready to enter into the Woojer Zone, I fired up my iPod and listened to a broad variety of music—from hip-hop/rap/dance to pop/rock to classical music and film scores. I focused on material with really big bass—which meant hip-hop was in heavy rotation—while experimenting with different placements and vibration settings.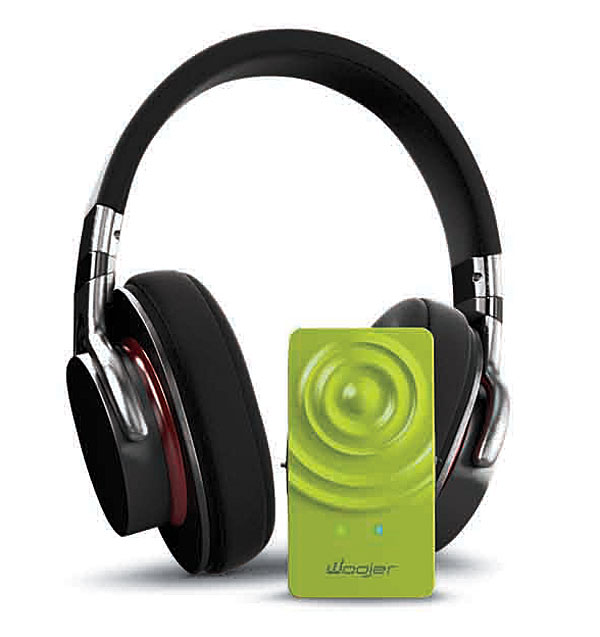 I started with the Woojer attached to my belt, first opposite my spine and then near my hip, and alternated between the "Dance Workout" and "Weekly Top 50 – Hip-Hop/Rap" stations on iTunes Radio. Woojer produced vibrations that accentuated the pulsating bass on tracks like "Froot" by Marina and The Diamonds, but they felt disconnected from the music and created a mild buzzing sensation—sort of like when my phone is in vibrate mode. Weird. When I pushed the Woojer up against my body, the sensation became more palpable…but that sort of defeats the purpose.
Moving up my body, I used the magnetic clip to position the Woojer next to my collarbone. The sensation was stronger than the hip location, but I found the little box to be clunky when I attached it to my shirt. I moved the Woojer to the center of my chest, which proved to be the sweet spot, providing the most compelling effect over several hours of listening. There I was, standing in the middle of my (home) office groovin' to Wilkinson's "Afterglow"—not exactly my usual routine (and something no one should see). But, again, the chest thumping came closest to a true club vibe only when I pressed the Woojer against my body. The company sells a chest strap ($15) for working out, which is probably the way to go if you're serious about getting your groove on.
I moved into more familiar pop/rock territory with songs with driving bass lines like AC/DC's "Thunderstruck" and "Message in a Bottle" by The Police, which were great fun. Film scores for and Transformers: Revenge of the Fallen became all the more menacing with the Woojer pressed up against my chest.
This device is not for everyone. Some will find it clunky (as I did); others will find it gimmicky. But with careful positioning, the little take-anywhere device can add a visceral dimension to bass-rich music and video-game or movie soundtracks.