Audyssey MultEQ-X Room EQ Software Review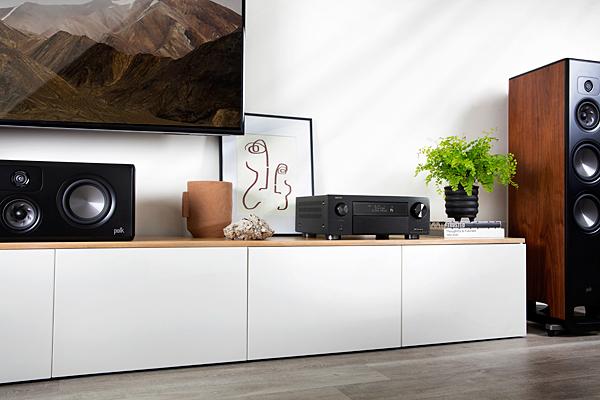 PRICE
$199
AT A GLANCE
Plus
Superb setup flexibility
Adjustments shown in simplified parametric EQ format
Processing can be applied to full or limited frequency range
Minus
Requires a PC to run program
Steep learning curve
Not compatible with all AVRs featuring Audyssey
Software not transferrable
THE VERDICT
Audyssey's latest version takes room EQ processing to the next level via a PC software app offering an unprecedented degree of options to tune all channels in your system.
Electronic correction for the flaws common to any listening room wasn't always a thing. My first exposure to it came over 20 years ago with the Snell Acoustics RCS1000 Room Correction System, a complex device that never made a splash in the market before that innovative company folded. It wasn't until 2002 that room EQ took off with the launch of Audyssey, which was founded at the University of Southern California by USC professors Chris Kyriakakis and Tomlinson Holman, the latter famous for his work in the development of THX while at LucasFilm.
By 2004 Audyssey began appearing in A/V receivers and preamp-processors. With rare exceptions, traditional audiophiles never embraced it, perhaps out of fear it would pollute the straight-wire-with-gain purity of their setup (and the room doesn't?). But EQ for home theater was a different ball game. Today, all A/V receivers and preamp/processors include room EQ of some type from Audyssey, Dirac Live (Audyssey's main competitor), or other brand-exclusive formats such as Yamaha's YPAO (Yamaha Parametric Acoustic Optimizer) and Anthem's ARC (Anthem Room Correction).
Audyssey has been refined frequently since that introduction. For many years, the top-level version was MultEQ xt32, which was later supplemented by the MultEQ Editor app. The latter, a $20 download that isn't compatible with all Audyssey-equipped AVRs or processors, offers the ability to manually tweak the target correction curve. (The Editor app includes a feature I've used extensively: restricting equalization to a limited frequency range, typically to just the low-to-upper bass where room modes have the most detrimental impact.)
More Options
The latest version of Audyssey is MultEQ-X, which was released in December 2021 and is priced at $199. AVRs with built-in Audyssey MultEQ xt32 processing will benefit most from MultEQ-X, which offers greatly improved adjustment flexibility over previous Audyssey versions. The software runs on a Windows 10 or 11 PC operating at 64 bits, or on an older, Intel-based (not M1), Mac using Boot Camp or virtualization (it currently isn't available for MacOS).
The MultEQ-X program isn't immediately intuitive. Fortunately, there's a link to a trial mode on its opening page, which lets you surf through the program to get a feel for it but can't actually be used to calibrate your system. There are also several "how to" videos on YouTube explaining program setup, though these are often fast-moving and sometimes wander off into the tall grass. Perhaps the best way to proceed, before or after downloading the working program, is to first download the Audyssey MultEQ-X User Guide from the Audyssey website. While there's no way to squeeze the contents of that 35-page guide into a review, I'll try to cover its key elements here.
Audyssey's user guide provides details on AVRs compatible with the program. Not all are: some will be partially compatible, but many older products can't use it at all. In general, any AVR that's compatible with the MultEQ Editor app, such as the most recent Denon and Marantz models, will work.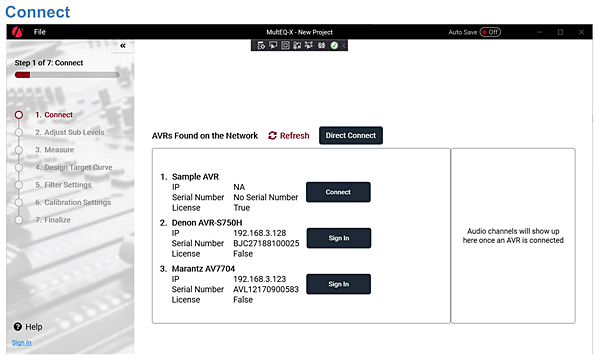 The $199 you'll pay for the MultEQ-X program/app is a one-time charge; any future upgrades to it are free. It's also limited to the AVR it was purchased for and isn't transferrable to other products or individuals. But if your AVR needs repairs (using an authorized service facility) and the program gets wiped, Audyssey will authorize a new download at no charge under the current policy.
The MultEQ-X App is downloadable from the Microsoft Store, which requires a Microsoft account and password. Payment of the $199 fee is made in-app, and then afterwards the full MultEQ-X program will be ready for unlimited use.
As with the Audyssey MultEQ Editor App, control of the AVR is either via Wi-Fi or wired Ethernet. But in this case control is performed via a computer and not a phone or tablet. The microphone is still connected directly to the AVR or pre-pro, as it regularly is with Audyssey.
MultEQ-X is designed to operate with the batch-calibrated Audyssey microphone that comes with any relatively new Audyssey-equipped AVR and won't work with third-party calibrated mics such as miniDSP's popular UMIK-1. Another option is to use Audyssey's own individually calibrated mic, the ACM1-X ($79). This can also be used with other, earlier, Audyssey versions, but in that case it won't offer any benefits beyond the batch-calibrated mics since those versions weren't designed to upload a calibration file like the one used for the ACM1-X.
MultEQ-X offers the user a much wider range of adjustments than the less sophisticated Audyssey versions built into many AVRs. Also, while earlier Audyssey iterations were limited to 8 averaged mic measurement positions, MultEQ-X offers up to 32, though it's arguable that going beyond 8 will provide any audible benefits.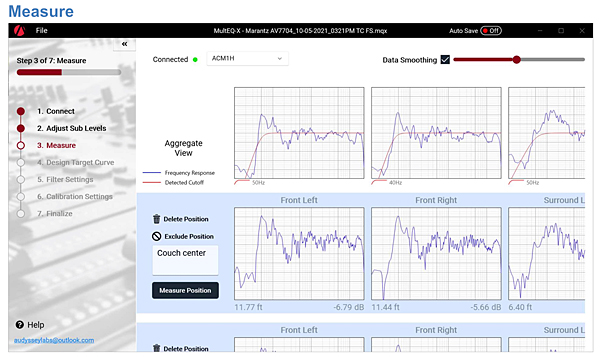 The two presets in the MultEQ-X menus, Reference and Flat, can each be loaded with a different setup, in which event the word "Flat" will merely be a designation without the stated meaning. If your AVR or pre-pro itself offers two presets (a feature on some recent models), that would give you the option to create and save a total of four different instantly selectable setups, each with its own target curve.
MultEQ-X also goes far beyond the flexibility offered by the Audyssey Editor app. For instance, it can configure each channel separately with different target curves, and those target curves are almost infinitely adjustable. And you can create as many "Biquad / Parametric Equalizers" as your computer can handle to further adjust the target curve. MultEQ-X's FIR (Finite Impulse Response) filters are very different from the type used in parametric equalization, but the Audyssey filters mimic parametric operation and present controls in a way that users of that more traditional EQ format will be comfortable with. Any or all of these and other adjustments can be used separately or together, such as applying a shallow downward tilt at the high end, and then pumping up response below 100Hz to address your need for soul-satisfying bass.
Setup
MultEQ-X isn't as easy to use as the Audyssey Editor app. I experienced a number of roadblocks, but with some experimentation and direct assistance from Audyssey (but not the software's limited Help menu) was able to muddle through. It didn't help that this A/V nerd isn't also a computer nerd. Some of Audyssey's menu operations worked slowly on my (older) PC, though by slowly I mean 5 seconds (an eternity in computer-time). I also discovered that it's important to regularly save your progress while using the program. At one point I accidentally deleted the work I had done so far, and since I hadn't engaged Save, needed to repeat the entire measurement process.