SVS PB16-Ultra and SB16-Ultra Subwoofers Review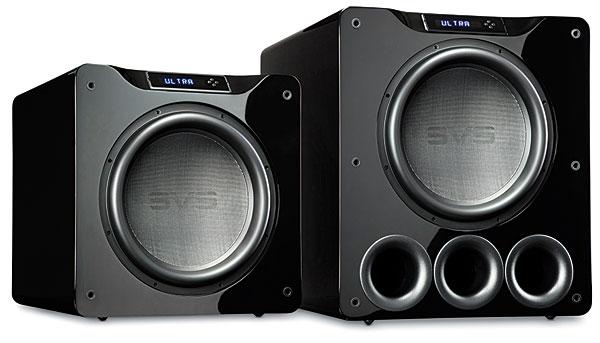 PRICE
$2,499, $1,999
AT A GLANCE
Plus
Powerful, deep bass response
Infrared remote and Bluetooth app control
User adjustable EQ presets
Minus
Extremely heavy
Large size can make optimal placement challenging
THE VERDICT
If you want foundation-shaking bass and have the floor space to accommodate one (or two) of these beasts, you'll be the envy of the neighborhood on movie night.
I've had a home theater going on 20 years now, and one thing has remained constant through those years: upgrades. It got so bad at one point that my wife had me enter into a contract with her in 2004 that my latest subwoofer upgrade would be my last for the next 10 years. Desperate to make the purchase, I reluctantly agreed and signed my name on the dotted line. Fortunately, the subwoofer just happened to be an SVS PC-Ultra, a cylindrical monster that kept my subwoofer itch scratched for a full decade. But as soon as the contract was up in 2014, I did add a second subwoofer to the mix, a Hsu VTF-15H MK2, which has been filling my room with copious amounts of bass ever since.
As a reviewer, I'm fortunate enough to sample subs in my own home and see how they stack up against my reference gear, though most have been of the compact variety. Then I found out that I had two subwoofers headed my way that are among the biggest—and heaviest—I'd ever auditioned, the SVS PB16-Ultra ($2,499) and SB16-Ultra ($1,999).
On delivery day, the first thing I thought of when the pallet was taken off the truck was that scene in Star Wars where Wedge Antilles first sees the Death Star and declares, "Look at the size of that thing!" Combined, the two subs in their cartons weighed over 350 pounds. Fortunately, my son arrived home from school a couple of hours later and assisted his old man with moving them into the house. First up was the SB16, the sealed-box version and the lighter of the two at 145.9 pounds shipping weight and 122 pounds unpacked. Given its cube-shaped box, getting it onto a handcart and up the three steps into my home wasn't that difficult. After that warmup, it was time for the PB16, whose rectangular-shaped vented box checks in at a massive 207.3 pounds shipped, or 174.5 pounds naked. Worse still, the crate wouldn't fit through my front door on the handcart, so we had to manhandle it in ourselves. Luckily, no one was injured and we proceeded to the unboxing of each.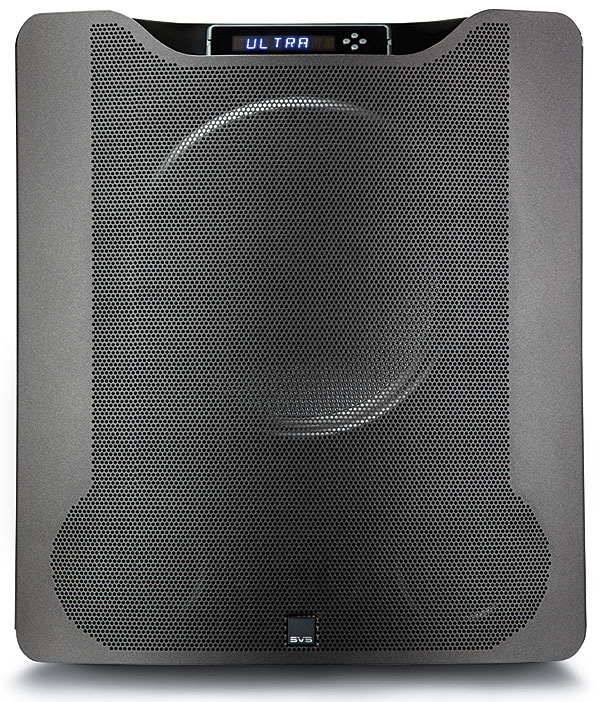 Release the Kraken—or in This Case, Two
The exterior carton of each subwoofer features instructions showing how to properly unpack it. The SB16 came out of its box relatively easily, but the PB16 took three of us to get it out—two pushing, one pulling—in order to free the massive beast. SVS offers two finishes, a piano gloss black or black oak veneer; I was sent the gloss versions. My wife wasn't thrilled with the size of either sub, but she did comment on how pretty they were and made it a point that I was responsible for keeping them dust free—which turned out to be a daily ritual.
The physics of creating deep bass is a complicated process, but both the SB16 and PB16 are clearly intended to dig deep. Not surprisingly, the siblings share a lot of the same or similar components. First up are their massive proprietary 16-inch drivers, with cones featuring a premium fiberglass resin composite material said to have optimal stiffness-to-mass ratio. They include an 8-inch edge-wound voice coil, which SVS claims is the largest ever deployed in a consumer subwoofer. Generally speaking, larger, highermass drivers are more difficult to control, but by including such a large voice coil in the motor structure, the design is able to utilize the staggering amount of amplification required to do just that. Four toroidal ferrite magnets, combined with an unusually deep basket design, allow the SB16 to reach a 78mm peak-to-peak
Xmech (tech shorthand for "maximum mechanical before damage") excursion and 65mm peak-to-peak Xmax (shorthand for "maximum linear") excursion. The PB16, meanwhile, has a 95mm peak-to-peak Xmech excursion and an 82mm peak-to-peak Xmax. Put another way, the SB16 and PB16 cones have a linear range of motion of 2.56 inches and 3.23 inches, respectively. While the woofers are the same size and use similar components, the PB16-Ultra uses an underhung motor (with voice coil windings shorter than the height of the magnetic gap), while the SB16-Ultra uses an overhung motor (voice coil windings longer than the height of the magnetic gap), which is why their excursion specs are slightly different.
In addition to the massive drivers, much of the weight of each sub can be attributed to the MDF construction, which is doubled for the front baffle and reinforced with internal bracing to support the driver and to ensure that it's housed in an acoustically inert environment. The last thing you want is cabinet resonance ruining your bass party. Each subwoofer is powered by a 1,500-watt continuous-power (and a claimed 5,000-plus-watt peak dynamic power) Sledge Class D amplifier coupled with a 50-megahertz Analog Devices DSP chip. The rear panels of the subwoofers are pretty sparse but include a connector for a detachable power cord, the on/off switch, balanced XLR and single-ended RCA stereo/inputs (and outputs without high-pass filters), and a trigger input.
There's an App for That
There are controls on each sub's front panel, but SVS gives you two other great options for making tweaks. Not only do the SB16 and PB16 come with a small IR remote, but you can also download an app from the Play Store or iTunes that will control the subwoofer—or multiple subs—using the Bluetooth wireless link from your phone or tablet. This makes setup a breeze. No more fiddling around with dials on the back—you can make all your adjustments from the money seat with your SPL meter in one hand and your phone in the other.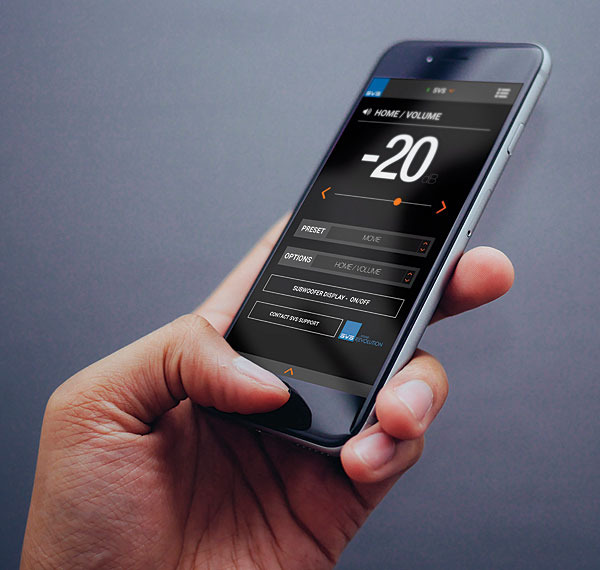 In addition to setting volume, the app allows you adjust Low Pass Filter, Phase, Polarity, and Room Gain Compensation (to counter bloated bass in some rooms). It even includes a Parametric EQ (PEQ) function, which lets you set the desired center frequency of the filter (from 20 hertz to 200 Hz), increase or decrease the level of its effect, and adjust the bandwidth (Q factor). Additionally, there are three user presets (Movie, Music, and Custom) to save your settings into that can be switched on the fly.