The S+V Interview: Talking Tech and More with Singer Julie Feeney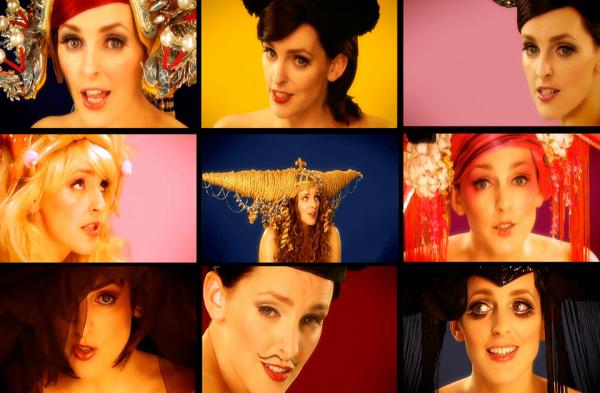 Some fellas look at the eyes
Some fellas look at the nose
Some fellas look at the size
Some fellas look at the clothes . . .
First I look at the purse.
With all due respect to Smokey Robinson and fellow Miracle man Bobby Rogers (who wrote the song), the Contours (who had an R&B hit with it in 1965), and the J. Geils Band (who covered it on their self-titled debut in 1970 and really rocked it up for Live: Full House two years later), when it comes to Julie Feeney, I know I speak for all audiophiles when I say: "First I Look at the Purse"? No, first I look at the résumé. To wit:
— Feeney has a master's degree in sonology.
— She has another one in music and media technologies.
— Feeney recently completed co-hosting a 26-part radio series called High Fidelity: A Century of Recorded Song, "from Thomas Edison to the iPod, from Emile Berliner to iTunes."
Can't we get her to run the Audio Engineering Society?
That might be tough, since Julie Feeney is an Irish composer/singer who's based in Dublin. But here's some good news for members of the New York Section of the AES, local readers of S+V, and everyone else in the metropolitan area: On April 25 in Manhattan, Feeney begins a 10-night residency at the Donaghy Theater in the Irish Arts Center, with performances on Wednesdays through Sundays at 8 p.m. until May 6. (For details, visit irishartscenter.org. She is also scheduled to appear at the Maine Irish Heritage Center in Portland the following week; visit maineirish.com.)
Meanwhile, Feeney has finished recording her third album — after 13 Songs (2005) and Pages (2009), the latter just released in the U.S. last year — and she's also working on her first opera.
Oh, and did I mention that she has bat's ears?
"I am insanely particular about my ears," she explains. "I will not stick just anything in them. One of the reasons is . . . when we were mastering Pages with Jon Astley, there was a certain sound that was still on one of the songs, and I said, 'Jon, I'm sorry, but I need this to be taken out. Something's going on. There's a mixture of a string bow and something else that's creating a ring.' And he said, 'I can't hear it. You've got bat's ears, Feeney!' That's what he always says to me.
"At that time, he was working with Tori Amos in Wales. So I said, 'Ask Tori if she can hear it.' Which was also a good way to get Tori to hear my music! She's amazing. . . . So Jon came back and said, 'Myself and my engineer, and Tori and her engineer, we all listened, and we couldn't hear it. But we could see it on the screen. So it's proven: You've got bat's ears!' "
I suggest it might come across better if we all said she has golden ears.
"Oh, golden ears. I never heard that before!"