Classic Yes on Vinyl: The Steven Wilson Remixes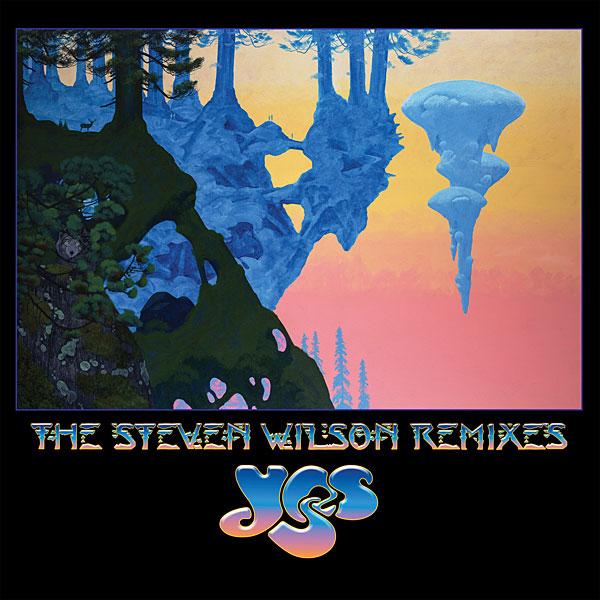 Wilson had originally been commissioned by the custom label Panegyric to do "Definitive Edition" 24-bit/96kHz surround-sound mixes on Blu-ray and DVD for 1971's The Yes Album, 1971's Fragile, 1972's Close to the Edge, 1973's double album Tales From Topographic Oceans, and 1974's Relayer, with smashing results across the board. (The fully enveloping scope of Rick Wakeman's "I Get Up I Get Down" sequence from "Close to the Edge," as performed on the church organ at St.-Giles-without-Cripplegate in London and then floated into the final track from quarter-inch tape, remains a personal highlight, and is one of my favored 5.1 demo tracks.)
It was only a matter of time before the stereo versions of the mixes Wilson did between 2013-16 for these albums found their roundabout way onto high-grade 180-gram vinyl, and they have now done so in a six-LP box set from Atlantic/Rhino reverentially titled The Steven Wilson Remixes. Whether this box is worth your time and money will depend on just how much the ritual of Yes discovery and/or rediscovery means to you.
Knowing the lacquer-cutting had been done by the ever-stellar Chris Bellman at Bernie Grundman Mastering for each poly-vinyl bagged 180g album proper put my mind right at ease. I found every disc to be pristine upon initial unboxing and unbagging, with all center holes clean of debris and each LP flatter than a long-distance runaround drive across the Midwest. I encountered no pops, skips, or scratches on any of the 12 sides, which led to a number of instantly pleasurable spinning sessions.
Highlights of said repeat spins included the much punchier crescendo during the final "Würm" portion of The Yes Album's "Starship Trooper," the fury of Bill Bruford's drumming interlocked with Chris Squire's bass on Fragile's "South Side of the Sky," and the abject dead-quiet lead-in and fadeout on the title track to Close to the Edge. Also, Steve Howe's dexterous acoustic guitar work in the "Leaves of Green" portion of the full-sided "The Ancient" on Topographic, and the clarity of Jon Anderson's impassioned vocals during the final "Soon" segment of "The Gates of Delirium" on Relayer.
When it comes to Yes, more than a few words must be devoted to the artwork, given that the otherworldly brushstrokes of the prog genre's preferred artiste Roger Dean have become integral to the Yes brand identity. The Dean kickers for this box include the totally new cover art (a slightly reminiscent but fairly distant cousin of the vibe he was going for with the cover to the 1991 Yesyears box set), as well as his revisiting of the cover art for all five albums, including full re-imaginings of those for Edge and Topographic (but only just slight mods to the others). Purists are likely to bristle at those blue-hued changes, but they do add another dimension to the overall visual presentation.
Meanwhile, the lack of any liner notes explaining Wilson's process for each album is an odd oversight, especially given the expectations for this box set of the band's discerning, aurally inclined audience. These could have easily been culled and remastered, er, re-edited from the extensive liners about audio sources (which ones were flat stereo transfers or enhanced mono recordings, if there was any declicking deployed, etc.) Wilson provided and Yes historian Sid Smith penned for the five comparable Panegyric BD/DVD releases. The other misstep involves the decision to forego the green-toned calligraphy-delineated lyrics sheet from the original Edge. Perhaps there was an assumption that the intended audience already had access to and/or owns all this vital information via previous releases—but as we all know given the potential consequences, one should never assume.
Regardless of these aesthetic lapses, the bottom line is this: If you a) are a fan of the overall S. Wilson sound philosophy, b) fully understand going into it that these mixes are most decidedly not meant to be an upgrade to or reproduction of the original Offord-overseen and band-approved mixes but rather a faithful yet modernized recasting of them, and c) vinyl is your preferred playback medium, then, by all means—your choice to acquire this box is no disgrace.
LP
Label: Atlantic/Rhino
Audio Format: 180-gram vinyl
Number of Tracks: 25 (on 6 LPs)
Producers: Yes and Eddie Offord (original recordings); Steven Wilson (2013-2016 stereo mixes); Steve Woolard (box set)
Engineers: Eddie Offord, Gary Martin, Mike Dunne, Guy Bidmead, Genaro Rippo (original recordings and tapes); Chris Bellman (lacquers, cut at Bernie Grundman Mastering)

Calculating how many times key entries in the Yes catalog have been remastered, remixed, repackaged, and reissued can sometimes feel akin to tallying how many official live albums The Grateful Dead have released over the years—well, okay, maybe not quite that many, but still…. It can also be somewhat arduous to keep up with all the ongoing Yes release permutations without a scorecard, let alone decide which ones are worth purchasing. But once the irrepressible guru of progressive rejuvenation Steven Wilson was enlisted to weave his (re)mixing magic with five peak-period albums in the Yes oeuvre, many of us audiophiles were all-in from the get-go.