Spider-Man: Homecoming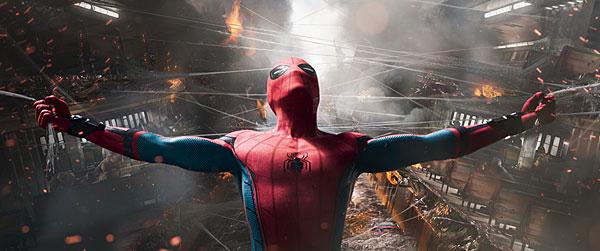 A ruthless criminal is selling devastating weapons, however, built from the scraps left by the invading Chitauri in The Avengers, and only Spider-Man is willing to stop him. And that's my sole gripe: Iron-clad genius Tony Stark is Spidey's mentor, but a lousy one, dismissing deadly serious reports of major criminal activity and leaving this green teen to go it alone. And so a true hero is born.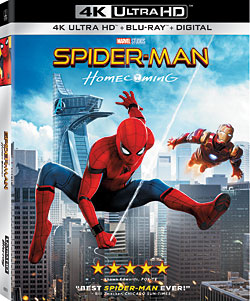 At 4K, the limits of some of the generally great special effects begin to strain, but for the most part, the CGI Spider-Guy is virtually indistinguishable from the real thing, right down to the almost suedey look of the red-and-blue tights. The minuscule readouts of his heads-up display are insanely sharp. There's some rare strobing in fast action, and I noted just one instance of some wonky stripes. Homecoming is Sony's first live-action movie with Dolby Vision high dynamic range. I watched in HDR10 and found the wide color gamut to be rich and inviting throughout, while the glowy alien artifacts were distinctly more so here. Available separately, a Blu-ray of the quite-good 3D conversion is highlighted by the Washington Monument rescue sequence.
I tuned to the Dolby TrueHD mix lurking within the Ultra HD-exclusive Dolby Atmos track (the bundled Blu-ray is DTS-HD Master Audio 5.1) and was promptly struck by the fine use of subtle off-camera cues. Focused bass adds genuine menace to the otherworldly weapons. Dialogue is clear, with an interesting array of tones, such as the distinctive character of the Spider-suit's built-in digital assistant, voiced by a mellifluous Jennifer Connelly.
Superb but infrequent optional trivia/insight pop-ups enhance repeat viewings, while a gag reel and a mixed bag of featurettes can be found over on the Blu-ray. The deleted/extended scenes are mustsee, although many memorable moments glimpsed in the trailers are still notably absent. A 4K UltraViolet Digital Copy is also included.
Blu-Ray
Studio: Sony, 2017
Aspect Ratio: 2.39:1
Audio Format: Dolby Atmos / TrueHD 7.1 core
Length: 133 mins.
MPAA Rating: PG-13
Director: Jon Watts
Starring: Tom Holland, Michael Keaton, Marisa Tomei
Following his introduction to Marvel's well-established "Cinematic Universe" in Captain America: Civil War, the beloved Spider-Man has been fully rebooted (again) in the wildly enjoyable Homecoming. Decked out in a new high-tech costume, he's eager for big adventures, but until then, he occupies himself as a local do-gooder in his Queens neighborhood—when not attending high school. Young star Tom Holland is a perfect fit for Peter Parker and his alter ego, an agile dancer/athlete with an irresistible wide-eyed enthusiasm.