Sony VPL-HW30ES 3D SXRD Projector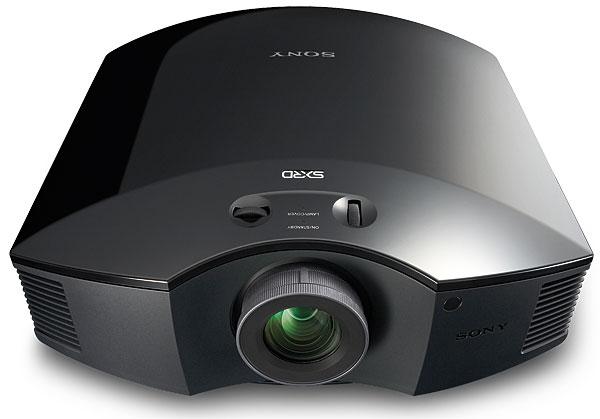 Price
: $3,700
At A Glance
: Deep blacks • Accurate 2D color • Outstanding brightness
Sony's VPL-HW projectors go back a few years, with steady model-to-model refinements. Last year it was the VPL-HW20; this year it's the VPL-HW30ES. Note that the HW30 now carries Sony's premier ES designation. But there's more than that to account for its price premium over the VLP-HW20. Not only does the new model build on its predecessor's already excellent 2D performance, but it's also 3D-ready, using active shutter glasses you can purchase separately along with an external 3D emitter. Or if you prefer your projector to be 3D-capable right out of the box, you can purchase it with two pair of model TDG-PJ1 glasses and the TMR-PJ1 emitter included as the VPL-HW30AES for $4,000.
Description
The VPL-HW30ES mimics the distinctive look of Sony's more upscale VW projector line, although here the lens is partially recessed into a scalloped notch. As before, all of the controls and inputs are located on the side, with the inputs recessed under a chassis overhang that's a little awkward to reach in a tabletop or shelf installation.
SXRD stands for Silicon X-tal Reflective Display, a proprietary version of LCOS (Liquid Crystal on Silicon). We've discussed this process before and refer you to the review of the VPL-HW15 (Home Theater, March 2010 or HomeTheater.com) for more on the technology. LCOS offers several advantages over LCD, including narrower gaps between the pixels. While manufacturers that offer LCOS designs haven't rested on their laurels, the differences have narrowed somewhat in recent years.
To accommodate for the small errors possible in the alignment of the three imaging chips, the VLPHW30ES has controls that let you electronically alter their positions within a small fraction of a pixel over the entire screen (but not by zones, as in Sony's more expensive models). To our knowledge, this is the only projector in this price class that offers this feature. The out-of-box alignment errors on our sample were small—so small that I happily watched it for several hours before I tried the convergence feature. It tightened things up a bit, but I can't say for sure that my tweaking made a visible improvement at my normal seating distance.
The projector's zoom lens will fill a 100-inch-diagonal (87-inch-wide) 16:9 screen at distances ranging from 10.1 to 15.3 feet. All of the lens functions (zoom, focus, and horizontal and vertical shift) are manual. The usual aspect ratio settings are provided, but there's no vertical stretch mode for use with an anamorphic lens.
There are nine different picture modes. You can adjust all of them manually and set up each differently for 2D and 3D. You can't set up any given mode separately for each input, but you can select a different picture mode for each input (including the two user modes). The settings are also dependent on source resolution, which is unusual. For example, if you set up User 1 for 1080p, you'll have to configure that mode separately for 1080i. Flexible, but tedious.
The custom color temp settings offer high (gain) and low (bias) settings for red, green, and blue. You can't set them separately for each mode, but with five custom settings available, there should be enough options to satisfy most setups.
The Cinema Black Pro menu includes control over Sony's advanced iris, including two dynamic settings (auto 1 and auto 2). You can set each of these to fast, slow, or recommended sensitivity. There's also a manual iris option that offers a range of fixed settings. An Off selection sets the iris to fully open. Oddly, Manual Max provides a slightly lower brightness than Off, which indicates that Manual Max does not fully open the iris.
The Sony provides its deepest black levels and brightest whites in either of its auto settings. The downsides of any dynamic iris are a slightly odd and S-shaped (but not visually bothersome) gamma curve and brightness compression. The latter can make bright highlights on an otherwise dark image look dimmer than they should. A keen eye may notice this, but it isn't usually obvious. Another problem that can sometimes occur with a dynamic iris is visible pumping as the iris reacts to dramatic changes in the scene brightness. I never saw obvious pumping from the Sony on real-world program material, but if I called up the onscreen menu, its brightness would shift according to the brightness of the image behind it. This was most visible when the picture transitioned from a bright scene to a dim or completely dark one.
The Cinema Black Pro menu also includes the high or low lamp control settings. The projector is remarkably quiet in either mode. Neither fan noise nor excessive light leakage from the ventilation ports was an issue. The VPL-HW30ES offers nine gamma correction settings, including off. For me, Gamma 5 provided the best overall performance. Two other gamma selections also worked well on sources that were slightly darker than average (Gamma 4) or lighter (Gamma 6).
While its configuration remains ergonomically puzzling, Sony's Real Color Processing (RCP) feature provides color, hue, and brightness adjustments for each of the primary and secondary colors. Unfortunately, when I used it to correct slight deviations in the brightness of the primary colors (the actual shape of the color gamut almost perfectly matched the Rec. 709 HDTV standard), it was a bust. It got me closer to the correct color brightness levels but also generated unacceptable video noise and, occasionally, severe squirming or wriggling with some sources. I left RCP off. The color brightness errors weren't out of line with similar errors I've measured on other displays, and they didn't bother me at all. In any event, Sony told us at press time that a firmware update has resolved this issue.
Sony has incorporated Motionflow (its motion-smoothing, frame interpolation feature) into the VLP-HW30ES—a first for an HW-series projector. I don't like what motion interpolation does to the look of film-based material, but I can't deny that Sony's implementation of it works well for what it is.
The Sony's 3D menu offers a number of controls, including 2D-to-3D conversion, support for all of the most common 3D modes (leave it in auto if your only 3D source is Blu-ray), and 3D depth adjust (I left this in the zero, default mode except for the new 3D releases of The Lion King and Beauty and the Beast, which both worked better in +1). The 3D glasses brightness control offers five options; Max worked best for me, with ample brightness and none of the ghosting you might expect at this setting.