Sony VPL-HW30ES 3D SXRD Projector Page 2
From the projector location, the 3D emitter didn't bounce a usable signal off the screen, so I ran a long Ethernet cable (not supplied) to the front of my theater and placed the emitter on top of the center-channel speaker. This allowed me to aim it directly at the viewing position.

I used the Sony with two different screens: the 101-inch-wide Elite Osprey 2.35:1 (gain 1.1) I reviewed in the October 2011 issue of Home Theater, and my long resident (circa 2000), 78inch-wide 16:9 Stewart StudioTek 130 (gain 1.3).
Except as noted, I did most of my 2D viewing on the 2.35:1 Elite with the Sony in its high lamp mode and most of my 3D viewing on the smaller, higher-gain StudioTek. In 3D, the Sony automatically switches to high lamp and fully opens the iris for maximum brightness, with no selectable auto iris options.
3D Performance
For my first 3D session, I made an exception to my standard operating procedure: I used the dynamic mode—the best option for maximum brightness and a must-have for 3D playback. I also found that some 3D sources exhibited a slight jerkiness. In its low mode, Motionflow eliminated this, although I generally preferred to avoid it if possible, particularly on film-based content (as opposed to animation and live-action video, such as sports).
This Sony projector's 3D was satisfyingly bright on my relatively small but modest-gain Stewart screen. Not as bright as 2D, for sure, but it was generally brighter in 3D than I recall from my experience with last year's first-generation 3D projectors from Sony and JVC. I never felt shortchanged, even though I like bright images. The eye adjusts.
On Gnomeo & Juliet, the colors, including fleshtones, were vivid—limited of course by the main subject: animated garden gnomes. And the 3D on Avatar was as amazing as you might expect—hopefully it will see a general 3D release soon. The detail, richness, and depth were eye opening. The 3D blacks were excellent as well; the added darkness produced by the glasses more than made up for the lack of iris control in 3D operation.
Once the screen got bigger, as on the 101-inch, slightly lower-gain Elite, the magic was greatly reduced. Affordable 3D still won't blow you out of the room with brightness, and I quickly switched back to the smaller StudioTek 130, where I never felt shortchanged.
The hits continued on a wide range of 3D discs, including perhaps the most remarkable 3D disc in my collection apart from Avatar. I'm referring to IMAX: Legends of Flight. The 3D images here were truly spectacular, from aircraft in flight (in some cases using superb CGI, for no chaseplane camera could approach the subject at such angles) to striking CGI wire diagrams and exploded views showing the design of Boeing's 787 Dreamliner (the main subject of the film).
Most important, I saw no ghosts on the 3D discs I watched—including discs that have ghosted consistently on many displays. Unlike my experience with recent Sony 3D flat panels, when I moved or tilted my head, I saw no ghosts, dimming, or color shifts. In fact, my only serious complaint about the VPL-HW30ES's 3D performance is with Sony's rechargeable shutter glasses. I found them relatively uncomfortable over time, possibly because I wear them over prescription glasses. But at least the on button is smartly located on top and easy to locate.
2D Performance
For my 2D viewing I moved on to the larger (101-inch-wide), 2.35:1 Elite Osprey screen. I adjusted the lens' zoom to fill the screen with the (mostly) 2.35:1 or 2.40:1 source material I chose; no anamorphic lens was involved. I won't go into detail on how the Sony looked in 2D on the smaller Stewart screen, except to say that its performance was completely comparable. The main difference was image size. I also used the low lamp mode on the StudioTek, whereas I preferred high on the larger Elite. Black-level performance on both screens under these conditions was comparable—and excellent.
When I first viewed the Sony on the big Elite screen, I found it softer than the projector I'd most recently reviewed: the $7,000 Digital Projection M-Vision Cine 230HC (Home Theater, November 2011). And it was, but not by much. The pixel grid was slightly visible on the VLP-HW30ES in the center, less so on the sides. But this was no surprise. Single-chip DLPs often look crisper than LCOS and LCD designs for a number of reasons—which in this case includes the price. That extra $3,300 can cover the cost of a higher-grade lens.
Still, that first impression dissipated quickly. While the Sony didn't inspire the same, "That's awesomely sharp" reaction as the DLP, it was by no means soft. In fact, many videophiles prefer SXRD/LCOS technology's more analog look. While the DLP was also a bit better on fast motion, the difference on most material was marginal. The Sony had the superior blacks with its auto iris engaged, it's significantly brighter with roughly comparable lamp hours (surprisingly), and it produces no DLP rainbows. It also does 3D, while the Digital Projection Cine 230HC does not.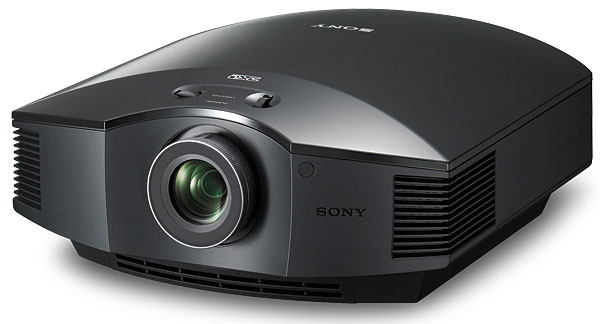 In short, at roughly half the price, the VLP-HW30ES had its own story to tell, and it tells it brilliantly. Frankly, the quality of the Sony's 2D performance on this large, 1.1-gain screen shocked me. With the lamp on high (and at more than 160 hours), the iris on auto 2, and the contrast control set well below the point of white clipping (leaving some overhead for inevitable lamp aging), the peak white level was close to 19 foot-lamberts with the lamp on high (see HT Labs Measures for more details). The projector's post-calibration 2D color was nearly spot on, aside from the small luminance deviations in the primaries I mentioned earlier. The operation of the dynamic iris was rarely visible (and never audible), and then only with respect to some mild brightness compression, not pumping.
I watched a number of films with this projector on this screen, and it never came up less than roses. They included: Thor (a movie that's inherently a little soft in spots, as it was in the theater, but otherwise has been brilliantly transferred to Blu-ray); Battle: Los Angeles (achingly crisp throughout, excepting for the pervasive shaky-cam shots, which the Sony handled well without Motionflow); and How to Train Your Dragon (sharply rendered CGI). Every decent Blu-ray title I threw at the Sony looked superb.
For more 2D and 3D video commentary on the Sony, see my reviews in this issue of the Star Wars saga, The Lion King in 3D, and Beauty and the Beast in 3D. I reviewed all of them on the VPL-HW30ES, and none of them elicited anything less than a "Wow" from me.
Conclusions
I've long since passed the point where I look back nostalgically and yearn for the image quality of those classic CRT projectors. But the fact that even a sub-$4,000 projector can keep us from pining for those good old days is more than just news; it's a revelation.
2012 promises to be a more than interesting year for such projectors, and the Sony VPLHW30ES is poised to pounce on the pride. Only time—and an opportunity to see competing models from Panasonic, Epson, and JVC—might cull out a leader. But if there's a candidate that can do 2D and 3D better than this one at anything close to the price, it'll have to do awfully well. You'll read about it here when it happens.