Sony BRAVIA VPL-VW90ES SXRD 3D Projector Page 2
Sony's Real Color Processing (RCP) feature can alter the projector's colors in various ways, but as in the past, it's ergonomically odd and lacks sufficient control to function as a genuine color management system to dial in a proper color gamut. Fortunately, the projector's color gamut (in the Normal Color Space setting) is quite accurate. But a good color management system can make for a useful hedge against possible color shifts down the road as the projection lamp ages.
Sony's remote control is identical to the VPL-VW85's. It's one of the best I've used, although red or green backlighting would be more readable than the blue used here.
2D Performance
As shown in the Video Test Bench chart, the Sony passed all of our standard video-processing tests. But I noted an exception that isn't a usual part of these tests. When I checked for resolution with a 1080i input (we use 1080p for the VTB tests), the luma and chroma resolutions were borderline. I never saw any obvious sign of this on most program material. However, I did note that some standarddefinition sources looked crisper when I sent them to the projector pre-converted to 1080p via a good upconverting Blu-ray or DVD player. (I used both an OPPO BDP-83 and a Panasonic DMP-BDT350 for all of my tests and viewing.)
The Sony's Auto Iris settings juggle gamma as part of their operation in ways that can appear odd or even alarming on the test bench. In the Gamma 3 setting, with the Advanced Iris control on Auto 1, I measured a static gamma at or near 2.2 (good) at low brightness levels up to 30 IRE. There was a gradual rise in the mid-brightness region (to 2.56 by 70 IRE, somewhat darker than optimum), a jump to 3.03 (dark) in a very narrow band at 80 IRE, then a drop back down to a bit over 2.3 (good) at 90 IRE. But this nonuniform gamma curve didn't appear to degrade the Sony's images at all.
And what striking images they are. The Sony has a stunningly deep black level with a full-screen black, such as a fadeout between scenes. Its black level is nearly as subjectively impressive when brighter highlights are in the picture. The night scenes early in Avatar, when Jake first meets Neytiri, looked jawdroppingly gorgeous, with the deep, fluorescent glow from the alien foliage surrounded by deep blacks and richly textured shadows.
Dynamic irises can sometimes pump the image's brightness up and down briefly as they seek an optimum setting for a given scene. Shane Buettner alerted me to five scenes from four different movies he's discovered that can unmask pumping on marginal or inferior dynamic irises. On the VPL-VW90ES, I only thought I saw a second or two of pumping on one of them (chapter 4 of Where the Wild Things Are). Between the flickering firelight and shaky-cam photography in this scene, the problem was elusive. You could easily miss it, particularly if you aren't looking for it. The projector passed the other tests flawlessly. In our experience, nobody does dynamic irises better than Sony.
I had no issues with the Sony's color. As you'll see in HT Labs Measures, the VPL-VW90ES's color, after calibration, was about as close to dead right as you can get.
The Sony's measured resolution was good but not exceptional. In practice, it left nothing to be desired. On my relatively small screen, everything clicked. Even when I zoomed the image out to simulate a 103-inch-wide screen, the image remained crisp and clear. It perhaps looked even a little sharper, since small details can be more visible at the same viewing distance on a larger screen, all else being equal. (This zoom method, which I have used before, lets the periphery of the image spill over the edges of the actual, smaller screen, but it duplicates what you'll see, in terms of both resolution and brightness, at the critical center of a genuine 103-inch-wide screen.)
The combined effect of all of these qualities was a remarkably vivid image, with a natural feeling of depth and dimensionality, even on good 2D source material. Movies as varied in video quality as Nowhere Boy (average), The Social Network (a solid transfer), and How to Train Your Dragon and Avatar (both of them breathtaking in 2D on the Sony), drew me in and wouldn't let me go. If producing the full package of emotional and visual enjoyment from a good movie is the whole point of a big-screen home theater, the VPL-VW90ES does exactly that. If only the typical movie theater looked this good.
3D Features
I used the Low lamp setting for most of my 2D evaluation (excepting only the bigger screen simulation described above, where I went to High). You'll definitely need the High mode for 3D. Fortunately, the Sony is extremely quiet in its Low lamp mode and only marginally more audible in High.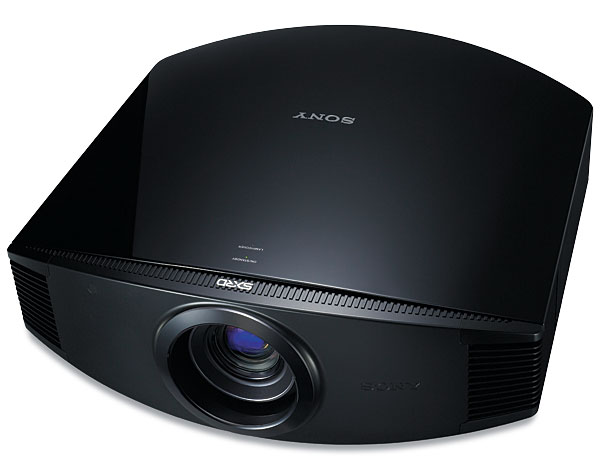 The VPL-VW90ES offers a 2D-to-3D conversion mode. Oddly, the manual states that the projector automatically reverts to 2D after about an hour in this mode. Sony's Motionflow feature is also functional in both 2D and 3D.
A Depth Adjust control operates on real 3D sources (I left it in the recommended zero setting). A Simulated 3D Effect control offers similar functionality for 2D-to3D conversion (I used the Middle setting).
A "3D Glasses Bri'ness [sic]" control offers three different settings: High, Medium, and Low. Medium offered the best compromise between brightness and minimum ghosting—the latter an artifact that appears when one eye glimpses part of the image intended for the other.
The projector produces the sync signal needed to control the 3D glasses at a maximum of roughly 16 feet from the screen, with the viewer at a similar or shorter distance. If this is inadequate, you may add an optional, wired outboard 3D sync transmitter (the TMR-BR100, $50) and plact it nearer to the viewer and their 3D glasses.
The two pair of 3D glasses that come with the projector include extra filters that are designed to go over the lenses. However, neither the manual nor the accompanying materials explain why they are needed with the VPL-VW90ES. As it turns out, they aren't—at least not with the glasses that come with the projector. If you already have 3D glasses for a BRAVIA 3D LCD set, you can also use those glasses with the VPL-VW90ES if you install the filters.