Sonos Enters Smart Speaker Fray with Support for 2 Voice Services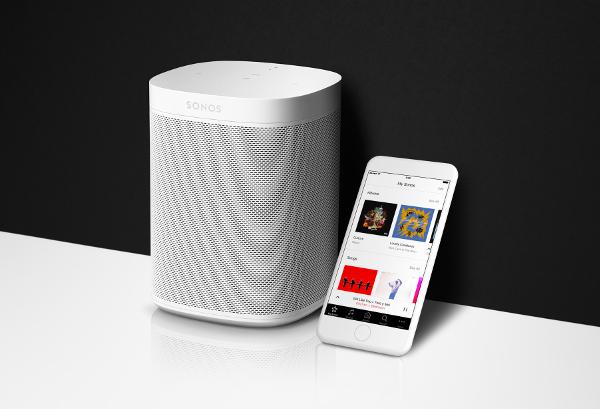 It's been a year-and-a-half since Sonos co-founder and then CEO John MacFarlane
penned a blog
in which he applauded Amazon for its pioneering work with the Amazon Echo and announced that Sonos was "taking the long view in how best to bring voice-enabled music experiences into the home," essentially admitting the company had missed the boat on smart speakers. Ten months later he resigned and turned the corporate reigns over to the current CEO
Patrick Spence
.
Last week Sonos made good on MacFarlane's promise and announced its long-awaited entry into the burgeoning smart speaker space with the Sonos One, the first voice-controlled speaker to support two voice services — Amazon's Alexa and Google Assistant. The $199 speaker launches with Alexa on October 24 and will add support for Google Assistant in 2018.
The Sonos One will provide access to 49 streaming services with full Alexa voice support for Amazon Music, iHeartRadio, Pandora, SiriusXM, and TuneIn at launch. Voice control for Spotify will come "soon after launch," according to the company. Users will be able to ask Alexa what's playing and use spoken commands to skip tracks and control volume with the other supported music services as well as control an entire Sonos sound system.
Beyond music, Sonos One owners will be able to use Alexa to request news traffic, and weather reports, set timers, and get sports scores through a device that "always getting smarter through cloud updates."
When Google Assistant is added next year, the Sonos One will be the only smart speaker to support two voice services, allowing users to choose between Alexa and the Google Assistant to answer questions and help with tasks such as listening to music, updating to-do lists, keeping track of the news, and dimming lights.
Designed from the ground up, the Sonos One is a two-way speaker with a single tweeter and mid-woofer driven by a pair of Class D digital amplifiers and it employs the company's proven Trueplay room correction technology. The system uses a multi-part voice recognition system with a six-mic array, echo cancelation, and adaptive noise suppression that focuses on the person speaking to "ensure the voice service understands everything clearly." If music is playing when a voice command is issued, echo cancelation helps the speaker discern the commands and system volume is automatically lowered so you don't have to shout over the music. A light on the speaker illuminates when the microphones are active.
The speaker, which will be available in black or white, works seamlessly with other Sonos speakers, including the company's Playbase and Playbar soundbars, or it can be used as a standalone speaker that can be wirelessly paired with a second Sonos One for stereo sound.
"We live in a golden age of streaming entertainment," said Sonos CEO Patrick Spence. "But so much of this great content is being pushed through smart speakers that aren't designed with sound quality in mind. With our open approach to collaboration, agnostic approach to voice services, the strength of our many innovative partners, and a sound platform designed for the whole home, we're helping people listen more and listen better."
The company made several other announcements at its recent press event.
Existing Sonos owners will be able to add voice control to their systems by installing a free software update and using the Sonos skill for Alexa on an Amazon Echo, Echo Dot, or other Alexa-enabled device. In addition to using spoken commands to play songs, adjust volume, and skip through playlists, owners of existing Sonos speakers will be able to access Alexa's natural language voice controls. Subscribers to Amazon Music will also be able to request music based on decade, genre, tempo, mood, or lyrics if they can't remember the name of a song.
Support for Apple's AirPlay 2 is coming in 2018, making it possible to play any sound from an iOS device — including YouTube videos and Netflix movies — on Sonos speakers throughout the house. Sonos owners will also be able to ask any Siri-enabled device to control music on Sonos speakers.
Since 2016, Sonos owners have been able to control Sonos directly from the Spotify app and, by the end of the year, they will also be able to control their systems through the Pandora and Tidal apps. Direct control from the Audible, iHeart Radio, and Kuke Music apps is expected in early 2018.
Sonos has also updated its app to simplify navigation by placing key controls in a navigation bar at the bottom of the screen so it's easier to browse and access favorites.
In 2018, the company said it will open its developer program and deliver APIs to any developer. The company also rolled out a certification program offering partners the ability to earn a "Works with Sonos" badge. The first certified partners include Wrensilva, TunesMap, Lutron, iPort, Wink, Yonomi, and Enno.
For more information on the Sonos One, visit sonos.com.