Winning Wireless: 15 Minutes with Sonos President Patrick Spence
A few years ago Sonos published an
infographic
that traces the History of Hi-Fi from Edison's phonograph through Apple's introduction of the iPod in 2001, stopping just short of documenting its own arrival in 2002. Long before anyone even heard of streaming, the company set out to reinvent stereo with an Internet-connected wireless speaker and introduced one of the first iPhone apps—a controller for its first system—just a few months after the App Store opened in 2008. By the end of the decade Sonos had captured the imagination of a public that seemed to be waiting for its fresh, cloud-based take on classic hi-fi. Today Sonos is a
billion dollar company
offering a variety of products, including the Top Pick-winning
Play:5 wireless music system
. We recently sat down with Patrick Spence, who took over the reigns as president in July, to talk about Sonos, past, present, and future.
S&V: Sonos has had an extraordinarily successful run since the company was founded 14 years ago. What do you think are the key ingredients to that success?
Patrick Spence: It may appear we were successful right from the start, but it's been a long road (and a lot of work!) creating the wireless home audio category. For us it's being laser focused on our mission (to fill every home with music) and then hiring the greatest people in the world in every discipline it takes to deliver the kind of amazing products we do to deliver on that mission.
S&V: The market for wireless speakers has changed dramatically since Sonos introduced its first wireless first speaker in 2002. In this period of expansive evolution and competition, what changes are most profound for you?
Spence: We foresaw the change from physical media (CDs) to digital (downloads) happening, and eventually the move from downloading to streaming, but the pace at which the world is moving to streaming has been impressive—even to us. We expect over a billion people to be using streaming in 2020, which is a real catalyst in revitalizing the entire music industry and probably the most exciting development we've seen. On the competitive front, it's great to see all the legacy audio brands finally jumping into wireless multi-room.
S&V: CEO John MacFarlane announced a major restructuring back in March and talked about "leaning into" streaming services and voice control. How do you see these product categories progressing and what roll will Sonos play in each?
Spence: These both represent strong trends in the industry that we believe will help drive further growth in what we do—filling every home with music. This is evidenced through our work with Spotify on being able to control Sonos right from their app, and with Amazon in work around Alexa integration. You'll see us partnering further to capitalize on both these trends—we're just getting started.
S&V: Mr. MacFarlane has said "listeners will grow increasingly dissatisfied with the solutions they've cobbled together for listening at home." Can you elaborate on the problem and tell us how Sonos is addressing this dissatisfaction?
Spence: We believe that people love music. And we've noticed a giant gap between how people feel about music and how we're experiencing it. In some cases our experience of music has become so limited that it either borders on the absurd or we simply abandon the idea of listening out loud together. By poking fun at the absurdities of modern listening through the "You're Better Than This" campaign, we're waking people up to the problems that stand between us and the music we love. And showing them how to connect with a quality listening experience.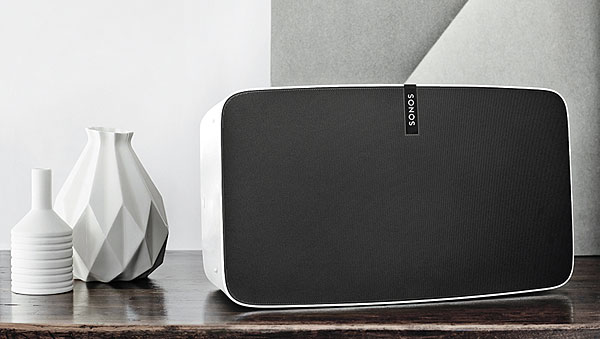 S&V: What is the most popular/best-selling Sonos model today—and why? Spence: We don't publicly comment on sales numbers. That said, we have seen trends over the past few years that indicate that the total number of speakers per household is increasing. Following the purchase of the first unit, trends show the purchase of another player within the first year to expand to additional rooms in the home. The recently launched all-new Play:5 is an excellent example of our commitment to making each product as sonically epic as possible, and the introduction of Trueplay that allows owners to tune each room illustrates how innovative we can be with software.
S&V: Trueplay, which debuted last year in the Play:5 speaker, is an impressive technology. Can you talk about its genesis and how you see it evolving in the future?
Spence: One of our amazing engineers had a spouse that didn't love having the speakers "on display" in every room, so he went to work on something that would allow you to place the speaker anywhere (even behind a plant or under furniture) and it still sound great. He worked up an early prototype, we saw the potential and voilà. It really helps address something that has been an issue with many customers—"where do I place this thing?" Now we can truly answer "anywhere" and it still sounds great!
In the future, Trueplay will continue to make your Sonos speakers smarter, more aware and more responsive, allowing them to produce sound that's true to the music and the room. Tuning is only the beginning of what to expect from Trueplay. In a future where sound, media, and devices all work seamlessly in the home, we know there are other problems to solve and there are more experiences to enable.
S&V: What new products and/or technologies are in the pipeline?
Spence: We're focused on building the Sonos sound platform for the connected home in collaboration with our partners. We're working with the most innovative companies in the world, including Amazon, Spotify, Google, Apple, Microsoft, and more to create the ultimate sound experience at home.
S&V: In July, Sonos opened its first retail store in the SoHo section of New York City. Why a retail store? Why now? Why NYC?
Spence: The best way to experience Sonos is in a home, with music filling each room. Our shop brings this experience from the living room to SoHo for music lovers to explore the entire Sonos product family, and ultimately, find the best way to fill their own home with music. The Sonos shop is an opportunity to bring the Sonos experience to New York for visitors to interact firsthand.
S&V: Are there plans to open more stores and, if so, how will they compare with the flagship?
Spence: Sonos is sold in more than 60 markets worldwide on Sonos.com and through our retail partners. Right now we are focused on our first flagship Sonos shop in New York City and providing visitors an immersive experience to explore our products. We'll continue to learn from the New York Sonos shop, share those learnings with all our partners, and evaluate future plans from there.