Savant Smart Audio WiSA Soundbar System Review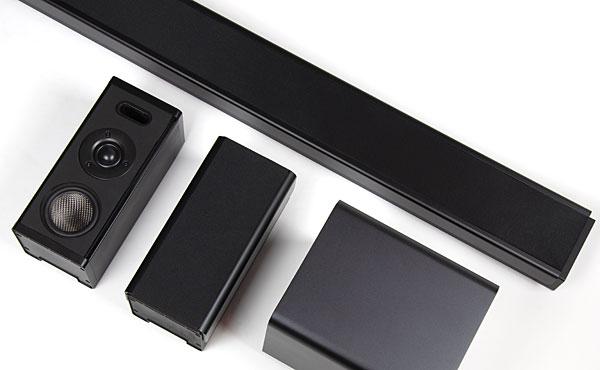 PRICE
$3,000 (system bundle, minus installation; $4,000 as tested)
AT A GLANCE
Plus
Superb sonics
WiSA wireless connection for surrounds and sub
Integrated Savant automation platform
Control via app or touchscreen remote
Minus
No Dolby Pro Logic or other stereo surround mode
No HDMI-ARC connectivity
No processing for lossless surround formats
THE VERDICT
Savant's smart soundbar may be a gateway to home automation, but it distinguishes itself first through its excellent sound quality.
Sound & Vision readers will know Savant as one of two upstarts that, along with Control 4, arrived in the early 2000s to challenge Crestron and AMX in the emerging home automation market. Today, some 15 years after its founding by tech entrepreneur/billionaire Bob Madonna, Savant continues to expand its Mac-based smarthome solution, and with some recent acquisitions, to broaden its market reach. Most notable is the high-profile purchase this year of GE Lighting.
Lighting is an obvious element of home automation, but there are less visible benefits for Savant, starting with the strengthening of its position in lighting-control. More critically, GE is a respected consumer brand with strong retail distribution (including for its own "C by GE" connected-home products), and its technical expertise runs deep. Craig Spinner, Savant's senior VP, explained that "the Savant brand will remain steadfastly committed to the professional installation channel," but he added that the acquisition "creates an opportunity to reach millions of homes and drive the mass adoption of smart home technologies via the do-it-yourself, do-it-for-me/electrical contractor, and dealer/professional installation channels."
The acquisition in 2017 of premium loudspeaker manufacturer Artison is more directly relevant to this soundbar review. Savant has long been a proponent of audio-over-IP solutions for distributing wholehouse audio. Absorbing Artison, and giving the company access to the expertise of speaker-industry legend Cary Christie (a co-founder of Infinity) plus the product family he developed, allows for an obvious expansion of Savant's network-controlled audio lineup while delivering true audiophile sound quality.
The three products reviewed here are an outgrowth of that effort. The Savant Smart Audio WiSA Soundbar 55 ($1,500) is based on Artison's earlier passive soundbar designs, with modifications that add amplification, WiSA wireless capabilities, and smarthome technology that I'll describe in more detail below. Savant's Smart Series WiSA Nano Subwoofer ($1,000) is similarly based on Artison's late-generation micro-subwoofer design but is outfitted with WiSA wireless, while the Smart Series WiSA Surround Speaker ($1000/pair) is a powered bookshelf with WiSA built in. Savant's bundled price for the system is $3,000, and it comes with the company's Pro Remote X2 ($800 MSRP in standard finish). I should mention early here that this audio system, as with all Savant systems and components, is strictly sold and installed for you by Savant's trained custom integrators and Best Buy's Magnolia outlets.
We'll start with the bar, which is a 54-inch wide, 5.5-inch tall, and 2.5-inch deep rectangular black box. It is intentionally devoid of any attention-grabbing styling and is made to either disappear on its own or be hidden behind a custom grille of any width and color that allows it to mate seamlessly with its parent television. The cabinet, which comes with a set of wall-mount brackets as well as rubber feet, is made entirely of extruded aluminum with a black anodized finish, giving it immense acoustic rigidity not to mention heft (it weighs 21.7 pounds).
Savant's soundbar is a classic three-channel LCR model, with individual sealed chambers for each channel's driver array. Each chamber contains a pair of 3.5-inch woven carbon fiber midrange drivers designed in-house by Artison and mated with a high-end, 1-inch Vifa DX25 audiophile cloth dome tweeter. The left and right tweeters are each pushed to the respective far edges of the baffle, while the center channel tweeter sits dead center between its twin midrange drivers. Die-cut EVA foam covers the soundbar's baffle and serves to absorb any stray driver reflections.
The bar has Dolby Digital and DTS stereo/multichannel processors onboard. When it receives a 5.1-channel multichannel input, each channel array gets the straight audio signal as it would from an AVR, with no spatial processing to enhance imaging or otherwise mess with the sound. The only accommodation in that regard is the addition of a side-firing, 0.75-inch cloth dome tweeter on each endcap that's intended to subtly widen the soundstage. The signal for those is derived by high-pass filtering the left or right signal (depending on the side) at 6 kHz and phase-inverting the information. When the bar is fed straight stereo, the center-channel array receives a mixed L+R signal. Each channel array is driven by a robust 125 watts of class-D amplifier power, for a total of 375 watts.
Around back is a socket to plug in the power cord and a small connection panel that looks nothing like the jackpack on any other soundbar. There's an RJ-45 Ethernet port to connect directly to your home network, which is encouraged to ensure a robust signal. As you'll read, the bar functions as the centerpiece for a full-fledged home automation system and works best with a reliable wired connection. Also, when hard-wired to your network via Ethernet, the soundbar can function as a wireless access point.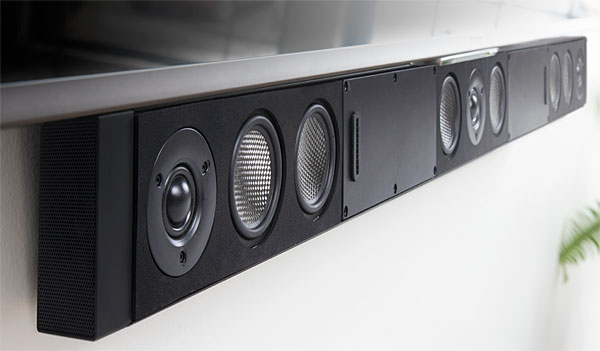 There is a single optical digital input to accept an audio signal from the mated TV, which will typically handle all your source switching. No HDMI-ARC or other HDMI connection is provided, which is not an issue for device control in this case but does limit audio quality to whatever Dolby and DTS signals can pass via optical—basically the lossy Dolby Digital and DTS core. That's hardly a dealbreaker, though it's a shame given the fine audio quality of the system, which would easily reveal the enhanced dynamics and openness of uncompressed DTS-HD Master Audio or Dolby TrueHD formats.
A 6-pin Phoenix block connector fires IR-blasters that let the smart technology control up to three components, most likely your TV and a couple of nearby sources such as a cable box and game console, disc player, or streaming box. But Savant's system can also command some devices via the network (Roku steamers, for example), and others by an RS-232C serial bus connection available through a second 6-pin Phoenix. Lastly, a pair of 3.5mm jacks are for IR learning (if it's needed for a device or command that's not in Savant's database), and there's a subwoofer output if you're not using Savant's WiSA-enabled sub.
Of course, what makes the Soundbar 55 truly special is that behind the baffle it's actually a powerful Savant home control processor, what Savant calls a Host. In particular, it's the equivalent of the company's mid-level S2 Host, which allows you to run the Savant Pro App on your smartphone or tablet (iOS or Android) or use the sleek Pro Remote X2 handheld touchscreen remote to control not only your A/V system but all manner of household devices. Along with control of entertainment for home theater and wholehouse audio, Savant supports interfaces for lighting, shades, climate control, door locks, security cameras, and niche devices like pool heaters, garage door openers, etc.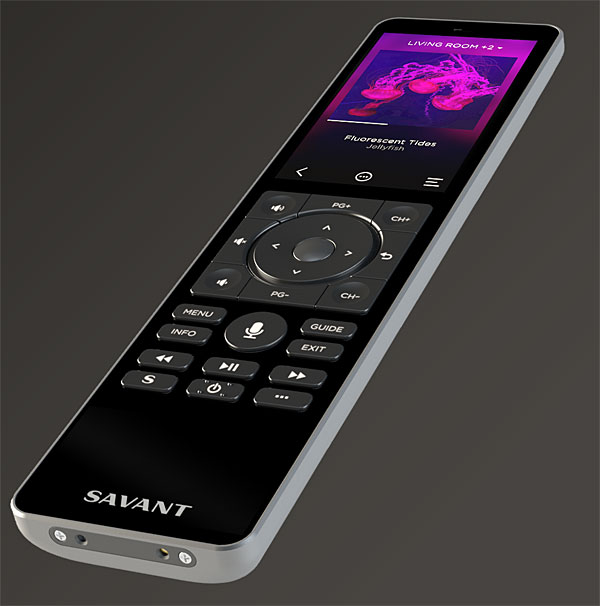 To get music or video around the house, Savant Hosts and playback devices rely on the AVB (Audio Video Bridging) technology developed by the IEEE 802.1 standards committee. Without getting too deep in the weeds, AVB transmits audio and video over traditional Ethernet networks via AVB-enabled network switches. These switches prioritize A/V media traffic to eliminate dropouts and harmonize clocking on all the devices to maintain spot-on sync among locations, or between audio and video signals to eliminate lip-sync issues. It's an open standard used by the professional audio industry to ensure reliability at staged events or in studios, and it has also been embraced by car makers for mobile entertainment. For now, Savant remains a pioneer in using it for a home audio application.
All of Savant's powered audio products are AVB compliant, which allows for the easy addition of multiroom audio zones. The offerings include networked AVB amplifiers (both stereo and multi-zone models) that can be used to drive existing in-wall, in-ceiling, or bookshelf speakers, as well as an amplifier-equipped in-ceiling speaker that takes its audio signal and power from the network.
WiSA (Wireless Speaker and Audio Association), a hi-res wireless standard that's been embraced by several audio manufacturers, is used to join the Soundbar 55 with its mated Savant rear surround speakers and subwoofer. It provides a lossless, in-room link that transmits up to 7.2 channels in 24-bit/96kHz resolution, though the channel count here tops out at 5.1. The WiSA surrounds are stout little white columns that measure 10.3 inches tall and approximately 4.75 inches square. Inside their ported aluminum cabinets behind a silver fabric grille are the same 3.5-inch woven carbon fiber midrange and Vifa DX25 tweeter used in the soundbar. These are driven by 65 watts of power. There are no connections required beyond a power cord; a removable white plexiglass insert on top vaguely reveals a status LED beneath and hides a reset button if it's needed. Savant also sells a stylish matching stand for the surrounds ($350/pair).
The Nano WiSA subwoofer follows in the tradition of Artison's first Nano sub back in 2015 by delivering a stupid amount of deep bass from a tiny box. An extruded aluminum cabinet helps optimize the internal cavity while maintaining rigidity, and the two opposing 6.5-inch aluminum drivers are powered by a 300-watt class-D amp. The pair are wired so they simultaneously move in or out at the same time, thus compressing the air in the cavity or propagating bass waves into the room in sync. The resulting cancellation keeps the box from walking no matter how hard the sub works. Savant sent a pair of these to better accommodate my large studio space and allow front-and-back placement for more even coverage, though I got great results using just one. And you will need at least one since the bar's response only goes down to 80 Hz and it never sounded terribly full or balanced on its own. Your Savant dealer will likely insist on the mating.