Savant Smart Audio WiSA Soundbar System Review Page 2
You can control most aspects of your Savant home theater system with the Savant Pro smartphone app, but Savant also supplied me with its Pro Remote X2, a super-slick 8-inch brushed metal wand with a mix of backlit buttons and touchscreen control that was easy to use and felt great in my hand. It comes with a recharging base. Both the remote and app offer a similar scroll-like interface that presents activity-based virtual buttons as you might see on one of Harmony's remotes; press the button for your cable box and it functions like a Watch TV activity with all the controls pertinent to the TV and set-top box. The app and remote also allow users to set up one-touch buttons with customized scenes without the help of an installer. For example, you can program a button to simultaneously set mood lighting, activate the motorized shades, and begin music or movie programming.
Setup
Setup of this or any Savant system requires back-end programming by the installer to tell the system what devices you have in your home and how the Savant app or remote will control them. For this review during the Covid-19 lockdown, Aaron Gutin, head of retail sales for Savant, assisted me remotely with programming after I physically set up the bar, speakers, and subwoofers, and wired the IR bugs to my components. They entered my components into the system and set up the macro command sequences that allowed me to control any source by selecting it on the remote or app.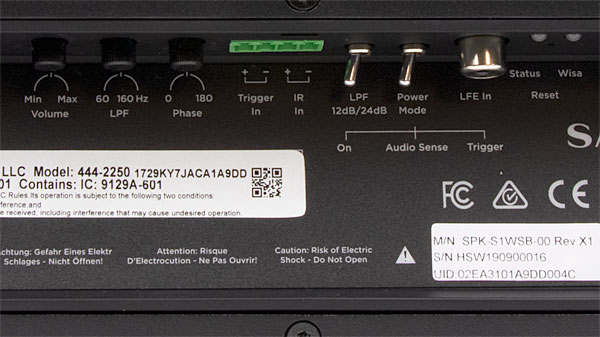 Once the bar was set up, I was able to use the Savant Pro app like any end user to easily add the wireless subs and surrounds to my system, and to set up direct streaming from my Tidal, Spotify, and Pandora accounts (other integrated services include TuneIn, Deezer, Google Music, SiriusXM, and support for Plex servers). For unsupported apps, the bar is AirPlay and Spotify Connect-compliant. I also followed Savant's instructions to access the bar's web browser-based setup page to set crossover points and slopes, and to calibrate all the speaker levels and delays—something a dealer would normally do for you. Savant recommended setting the bar and surrounds to hand off to the subs below 100 Hz, which worked out well.
Performance
After some break-in time, I started my audition with CD-quality music tracks from Tidal and my disc player and was quickly engaged by the bar's superb, effortlessly smooth sound. I found it to be remarkably balanced from top to bottom, highly detailed while being easy on the ears, and impeded only by the expected soundbar limitations on front-stage imaging.
That said, I found that the system has some disappointing shortcomings unrelated to sound quality that undermine it for music listening. First, and most critically, it lacks any Dolby Pro Logic or DTS Neo processing to appropriately convert two-channel music or soundtracks to surround sound. This is a common feature of any multichannel receiver or soundbar with discrete rear surrounds. Instead, when the rear surrounds are connected to the Savant system, stereo is processed with the equivalent of an all-channel stereo mode, with no distinction given to keeping vocals up front and ambient information in the rear. This isn't good for music, and it's too distracting for watching TV shows or movies where dialogue should be anchored to the screen. The omission of a two-channel surround mode further dictates that the TV connected to the bar must have the ability to pass a multichannel bitstream signal via its optical output, which many older TVs do not. If the TV can pass only stereo Dolby Digital or PCM, or a cable box or other source sends only stereo, end users who purchase Savant's rear surrounds will hear all programming this way and never properly realize the benefits of surround sound. [Editor's note: According to Savant, a firmware update is in the works that will add DTS: NEO 6 and Dolby ProLogic II modes for stereo upmixing.—A.G.]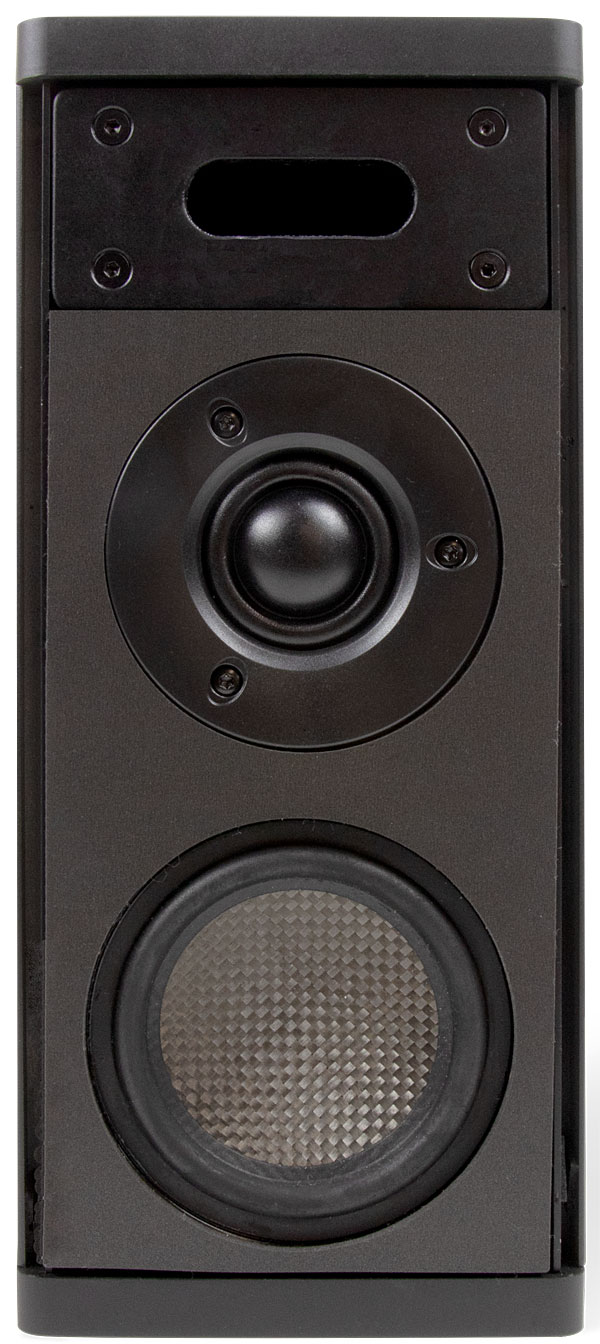 This situation was compounded during my audition by the lack of any facilities within Savant's end-user app to adjust the volume of the rear surrounds on the fly or turn them off to allow the bar to properly image up front. Savant is addressing this in an upcoming firmware update that will allow users to listen in stereo-only mode (thereby turning off the surrounds) or select 5.1 playback, either with or without the subwoofer. For my testing, I just unplugged the rear surrounds from the wall to deactivate them while auditioning stereo music and soundtracks.
That said, the bar alone working alongside either one or the pair of subs sounded amazing. Subjectively, the sonic balance seemed flat as a pancake from the extended upper frequencies down through the lower limit of the subs, which my SPL meter and test tones proved was delivering excellent output to 40 Hz, then easing down a bit to 35 Hz before dropping off rapidly. The bar's super-smooth sound, even at high volume, and its ability to track dynamic swings in the content, was impressive and addictive. (There is something about basic, fundamental audio design applied to high quality components in an essentially inert cabinet that just sounds...right.)
My time with the Savant coincided with a six-day Internet outage caused by a tropical storm, which was an excuse to get off Tidal and pull out my old zippered wallet of reference CDs. It was a joy jumping among my familiar favorites, and there was not one I could throw at the system that didn't wow me. Everybody's Got A Story is a brilliantly written and well-produced pop album from Canadian artist Amanda Marshall, and the Savant just aced it. Track 3, "The Gypsy," opens with an extended, close-miked violin solo that ends on a high note that can easily turn to a screech on lesser systems. It then transitions to a melody underpinned by a profoundly deep electronic bass line. The violin maintained a kind of richness and detailed texture all the way up through the highest register. I heard the same kind of character on the classic audiophile track "Take the A Train" from the album For Duke from Bill Berry & His Ellington All-Stars. There are some loud and very dynamic horns in this foot-tapper, and the Savant reproduced them with all the power, unforced edge, and unstrained detail inherent in the recording.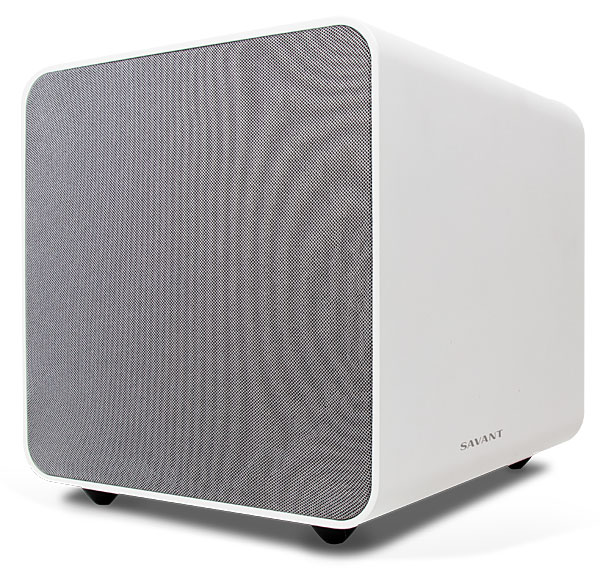 And the bass...well, let's just say that after some dialing-in the Nano subs grabbed hold and didn't let go. They played loud and deep, and with tightness and control. One sub alone up front running at about 75 percent maximum volume was more than enough to fill my room. Adding the second sub and turning the trims down to about 50 percent to avoid overloading the room, had pretty much the same effect. They more than handled "The Gypsy," and when I listened to Ron Tutt's drum solo from The Sheffield Drum Record, it hit hard and low, with superb transients on the kick-drum and floor toms, a resonant sustain on the big drum heads, and sweet detail in the snare and cymbals. The sound lacked that last bit of convincing volume and pressure you get from a big 12- or 15-inch sub, but it was an eyebrow-raising performance from such a small subwoofer.
With the subwoofer support, overall system dynamics were impressive and distortion free—in fact, the sound was so clean that when cranked to near full volume, it effortlessly hit peaks of 90-95 dB on my SPL meter without hurting or fatiguing my ears. About the only time I was able to push the system into modest distortion was with some high-energy classical music clips—the huge crescendo of the Cincinnati Pops doing Also Sprach Zarathustra (which most know as the opening theme for Stanley Kubrick's 2001: A Space Odyssey) got a little fuzzy and strained when I cranked it up.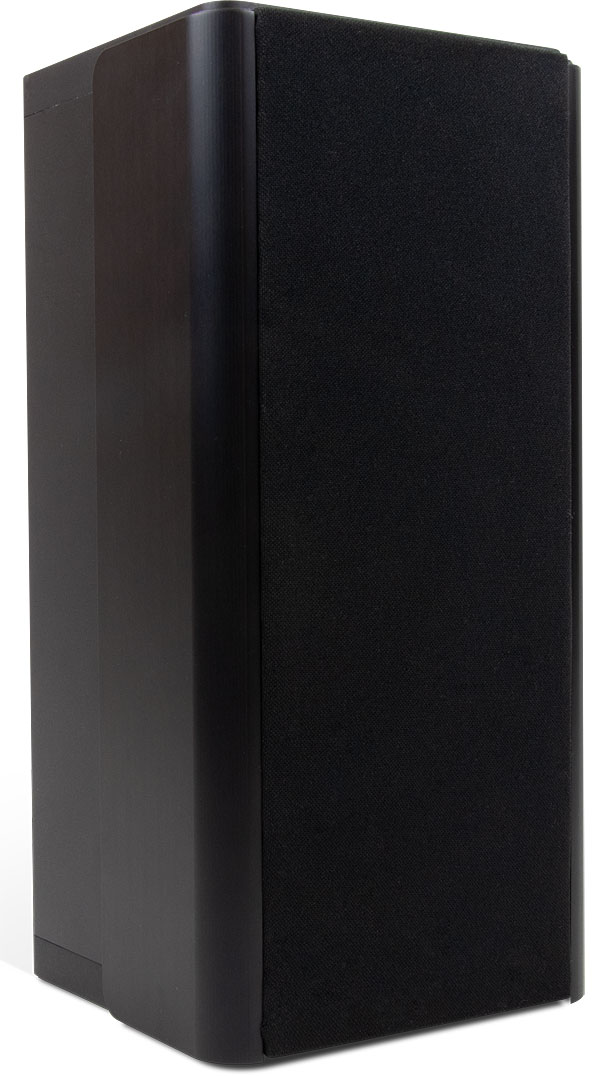 If there was a fault with the system, it was that the imaging was about what you'd expect from a 54-inch soundbar that doesn't apply digital-processing cheats—which is to say the width extended only a touch beyond the edges of the bar in my space, even with reflective sidewalls fairly near the endcap stage tweeters. This squeezed orchestras and some jazz groups into a noticeably compressed space, though you might have better results in a wider room. Soundstage depth was also somewhat limited, though image height was impressively big, and close-miked vocals and instruments had a huge presence.
Engaging the surrounds and moving into multichannel soundtracks proved equally impressive and extended the front stage well into the room. Given the system's music chops, I pulled out the Blu-ray of Chris Columbus's interpretation of the Broadway hit Rent and luxuriated in the popular opening number "Seasons of Love," with eight cast members harmonizing on a stage. The sense of space and ambience opened up with the subtly mixed rear surround channels, and the bar pulled out individual voices beautifully. When Joanne (the actor Tracie Thoms) took control with a powerful, soaring solo, the bar tracked the dynamic build and delivered her voice with goosebump-inspiring purity.
Action flicks were also a treat. Mission Impossible: Ghost Protocol is a surround-sound masterpiece, with a superb rear mix of score elements and special effects. The scene in which Ethan (Tom Cruise) pursues a terrorist through a swirling, raging sandstorm—first on foot and then by car—was as immersive and natural as I've ever heard it (short of the full Dolby Atmos rendering with height effects). And the sub easily handled both the T-Rex footfalls and roars in the original Jurassic Park (remember that shaking cup of water?) and the guttural engine noise that provides an underpinning for the Mad Max: Fury Road soundtrack.
Conclusion
Given the Artison-borne acoustic design for this system, I came into the review with high expectations. I was disappointed to find it without an adequate surround mode or adjustments to properly take advantage of two-channel content, though Savant reports that the issue will be fully addressed in a future software update.
Putting aside that caveat, what I can't argue with—for even a second—is the system's superlative audiophile sound quality, or with the breakthrough of putting a full-fledged, award-winning home automation processor in a soundbar. In this respect, Savant's Studio55 is a Trojan horse, serving on the surface as an extraordinary wireless home theater system and high-end music rig that can satisfy critical listeners. Even the Nano subwoofer is a physics-defying wonder that delivers surprisingly impactful bottom end without taking over your room. What's unseen inside the bar is the ability to step deep into Savant's smarthome ecosystem at whatever pace you like, adding not only wholehouse digital audio, but also automation for lighting, door locks, climate control, shades, and other ancillary devices. In that sense, this is truly a system you can grow into.