Samsung UN65KS9800FXZA LCD Ultra HDTV Review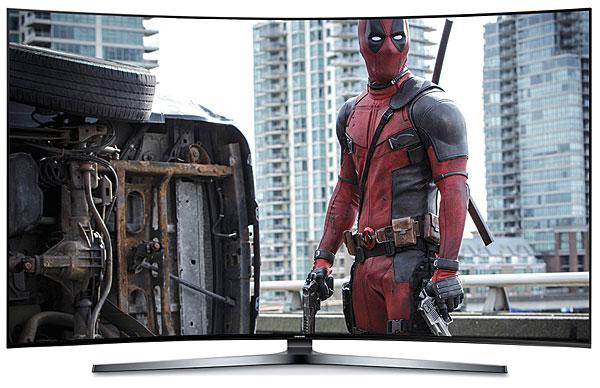 PRICE
$4,500
AT A GLANCE
Plus
Excellent blacks and shadow detail
First-rate resolution
Compelling high dynamic range
Minus
HDR limited to HDR10
No 3D
THE VERDICT
In some important respects, Samsung's new top-of-the-line TV improves upon the company's previous flagship, and at a lower price.
When we last reviewed one of Samsung's so-called SUHD sets, Ultra HD with high dynamic range (HDR) was not yet available on Blu-ray. But the arrival of such discs—together with UHD Bluray players like Samsung's own UBD-K8500—has changed the game.
The 4K resolution of Ultra HD sets is all well and good, but HDR is the most eye-popping feature of UHD. Not all 4K sets, however, incorporate HDR, and those that do don't necessarily perform at the same level. HDR still can't be done well cheaply; at present, the displays that do it best are their respective makers' premier offerings. The Samsung KS9800 series definitely belongs in that company—and among the three models within that family, the 65-incher we're discussing here is the smallest.
Features
There are two major versions of HDR vying for prominence: HDR10 and Dolby Vision. As of July 2016, Ultra HD Blu-rays were exclusively offering HDR10. Samsung's 2016 UHD sets only do HDR10. We'd prefer that a set have both formats—but if we had to choose just one for now, it would be HDR10, since the most reliable source of high-quality HDR may well be on UHD Blu-rays. Streamed HDR, whether HDR10 or Dolby Vision, is far more heavily compressed than UHD on disc, and its quality depends on the bandwidth available from your internet service provider.
That said, the UN65KS9800's most obvious feature is its curved screen. You either like this or you don't. I didn't care much either way, but it does have consequences for room reflections. A curved TV can stretch reflections from room lights into horizontal bands across the screen, rather than showing them as simple point sources; this makes them more distracting. [Editor's Note: Furthermore, a curved screen viewed in a darkened room from any typical distance will appear to be bowed in on its top and bottom edges—one of my big peeves with this approach.—RS]
The backlighting of the 65KS9800 (and its 78- and 88-inch big brothers) is full array local dimming (FALD) rather than the edge lighting of Samsung's other lines. FALD is the best way to achieve superior blacks in an LCD set and is a strong asset for delivering better HDR.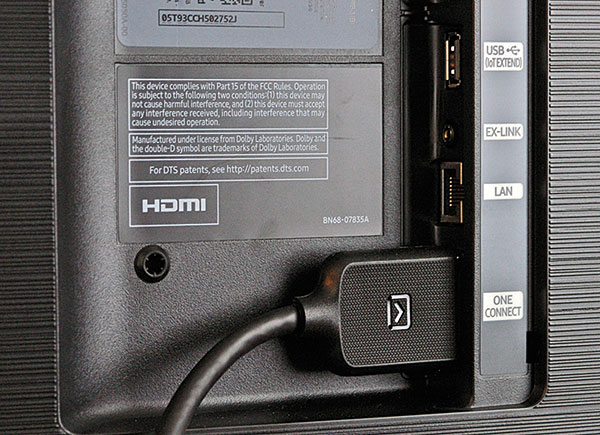 As with Samsung's previous flagships of recent vintage, most of the inputs have been moved to the company's One Connect device, a box that's separate from the TV itself. This provides at least limited future-proofing, as the box can be changed without replacing the TV. And since the One Connect can be put anywhere within the reach of the single cable that links it to the set, limiting the number of cables you have to route directly to the display can minimize installation clutter. This box is a bit flimsier than before—a light plastic case rather than the heavier chassis of last year's 65JS9500—but that's functionally irrelevant unless someone steps on it.


Interestingly, the only video inputs available (unless you count USB and antenna) are HDMI 2.0a with HDCP 2.2. No composite, no component—and no separate audio input either. Welcome to the 21st century. Also missing is any kind of ability to display 3D—an omission that will disappoint some potential buyers while prompting an indifferent yawn from others.
The backlighting employs quantum dots. Quantum dots are claimed to offer a wider range of color while reducing power consumption. They're microscopic inorganic particles that emit a specific wavelength of light when energized. The wavelength depends on the size of the dot. Typically, blue LEDs are used to energize the dots, which are sized to emit red or green light. While the LCD pixels still produce the picture, the blue LEDs and the red and green dots provide the illumination. Quantum dots can be used for edge lighting or, as here, for full-array local dimming. Samsung points out that their quantum dots are cadmium-free, which is safer and better for the environment.
The 65KS9800 claims up to 1,000 nits of luminance for HDR10 sources. It can also accommodate UHD's 10-bit color depth and wider color gamut. The UHD format—including both displays and the new players—will eventually permit the BT.2020 color gamut. But no consumer sets (including Samsung's) can as yet reach that far. Like most of its competition, the 65KS9800 approaches P3, the color gamut used for digital cinema. That's well short of BT.2020, but it nevertheless offers a wider range of colors than our current Full HD (1080p) standard, Rec. 709, something you'll notice particularly in the accuracy of reds if you mate the set with content mastered to P3.
This Samsung TV provides all of the video adjustments expected in a flagship set, including 2- and 10-point White Balance controls, Color Space (a full color management system, or CMS), and multiple gamma settings. Auto Motion Plus is Samsung's motion-smoothing feature; its separate adjustments for Blur and Judder, when used carefully, minimize the soap-opera effect of most such features. But apart from briefly checking it out, I didn't use it.
There's also an HDR+ feature (in the Special Viewing Mode menu) designed to simulate HDR with non-HDR material. It does indeed punch up the picture, but even when I toned it down a bit, I found it artificial-looking in a way that true HDR is not. You can get much of its effect by simply turning the Dynamic Contrast on and setting it to Low. But ultimately, when viewing nonHDR sources, I preferred watching them without either of these enhancements, and I didn't use them for any of the observations given in this review.
Samsung's small, non-backlit Smart Remote is an improvement over last year's. The voice option is still there, but you can ignore it if you like—as I mostly did. There are only a few well-spaced buttons on the remote, and combined with a redesigned menu, they're more than sufficient and easy to use by feel, even in a darkened room.
Smart Stuff
No top-drawer UHDTV is complete unless it can perform more tricks than Houdini. This Samsung is no different. Streaming your music, photos, and videos from external devices? You've got it. Screen mirroring? No problem. Setup of Samsung's remote to operate your cable or satellite set-top box? Why not (though I prefer to use remotes designed specifically for the job at hand). Wired or wireless operation, including access to the most popular streaming websites plus web surfing? Piece of cake. Downloadable iOS or Android apps for remote control on a smartphone or tablet? Sure. Bluetooth wireless audio streaming to a compatible speaker or headphones? It's in there.