Samsung UN55HU8550F 3D LCD/LED Ultra HDTV Page 2
I'm not often blown away these days by a flat-screen set, but I was by this Samsung. Upconverting a 2K source to fit the pixel structure of a 4K set can't add detail that isn't in the 2K source to begin with, and there are some who say that, at 10 feet from a 55-inch set, we shouldn't see any difference between 2K and 4K. Nevertheless, whatever secret sauce Samsung is using in its upconversion, I want it. Together, the crisp detail and the clean, smooth clarity that the set brought to my reference discs was a definite step forward. On the Blu-ray of
Prometheus
, despite that movie's pervasive (though not constant) darkness (more on that later), the set's color and detail were stunning. This was also clearly visible on
The Agony and the Ecstasyi>, an astonishing Blu-ray transfer of a 65mm (Todd-AO) 1965 film, and the intensely detailed computer animation of 2012's Rise of the Guardians. The color and detail the Samsung brought to the best HD discs might just keep the company's competition awake at night.
Not every HD disc looked quite as eye-catching as this on the UN55HU8550F, but given a reasonably competent transfer, I was never disappointed. Even a good standard-def disc such as Charlotte Gray (one of my pre-Blu-ray reference DVDs) was more than watchable on the Samsung.
The Samsung's Smart LED edge-lit local dimming is very effective. No, it isn't quite as good as the best full-array local dimming, but it rarely produced blacks that looked wrong, nor did it overly crush (or lighten) shadow detail. Like all local dimmers, the LEDs shut down completely when the source fades to total black, but a small point of light on an otherwise black screen lightens the blacks to a measurable level (see Test Bench). Even then, however, the blacks were never less than good, particularly in a darkened room, the most challenging environment for evaluating a set's blacks. Black bars on letterboxed films were invisible on bright scenes and only slightly visible on dark scenes. The corners of the picture on very dark scenes were slightly lighter than the middle, but the set's black and dark gray uniformity results were generally very good.
The Samsung's off-center viewing quality is typical of LED sets, though slightly better than some. It starts to lighten perceptibly at an estimated 25 degrees to the side. That won't bother many viewers, but if you want to see the picture quality I've described here, you'll want to grab a center or very near-center seat.
4K Performance
For evaluating the UN55HU8550F with true 4K material, Samsung sent us one of its UHD Video Packs (CY-SUC10SH, a $300 option). It's a small, portable, 1-terabyte hard drive that connects to the set's USB 3.0 input, and it comes loaded with five movies and several short subjects. This content uses the HEVC compression format, and there's additional space on the drive for downloading future movies. But details about the latter are currently sketchy. And oh, yes, the Video Pack will work only on specific Samsungs, and not on any other make of 4K set.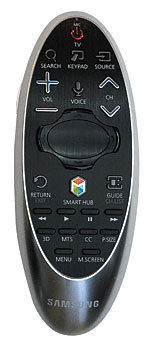 I was able to directly compare two of the packed movies, Night at the Museum and World War Z, with their Blu-ray equivalents from a viewing distance of about 10 feet. At that distance, it was very hard to see any differences. From about 7 feet, Night at the Museum looked perceptibly sharper in 4K, but even there, the differences weren't at all dramatic. Certainly they weren't anywhere near as great as the jump from SD to HD. But the quality of the source, as always, is critical; none of the 4K material I had, from either 7 or 10 feet, looked as eye-popping as the 1080p Blu-ray of The Agony and the Ecstasy at 10 feet.
3D Performance
If the Samsung's claim to fame is supposed to be Ultra HD, I must say I was more impressed by the set's 3D performance than by the limited material I had on hand to test its 4K chops.
I did all of my 3D viewing in the default 3D Movie settings, with two exceptions: I turned the Dynamic Contrast to Medium and the Gamma control to +2. I didn't perform a 3D calibration, but the color looked completely acceptable with the Color Tone on Warm2 Color. The 3D images were then compellingly bright—so bright, in fact, that I never once yearned (as I have with innumerable other 3D sets) to return ASAP to 2D for the higher brightness it offers.
The 3D was also as strikingly detailed as the set's 2D, and possibly more detailed than on any previous 3D TV I've seen. And only once did any of my usual 3D references—Despicable Me, Avatar, Oz the Great and Powerful, and A Christmas Carol—show any ghosting at all. The one incident was at 16:46 in chapter 3 of Carol (the shot through the door knocker as Scrooge approaches his house), and it was so subtle that it could be easily ignored. It's ironic that as 3D at home begins to fade in popularity, 3D sets are getting better than ever. This Samsung might just be one of the best, if not the best, I've yet seen.

Comparisons
I positioned the Samsung next to Panasonic's larger, pricier (though sadly no longer available) TC-P65ZT60 plasma, setting them up to match as closely as possible and feeding them 1080p Blu-ray material from the two HDMI outputs of an Oppo BDP-105D player (with its Darbee enhancements off). Viewed side by side with the Panasonic, the Samsung held its own. At first, in fact, the two sets seemed to be virtually identical. But differences ultimately emerged. The colors were nearly the same; blue and red were a little more intense on the Panasonic, but not in a way you'd notice without a direct comparison. And the longer I watched, the more the superior detailing of the Samsung became apparent. The Samsung's smaller screen may have had a hand in there, but I suspect there's more to it than that.
The most obvious differences between the two sets, however, were in black level and shadow detail. With a full black screen, of course, the Samsung took the prize since its LED edge lighting shuts down com- pletely. The Panasonic, like all plasmas, retains some resi- dual brightness from the bias charge that its pixels need in order to fire instantly when summoned. But on the most difficult real-world scenes—such as some on my Blu-rays of Harry Potter and the Deathly Hallows: Part 2 and Prometheus—the Panasonic was the clear winner. Nevertheless, on dark scenes that don't involve star fields or gloomy caves, the Samsung was never embarrassed. All things considered, the biggest advantage the Panasonic had over the Samsung, on most material, was its 65-inch screen!
Conclusions
Last year in my review of a Samsung UHD set, I stated that although prices were falling, they weren't falling all that fast. I was wrong. While this set lists for $4,000, I've seen it online for less than half that figure. Even Samsung's own Website showed it at $2,300 in June.
In short, Magic Time for the potential UHD buyer may be fast approaching, and the UN55HU8550F performs its own kind of magic. I was seriously impressed by this set. I would always opt for the biggest screen possible to get the most from 4K—either native or upconverted, and this 8550 series does include models up to 85 inches. But even if your needs call for a smaller screen, and you're simply interested in finding a great television to use at a comfortable viewing distance, then you're making a mistake if you buy any HDTV or UHDTV without first checking out this one.