Samsung UN55HU8550F 3D LCD/LED Ultra HDTV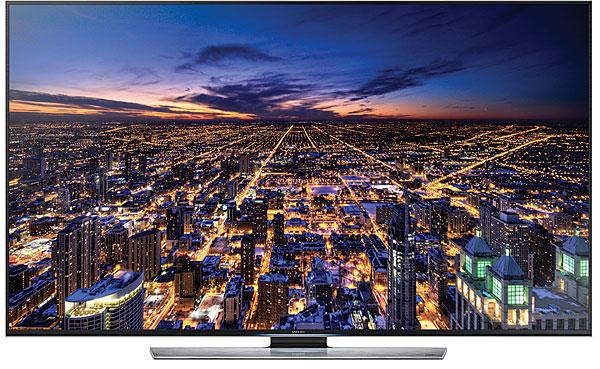 PRICE
$4,000
AT A GLANCE
Plus
Excellent color
Top-class detail—in both 4K and Full HD
Great blacks and shadow detail
Minus
Typical LCD image fade when viewed off-center
THE VERDICT
A superbly performing—and exceptionally inexpensive—Ultra HDTV that looks great with today's 1080p content.
Ultra HD is still meandering toward its Happy Place. Yes, it offers four times as many pixels as Full HD does at 1080p ("Full HD" being the industry's new go-to term for "standard HD"). But source material at this native resolution is still hard to come by in any quantity. Most material viewed on an Ultra HD set, for the foreseeable future, will still be upconverted from Full HD, typically by the set, to "4K" (in quotes, because Ultra HD's 3840 x 2160 resolution falls just short of true 4K resolution as defined in the cinema world). Can this provide a visible improvement over 1080p displayed on a 1080p set? That's becoming a moot question if you're in the market for a premium HDTV. It won't be long before you won't be able to buy a high-end HDTV that isn't 2160p, and at a price no higher than that of a premium 1080p set. It's already happening; Samsung's new UN55HU8550F, our subject here, is a prime example. It can be had for far less than its $4,000 MSRP, about which I'll say more later.
What's Here
The 4K roadmap for consumer sets involves more than just meeting UHD's 3840 x 2160p resolution. It also includes new expanded color capabilities. But some Ultra HD sets won't be upgradeable. Samsung's previous Ultra HD sets came with a so-called One Connect box. All of the inputs and the TV's brains were on this box, which connected to the set via a single cable. In theory, if the UHD connection standards or processing options changed in the future, you'd only need to replace the box rather than the entire TV. While the UN55HU8550F has a conventional set of inputs, it does have a port to which you can hook up a One Connect box in a possible future upgrade. There's no guarantee, of course, that such an add-on accessory will accommodate any possible future enhancement to UHD; the upgrade would be limited by certain fixed characteristics of the display and other variables. But it's a start, and a more ambitious attempt at future-proofing than we've yet seen from other manufacturers. In any event, the set does offer HDMI 2.0 ports, which should allow it to display high-rate 60-hertz Ultra HD content and possibly other enhancements just as it is. It's also equipped to decode 4K content compressed with the latest HEVC algorithm, which is being used by Netflix and others.

As for the set's other features, there's a 40-page printed manual to get you started, but you'll need the 200-plus-page onscreen e-manual to get the full story. The Samsung comes with two remotes: a standard design and a Smart Remote. The latter includes a microphone for voice control and provides for a gyro-controlled onscreen mouse for navigation. (Adding Samsung's accessory camera adds motion control and a second mike to activate voice commands without the Smart Remote.) I found Samsung's voice control as frustrating as on last year's models, and I'm not a fan of gyro control, so I just used the excellent, fully backlit standard remote for most of the review.
The Samsung includes a full color management system (CMS) to adjust color points with the right instrumentation, 2-point and 10-point White Balance adjustments, and seven gamma options. There's also Auto Motion Plus, Samsung's motion-compensation feature. I didn't use it in this review, but its Custom mode offers separate adjustments for Blur and Judder. Turning the latter down makes it marginally easier to avoid the movie-as-soap-opera look while still getting at least some blur reduction.
Like all manufacturers today, Samsung devotes a huge chunk of their e-manual to discussing the set's Smart TV features; you can download the version on Samsung's Website for extended descriptions. Samsung's rotating user interface, carried over from last year, lets you access different screens to wander the Web, access your apps, find your friends on Facebook, search for streamed movies or traipse over to TV shows, peruse your photos and videos, and mill around in your music files to your heart's content—using a wired or wireless connection. And if you provide the Samsung with your zip code and cable or satellite provider and then set the provided IR blaster to control the cable or satellite box, the TV can include the material from those sources in its onscreen program guides.
2K Sources
The Samsung performed flawlessly on all but one of our standard video tests. On the 3:2 SD test pattern, it performed well enough to earn a passing grade, though not quite as well as the processing does in an Oppo BDP-105D Blu-ray player. I wonder how many folks are still watching any standard-definition broadcast programming these days.
At various times during my viewing, I adjusted the peak brightness between roughly 32 foot-lamberts (backlight set to 13) and 46 ft-L (backlight on 17), with the Picture Mode on Movie and the Contrast on 75 in both cases. The post-calibration gray scale and color gamut exhibited no significant changes throughout this range.
The set's sound was well above average for a flat-screen TV, though no challenge for even a modest outboard audio system or a decent soundbar. The Toslink digital output offered only two-channel PCM irrespective of the source, not multichannel Dolby Digital or DTS.