Samsung PN51E550D1F 3D Plasma HDTV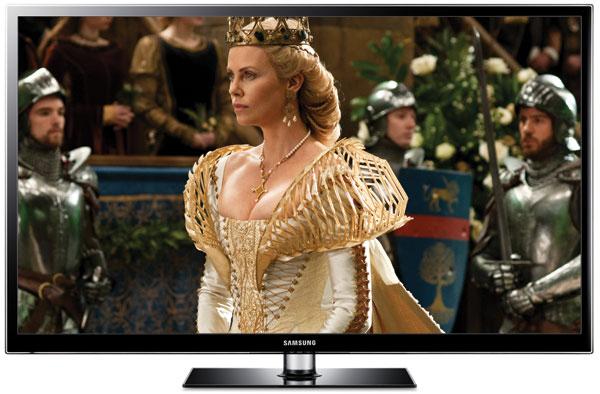 Price
: $1,200
At A Glance
: Compelling color and resolution • Superb value • Middling black level
Psst, buddy. Wanna buy a cheap plasma?"
You don't often hear this from your friendly neighborhood white-van salesmen; they're more into selling cardboard speakers. $1,200 HDTVs, no matter how good, just aren't their thing.
They aren't always ours, either, but when Samsung offered us the chance to have a look at its $1,200, 51-inch (diagonal) PN51E550D1F plasma, we couldn't resist. That may be a lot of green for a public that once considered $300 a fair price for a new television, but today it falls solidly in the lowmid price range for a namebrand flat-screen HDTV in this size category.
Inside, Outside
At about 2 inches thin, the PN51E550D1F is hardly trendsetting. There's a narrow frame around the set, and when it's powered off, the reflective screen looks gray rather than the stylish black of pricier HDTVs. Some of the back-panel jacks face to the rear, making cable clearance a possible issue for a wall mount. Fortunately, two of its three HDMI inputs face toward the side. When located on its stand, the set may be rotated up to 10 degrees in either direction.
The three selectable picture modes—Dynamic, Standard, and Movie—may be set differently for each input, and separately for 2D and 3D as well. There's a sevenposition gamma control, a PIP (picture-in-picture) feature (2D only, and one of the two images must arrive through the set's antenna input), and an RGB Only mode to help set the color and tint controls. There are Offset (low) and Gain (high) white balance controls, but unlike Samsung's higher-end sets, there are no 10-point white balance adjustments and no color management system (CMS).
The Dynamic mode, while offering higher brightness than either Movie or Standard, produces a slightly garish look and omits a number of adjustments, including white balance and gamma. But it might be useful in a brighter environment than the dark or dimly lit room I used for all my tests and viewing. I used the Movie mode for both 2D and 3D.
A separate 3D menu offers the usual 3D controls, including a 2D-to-3D conversion mode that worked as well as most—that is, it's satisfactory if you must have everything in 3D, but it's no match for the real thing. Two pair of active glasses, which use nonrechargeable batteries, are included with the set, and extras cost $20 per pair—by far the cheapest active glasses we know of (rechargeable glasses are also available, if desired, at $50 per pair). The glasses connect to the set via Bluetooth, and when the link is established, a notice on the screen confirms it—though it should be obvious from the picture.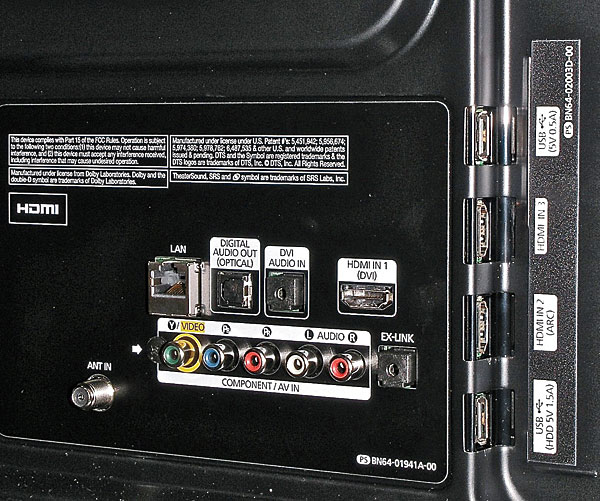 The PN51E550D1F refreshes at 60 hertz, 96 Hz, or 120 Hz. With Film mode set to Cinema Smooth, the Samsung displays 24-fps sources (most Blu-ray movies) at 4x their native refresh rate, or 96 Hz. The added frames are simply repeated. With a non24-fps source, the refresh rate is 60 Hz and the Film mode changes to one of its Auto settings. 3D playback, however, always uses 3:2 pulldown with 24-fps sources for a total refresh rate of 120 Hz (60 Hz at each eye).
There's usually no need to be paranoid about burn-in with any modern plasma set. But it's still wise to avoid extended display of still or partially still images, particularly during the first 100 to 200 hours of use when the plasma's phosphors are new and most sensitive. This precaution is particularly important for 3D. Although the 3D image may look relatively dim through the glasses, the screen itself is being pushed harder than in 2D. Several fea-tures in the System/Eco Solution menu are designed to minimize the possibility of burn-in, or to erase temporary burn-in should it occur. Gamers should always use caution when playing the same game repeatedly if it puts stationary icons or scorekeepers on the screen.
Much of the set's onscreen or downloadable e-manual is devoted to its Web and AllShare features (used to play back your personal music, photos, and video files). The Internet features include popular sites such as Vudu, Hulu Plus, Netflix, YouTube, Facebook, and much more. A long list of apps, either free or fee based, is also available for download. The set may be linked to your network via built-in Wi-Fi or a wired LAN port.
The backlit remote control is competently designed but was often slow to respond to commands. The set did not respond at all when the remote was engaged while too close to the screen.
2D Performance
With one exception, the PN51E550D1F passed all of our usual video processing tests (see Video Test Bench). It tripped up only on the highest frequency burst of the horizontal chroma resolution test. This relatively common failure didn't produce any visible shortcomings on real program material.
The set's Cinema Smooth control, referenced earlier, does not use motion interpolation. This motion-smoothing technique is not needed here, since plasma sets have inherently less motion blur than LCDs. The PN51E550D1F also delivers on another typical plasma strength—superb off-axis performance.