Refined High-End AV
I am an avid reader of Home Theater Magazine and have been for over 10 Years. I have been in the industry for 10 Years and within the last year started my own custom installation company in the Chicagoland area, Monarch AV Design & Automation. In 2009, we had the great opportunity to change an ordinary "blah" basement into a rustic and old-world getaway for the homeowner to enjoy a Pearl Jam concert, a game of pool, or just to enjoy a movie with the kids. Working with interior designer and general contractor, Phillip Sassano, we helped design a space that would be both visually stunning and meet the high expectations of the homeowner for musical and theater performance.
To meet the client's high expectations for great sound and meet the requirements of the interior design, we chose the THX Certified In-Wall Speakers from Atlantic Technology (IWCB-727) for the Left, Center and Right Speakers. Because of the design considerations we went with Timber-matched In-Ceiling Speakers from Atlantic Technology (ICTS--6.3e) for the Side and Rear Channels. To provide a big impact for blockbuster movies or his huge collection of rock concerts, we went with two Sunfire True Subwoofer EQ 12 inch subwoofers. To provide power and a great nucleus for the system, we chose the top-of-the-line NAD T783 Receiver which provides great clarity and huge sound, with NAD's modular design it also gives the homeowner the option to upgrade without having to replace the receiver.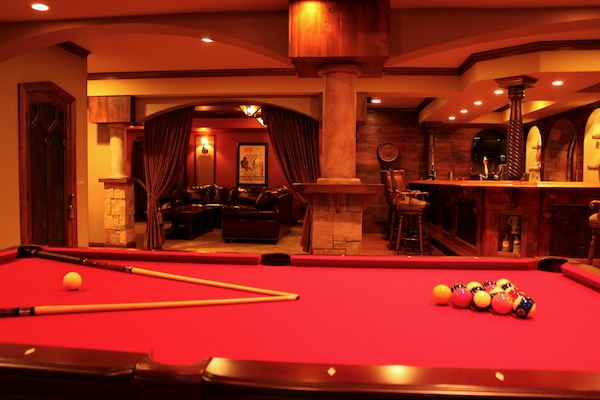 Besides great sound, the homeowner demanded great video quality. We chose the highly-acclaimed JVC Professional projector, RS35U, to provide great color, resolution and black-levels to die for. We matched the projector with a perforated theater screen from Draper to not only provide a great image but also great sound. We also provided the client with a Samsung BluRay player and iPOD dock that provides online connectivity to Pandora and his digital music collection on the network.
The homeowner also didn't want to leave his music collection just in the home theater. We utilized the second zone option on the NAD T783 receiver and matched it with a NAD multi-zone amplifier to provide music in the bar area, game room, and exercise room. The homeowner also requested to be able to see his Pearl Jam concert collection near the bar and exercise room, we installed a 26" Toshiba LCD near the bar and a 42" Toshiba LCD in the exercise room.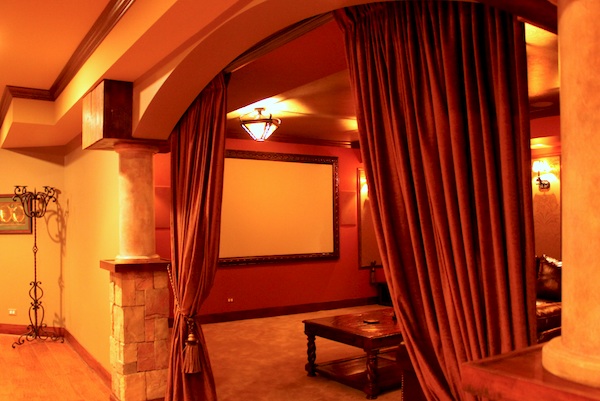 To provide a secure and ventilated place to store the equipment, we installed the equipment in a Middle Atlantic rack with a powered fan and power conditioning from Furman Sound. Lastly, we provided easy control with a Universal Remote MX-980 remote.
Contact
Monarch AV Design & Automation, Inc
Steve Derrico
monarchav@yahoo.com
www.monarchav.com