Reference CD Review: Umphrey's McGee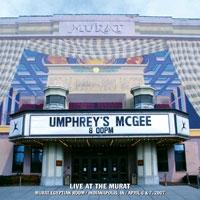 Live at the Murat SCI Fidelity
---
Music ••••½ Sound •••••
Culled from a pair of Indianapolis shows in April, the two-disc Live at the Murat offers a full-color portrait of Umphrey's McGee at the top of its game. And if the 18 tracks (running two-plus hours) provide a fine overview of the band's prog-jam expertise, the opening foursome (an extended "In the Kitchen" sandwich) represents the perfect distillation of its talents: fine songwriting, tight playing, and elaborate acoustic/electric improvisation, all eliciting spirited interactions with the audience - an essential component of any good jam-band show.
After 10 years of touring, Umphrey's McGee still sports an assortment of clear progressive influences, notably Frank Zappa (listen, for example, to the complex kookiness of "Ringo") and King Crimson (the ominously repetitive "Eat"). However, the band approaches those styles with its own unique "Angular Momentum," to borrow the title of one of the improvised instrumentals here. The six McGees are at home with a variety of musical moods, encompassing both the gentle mysticism of "Hajimemashite" and the lively Euro-disco of "The Triple Wide," but they never relax that ambitious fusion of jazz/classical/rock eclecticism.
Even the most straightforward songs like "Higgins" and "Out of Order" have unexpected left turns, reflecting the band's songwriting process - which it has described as a matter of connecting individually composed Legos. Sometimes, these disparate pieces don't seem like they belong together (as in the series of shifts between the full-flowered improvs and the meticulously concocted sections of "White Man's Moccasins"), but the playing is so good that the turn-on-a-dime transitions and contrasts are always, at the very least, interesting.
The end of "Nothing Too Fancy" is a good illustration of how UM can take the simplest repeated riff and gradually ramp it up, with slight variations, to the most exciting peak possible. An equally energetic "Padgett's Profile" expands and contracts and nearly blows the roof off the Murat Egyptian Room before settling into a laid-back circle of intertwining guitar lines and then resuming its heavy metal thunder to close out the second disc.
There's a nice balance between Brendan Bayliss's plaintive-angel vocals and Jake Cinninger's rough-boy growl, but it's the mastery of these two on their guitars that really impresses. Bayliss was an exceptional lead guitarist when the band started out, but when the even-more-astonishing Cinninger joined in 2000, the chemistry between the two took them both to a whole new level.