Reference CD Review: Tift Merritt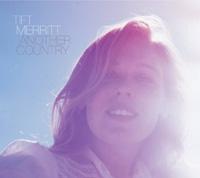 Another Country Fantasy
---
Music •••• Sound ••••
As the title implies, Tift Merritt's third album was written abroad - in Paris, where she experienced a creative reawakening while chilling out from an exhausting year. The unexpected fruits of her casual labor are the 11 songs on this CD, a worthy successor to her superb debut, 2002's Bramble Rose. Despite the Grammy nomination for 2004's Tambourine, that album was largely a wrongheaded move, miscasting Merritt in a slick, pop-soul mode amid the cloistered company of sessionmen. Now, with the exception of one horn-filled misstep ("Tell Me Something True"), Another Country is the sound of Merritt bringing it all back home in a more organic way.
Guitarists Doug Pettibone and Charlie Sexton join Merritt's longtime backing band - keyboardist Danny Eisenberg, bassist Jay Brown, and drummer Zeke Hutchins - to form guitarist/pianist Merritt's studio ensemble. The sympathetic accompaniment frames her captivating vocals, which have a warm, unaffected intimacy - such a refreshing contrast to the shrieking of the divas, idols, and teen-pop train wrecks who grab all the headlines. And unlike so many other modern recordings, this one isn't fatiguing. Listening to Another Country is like settling into a comfy chair with a cup of coffee to hear a good friend catch you up on her life.
If honest, unadulterated Americana (or whatever they call it these days) were doing good business on commercial radio, this album would generate a steady trickle of hits over the next year. "Broken" is the most obvious gem, a naturalistic piece of confessional country-rock that makes a hook out of Merritt's quarter-note pauses on each line of the verses. It ends with a bittersweet statement of heartbroken perseverance: "I think I will break, but I mend." "Morning Is My Destination" (such a chorus!), "Keep You Happy," "Hopes Too High," and "Something to Me" are equally alluring, with their guileless self-revelation and sweet, engaging melodies. "Tender Branch" is this album's "Bramble Rose," a pensive, poetic ballad in 3/4 time that takes metaphors from the natural world to illuminate love's perils. And on the title track, Merritt uses her lovely, vulnerable voice to equate emotional distance with the physical separation of being in another country.
An embarrassment of riches, this album deserves to make a star of its gifted singer/songwriter.
more Entertainment reviews Back to Homepage What's New on S&V